MormonBoyz, Brother Daniels
Known Aliases:
Years Active: 2015 – 2016
MORMONBOYZ INFO:
The seriousness of Brother Daniels, coupled with his deep resonating voice, makes him an intimidating man to those that don't know him. But for the elders anointed by him, they have learned he is actually very gentle and sensual, and his strong hands are as firm and commanding as any priesthood leader should be. His apparent confidence and respect for the elders trusted to his care make him an ideal member of The Order.
   As a member of The Order, he savors every moment he gets with the young missionaries he inducts. Their tight, young bodies and eagerness to please make any leader proud.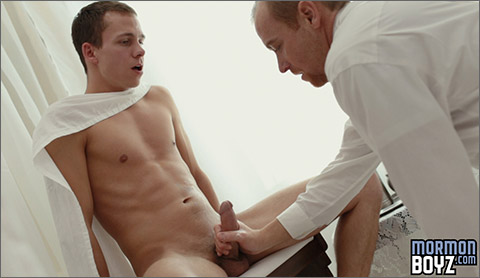 THE INITIATION ELDER LINDSAY: CHAPTER 11 – INITIATION
Elder Lindsay thinks he must have passed his inspection, since he has been invited to come to the temple for the next stage of his initiation into The Order.
   He had enjoyed every second of the inspection by Bishop Angus, whose stern, authoritative presence had made the boy weak in the knees, willing to say or do anything to please the man.
   The Bishop had touched and tasted every inch of the boy's gorgeous body, before bending him over and drilling his tight hole.
   But when it was all over, and Elder Lindsay had washed off the cum, he had waited many days in vain for more information. But he knew better than to go looking for answers.
   He knew The Order would find him when they were ready.
   After he undresses in a private stall he slips the clean white shield over his naked body.
CLICK HERE TO GO TO HIS MORMONBOYZ DETAILS