MormonBoyz, Brother Clark
Known Aliases:
Years Active: 2014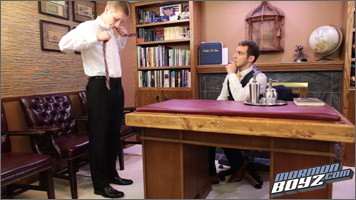 ELDER STEWART AND BROTHER CLARK IN THE BISHOP'S OFFICE WITH ANGEL THE INVESTIGATOR
Last month Bishop Angus was traveling with several area authorities to meet with potential missionary inductees. Brother Clark has been the presiding authority in the Bishop's absence. And he's had his eye on the missionaries in his ward. Specifically, the young Elder Stewart. The first opportunity he had, he called Elder Stewart to meet with him in the Bishop's office. Not knowing what to expect, Stewart walked into the office to see that Angel was already there. Terrified, he entered. And right off the bat Brother Clark asks Angel how many times he had sex with Elder Stewart. The boy sat quietly and waited for judgment.
   Angel looks at Elder Steward and says matter-of-factly, they had sex more times than he can count on his two hands. From the look on his face, it is clear that Elder Stewart is worried that his naughty behavior will get him sent home.
   He is forced to wait in silence as his anxiety builds. But the punishment Brother Clark has in store is more of a reward. The boy is extended an offer to be inducted into the priesthood.
   Filled with surprise and shock Elder Stewart knows all he must do now is follow every command Brother Clark gives him. In this case, even if it means having sex right in front of his priesthood leader while he sits and watches in this office.
   Elder Stewart is instructed to remove his clothes. Brother Clark molests his tight teenage body and makes him slowly stroke his impressively large dick. All the while, Angel watches and strokes his massive rod.
   This story has a happy ending. Elder Stewart and Angel bust their swollen nuts all over the bishop's desk. Brother Clark wipes cum on Elder Stewart's face. His induction has begun and will culminate several weeks later with a spectacular ordination.
Suggested Keywords:
missionary gay porn, gay mormon missionaries, gay mormon, mormonboyz, gay mormon bishop, huge mormon dick, elder stewart, mormon boy angel, jerk off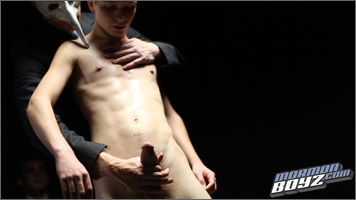 ELDER STEWART PRIESTHOOD PREP PART 2
ELDER STEWART AND BROTHER CLARK IN THE BISHOP'S OFFICE WITH ANGEL THE INVESTIGATOR
ELDER STEWART, ANGEL & BROTHER CLARK