Corbin Fisher Amateur College Man, Bronson
Known Aliases: Michael Ramos at Next Door Studios
Years Active: 2013 – 2016
CORBIN FISHER INFO:
Age (2013): 23
Waist: 31
Eyes: Brown
Height: 5′ 10″
Weight: 170 lbs
Hair: Brown
Build: Athletic
Cock: 7″ Cut
Shoe: 9.5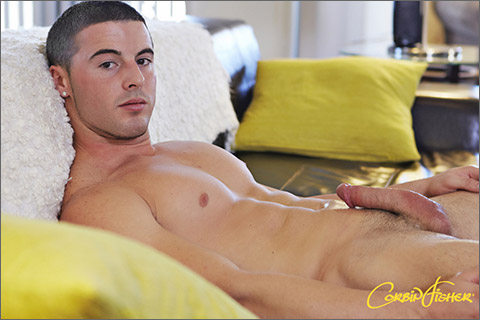 BRONSON
Bronson is one of those "get the most out of life" kind of guys that is always fun to be around. He seizes every opportunity he can to enjoy life – and that, of course, includes his sex life!
   Bronson works out every day, and the results are obvious. He's not shy about showing off his tight, muscular body, either. He loves surfing and wakeboarding, and plays all kinds of sports, from baseball to track to football. All that activity doesn't slow down Bronson's hormones! He says he jerks off 4-5 times a week, and he loves to fantasize about 69 a girl or anal sex. That's a good sign for us, then! Bronson says he jerks off anywhere he gets the chance – in the car, at the beach, and once even in a department store dressing room.
   Bronson's first time was when he was 16 and he says he still has as much sex as he can. He gets a lot of compliments on his legs (which are amazing!) but he thinks his best feature is his smile.
   Once Branson starts stroking his cock, we may have to debate that! He has a thick dick and a hot ass to complement that smile. The load he blows is another great feature. Bronson is an overall terrific package!
CORBIN FISHER
NEXT DOOR STUDIOS