Hung Uncut American Solo Performing Hunk, Brock Cooper
Years Active: 2012 – 2015
TWITTER
NEXT DOOR STUDIOS INFO:
Brock Cooper makes his porno debut in this All American solo for NextDoorMale. A California kid with chiseled abs and winning smile, Brock is seven kinds of perfect rolled up and spread out on the sofa for your viewing pleasure. Watch as he slowly exposes himself to the world, a star in the making just waiting to shoot off for the first time. He spreads his legs and reclines back on the red leather couch, arching his back and finally squeezing out a healthy load for all of the world to see.It might be his first, but one look his way will tell you it won't be his last.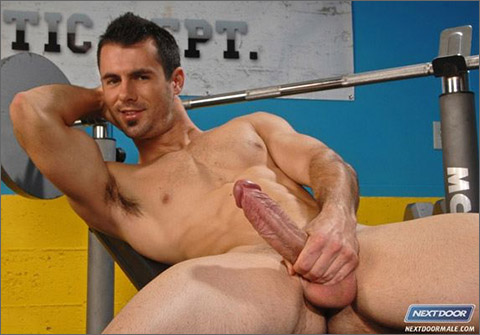 BROCK COOPER WORKOUT SOLO
Take a candid sneak peek at Brock Cooper as he enters the empty gym and preps for his workout. Trying to build up a little sweat, he does some lifting, some curls and some jump rope after changing into his workout clothes. Unsatisfied with the sweat he's achieved, he slowly peels off his shorts and grabs his cock for some heavy lifting. Feeling it swell inside his fingers, he sits back on the bench and spreads his legs as he strokes it up and down. Fully naked now, and bathed in the light creeping though the window, he thrusts back and forth as he gets closer and closer to climax, sitting back on the bench and pulling his legs up as he explodes his load in massive release. Exhale Brock, and get some water. You've earned it!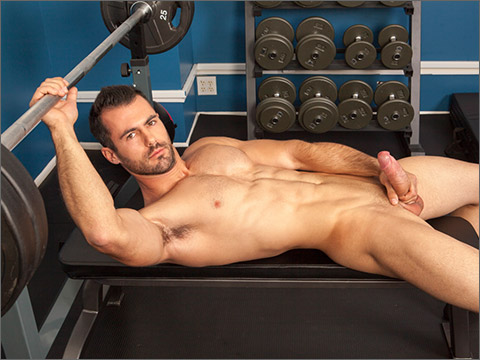 HUNG WORKOUT WITH BROCK COOPER
Brock is one of those guys that you have to stop what you are doing when he walks in a room. If he came up to you in a bar, you would lose all motor skills and become a babbling robot. He has these light brown eyes that can pierce your soul make you feel tingles in your dick as if you were getting your very first boner. I decided to take this beautiful specimen out for a jog in the park. And it had to be cut short because whenever I tried to shoot, women and men kept walking in the shot to stare at this beautiful man. And if his beauty did not blow you away, his body will surely knock you off your feet. This man has absolutely a flawlessly chiseled physique. We finally took Brock back to the gym so he could get fucking naked already. And when he pulled out his dick. Jesus Christ, it just keeps getting better and better. This man has a fat juicy uncut baseball bat cock. And he knows how to use it. After jerking it for a bit he bent over and showed off his hot hole. He loves to tease and he loves being watched. Finally he laid back on the floor and just started beating his meat with abandon. Finally, he pumped out a glorious white hot load of jizz all over his belly. Holy shit, it was hot. Guys, this is not your regular gay porn. This is fucking Randy Blue.
BROCK COOPER RED COUCH SOLO
BROCK COOPER WORKOUT SOLO
BROCK COOPER BEACH SOLO
BROCK COOPER MOTORCYCLE SOLO
BROCK GOES BACK TO THE BEACH
   NEXT DOOR STUDIOS
   DYLAN LUCAS
   RANDY BLUE
   RANDY BLUE LIVE CHAT & PRIVATE SHOWS
   CLICK HERE TO GO TO HIS NEXT DOOR STUDIOS DETAILS