Bentley Race Cute Texan Mate Gay Porn Guy, Brian York
Known Aliases: Aubrey at ChaosMen
Years Active: 2015
BENTLEY RACE COMMENTS / INFO:
For the past month I have been visiting Texas in the United States as a part of a project I am working on with my day job. When I heard I was going to be hitting the states, I made sure there would be plenty of down time to meet up with some of the beautiful men there. And the first guy I met is this very cute red headed Texan, Brian York. It turns out that 23 year old Brian is a fan of my site and got in touch when he heard I was coming to his town. And everything I had heard about Texans is absolutely right, they are some of the friendliest people in the world. After meeting Brian and having a very horny afternoon of shooting with him I knew it was going to a fun month here. We have plans to shoot some more stuff before I leave.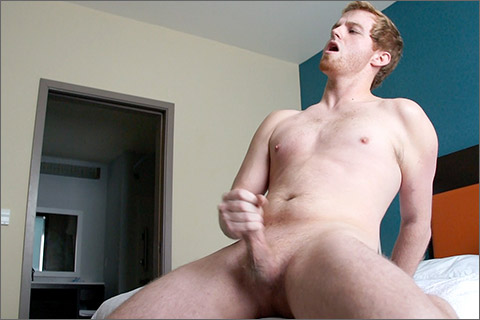 JACKING WITH MY NEW MATE BRIAN YORK IN TEXAS
What an incredibly horny video this turned in to. When you first meet Brian he will strike you as being the shy type. But once the video camera started recorded he was ready to put on one hot show of his own. While I filmed around the bed Brian quickly strips naked and works his cock hard. Then he starts showing off his bum and plays with his hole. It was getting really turned on watching the show. Eventually I started fingering his hole a little as well. I knew it wasn't going to be long before my new Texan mate was going to be blowing his load, so I backed off a little so he could finish his show. Check out Brian's big grin at the end as he sits there just having finished a very satisfying jerking off show.
Meet my sexy new mate Brian York. While I was travelling in Texas during the past month I met 23 year old Brian and some other beautiful guys while I was there. Brian was one of the first guys to contact me about potentially doing a shoot. I really liked Brian's cute smile. I knew I would love to shoot with him. So I quickly organised for him to come by my hotel one morning and strip naked for me. And it turns out that Brian is just as sweet in really life. I enjoyed chatting with him and his mate. And I loved getting him naked and posing for me. Brian's shots look great! I'm looking forward to editing his video scene this week.