Bel Ami Czech Gay Porn Star, Brian Jovovich
Known Aliases: Brian Jovovich, Vasek Konik, Czech Hunter 110
Years Active: 2013 – 2016
BEL AMI INFO:
Brian comes to us from the North Moravian region, which to our American customers would appear very similar to Pittsburgh, full of steel mills and factories. Maybe this is the reason that Brian likes to spend a lot of time outdoors in nature. One of his favorite pastimes is fishing.
   Currently he is a personal trainer and nutritionist, although we find it quite funny to have a nutritionist who never eats any vegetables, only ever meat and rice…. However the results are obviously very good.
   For a boy of 20 years old, he is very well organized, reliable, calm and with a pleasant sense of humor.
   We asked Luke what he had to add to this little biography and his commentary was: He rarely drinks and never does drugs and is usually pretty silent, although whenever he does drink there is a 'house full of him' whatever Luke means by this…
Weight: 74
Dick type: Thick
Eye color: Blue-Gray
Dick size: 18
Height: 176
Zodiac: Capricorn
Hair color: Brown Light

LOVE IS A CONTACT SPORT
Brian Jovovich and Roald Ekberg are two handsome, muscular guys who really love body contact. Both of them are great lovers with a perfect understanding of the secrets of how to please their partner.


FLIP FLOP EXPERIENCE: BRIAN JOVOVICH & STEVE RUSSELL
Brian Jovovich decides that he will be a good match with Steve Russell and there is no-one to disagree on this choice! Brian and Steve are both versatile lovers therefore a flip flop scene was the only option to please all their needs. Watch the guys taking turns to fuck each other on BelAmiOnline.com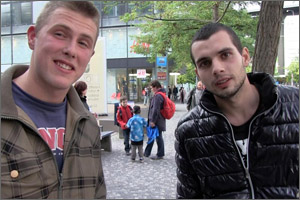 CZECH HUNTER 110
It was a sunny afternoon when I went to the shopping-center in Prague-Andel. "Andel" means "angel" in Czech. And indeed I have seen more than one angel at this place. Today I met even two guys. Not exactly cute like angels. But at least one of them looked hot like hell. The guys came from Slovakia, our neighbouring country. They were looking for a job. And as far as they told me they must have been quite desperate. Still no job but almost broke. So they have been rather open to my little offers. The first thing I wanted them to do was to kiss each other. But not a short kiss… I insisted on a french one. In the middle of the crowd. And as they didn't mind this I asked them for more.
BEL AMI
BEL AMI'S KINKY ANGELS
WILLIAM HIGGINS
WILLIAM HIGGINS STR8HELL
CZECH HUNTER
NAKEDSWORD