American Gay Porn Star, Brett Staley
Known Aliases / aka:
Years Active: 2012 – 2013; 2016
GIO CARUSO'S BAIT BUDDIES INFO:
Height: 5'10"
Weight: 180
Hair: Black
Eyes: Brown
Cock: 7″ cut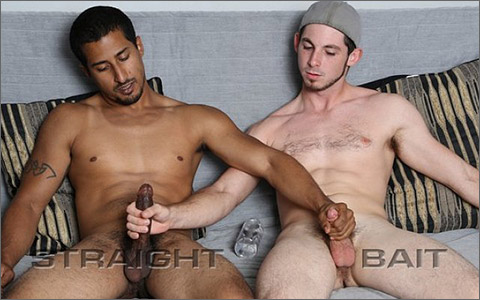 TOBY SPRINGS & STEVE
Toby Springs returns this week as our bait boy and this time he decided to bring a friend! Toby has always been a popular on BaitBuddies.com and he has the perfect bubble butt for taking straight cock! He's an expert at sucking dick and has great bottoming skills as well.
   Steve is Toby's friend and coworker. Both guys work construction and even though Steve knew that Toby did porn on the side, he had no clue it was gay porn! Steve is built, hot, and has a big cock!
   After explaining that the girl can't make it and the only option to make money would be to have sex with each other, Steve started to freak out. Of course when Caruso tells them it will be double the money he changed his tune and decided to give it a shot.
   Caruso tells both guys to help a buddy out so both Toby and Steve grabbed each other's cocks and started stroking. Toby couldn't wait to get Steve's fat cock in his mouth so Steve stood up and Toby went to work. When it came time to return the favor, Steve was not having it and flat out said no. Toby moved in for a kiss and Steve pulled away but when Toby came back for another, Steve caved in. The kissing didn't last long because Steve was ready to fuck so he lubed up, put on a condom, and fucked Toby's tight hard ass!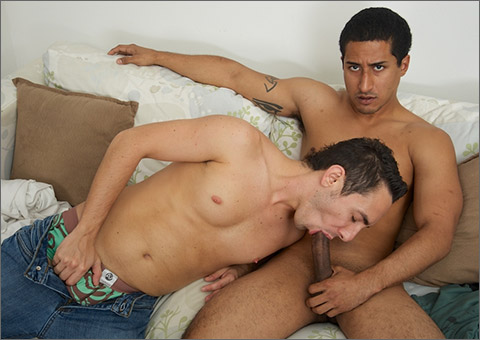 COLD FEET, HARD COCK
Brett is filling out his paperwork as Daniel hands him his paperwork and asks him if he's nervous. Brett's a little nervous, so Daniel tells him he's going to help him out as he starts to massage his inner thigh and crotch. Brett sits back and lets Daniel have his way. Daniel compliments Brett on his abs putting the str8 boy at ease as his clothes start to come off. He runs his growing cock through his boxers. "You're going to be fine" Daniel assures him as he stands Brett up and pulls down his boxers. He compliments him on his cock and nice balls as he starts to stroke his dick. Brett's flattered and at ease by the time Daniel goes down on him. Brett's cock is growing by the second as Daniel starts to worship his str8 cock. He slowly savors his hard cock as he tugs on those smooth balls showing him what he can do on that boner. Brett can't help but start fucking Daniel's face wanting to bury his cock deep. Brett then sits back on the couch as Daniel, still complimenting him on his cock, goes right back to servicing his throbbing cock. Brett bobs Daniel's head on his cock as he moans with pleasure. Daniel then strips his own jeans off and gets naked so he can play with his own thick cock…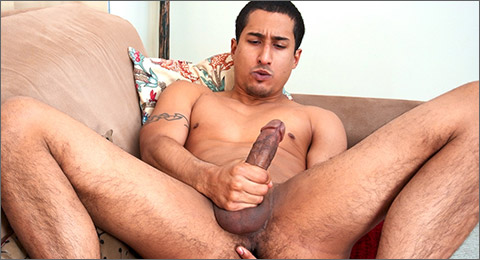 STR8 TO THE COCK
Brett finally makes it home and gets comfortable. He pulls off his shirt and undershirt as he stretches and shows off his smooth frame. He runs his hands across his café con leche complected pecs grazing those cinnamon nips of his. His pants come undone and fall to the floor as his cock comes to life. He pulls it out of the fly in his loose fitting boxers as it stands proudly at attention. He pulls back his thick dark foreskin revealing his glistening knob as he starts to jack off. He's naturally hairless and keeps his pubes trimmed down as well. Smooth skin as far as the tongue can see. He stands and jerks that cock so that we can appreciate every sexy curve of his anatomy. His cock is already leaking as he pleasures it offering up large drops of precum. Brett then sits back and watches some porn for inspiration. His cock is throbbing as he focuses on his shaft and smooth balls. Brett is working that cock as he leans back and gets comfortable on the couch. His hand works his oozing dick as his other hand moves between his furry cheeks. There, his fingers slowly invade his hole as he turns up the heat on that rigid cock. He moans as he fingers that hole making his balls start to pull up tight. He knows what's coming and surrenders to his fate. He jerks his cock faster and faster as his breathing gets heavier. His finger makes one last entry into that hot ass of his and it does the trick sending his creamy cum splattering all over his smooth abs and spent cock.
CLICK HERE TO GO TO HIS PRIDE STUDIOS DETAILS
CLICK HERE TO GO TO HIS GIO CARUSO'S BAIT BUDDIES DETAILS