American Gay Porn Star, Brent Corrigan
Known Aliases: Fox Ryder (Falcon)
Years Active: 2006 – 2016
TWITTER @BrentCorrigan
original 2006 Falcon Stats:
Hair Color: Brown
Eye Color: Brown
Height: 5′ 7"
Position: Versatile
Build: Swimmer
Body Hair: Smooth
Cock: 8.5" Cut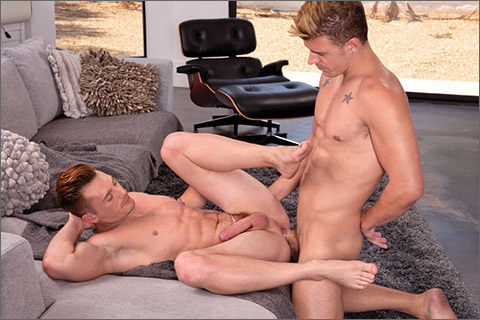 ABOUT LAST NIGHT: Brent Corrigan & JJ Knight
After a long night of bachelor partying, Brent Corrigan finds his buddy JJ Knight, the groom, crashed out on the couch. It's early in the morning, and they've barely slept, but that doesn't stop them from having one last fling before JJ's married off to someone else. Brent pulls back the blanket and opens his mouth wide to get a taste of JJ's monster cock. Reaching into his buddy's briefs, JJ fondles Brent's throbbing boner. After JJ uses his mouth to moisten Brent's cock, they rub their dicks together as they kiss. Turning around, Brent parts his amazing ass cheeks and JJ dives in face first. With JJ's tongue wedged in his hole, Brent moans and shudders with pleasure. Now on the floor, Brent gets in doggy style position and JJ mounts him with vigorous thrusting. They grind together, taking turns providing the momentum for their intense penetration. JJ gets back on the couch and Brent climbs on to ride JJ's cock. Thrusting up from below, JJ's massive balls swing through the air. Rolling over into missionary position, Brent grabs his cock and strokes himself as they reach the point of no return. With JJ still inside him, Brent shoots a white hot load. JJ stands up and sends jets of white cum into Brent's open mouth. After Brent sucks every last drop of cum from JJ's cock, they press their faces together in a final cum-covered kiss.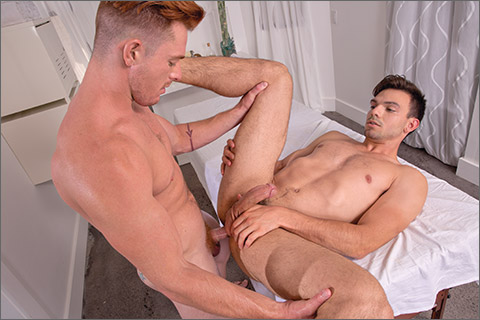 DEEP RELEASE (FVP-265): Brent Corrigan fucks Jason Maddox
Brent Corrigan slips into a luxurious soaking tub; as he relaxes, his cock swells and hardens. Jason Maddox, Brent's masseur, begins the bodywork session with firm strokes along Brent's muscled backside. The round, meaty cheeks of Brent's ass are irresistible to Jason, who's fingers reach into Brent's tight hole. With his right hand, Brent reaches out and fondles the growing bulge in Jason's pants. Loosening his belt, Jason let's his pants fall to the ground, and Brent leans in to swallow Jason's rock hard cock. Climbing up on the table, Jason plunges his face into Brent's crack, driving his tongue deep into his client's fuck hole. As he rims Brent's hole, Jason uses his hand to stroke Brent's cock. With massage oil for lube, Jason drills his meat into Brent's ass, Brent moans with pleasure as Jason's low hanging balls slap against him. Turning the tables, Jason gets on the table and opens up for Brent to fuck him in the ass. After Brent delivers a thorough pounding, they flip once more, and Brent uses his strong legs to fuck himself on Jason's stiff rod. The intense pleasure on Brent's prostate is so great, he shoots a gigantic load over Jason's torso. One huge blast goes past Jason's head, and the rest puddles on Jason's ripped abs. Standing up, Brent expertly jerks Jason's cock until Jason blows his load, dripping globs of thick, white cum everywhere.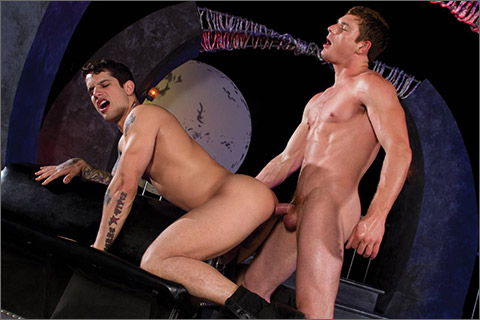 MAGNITUDE: Brent Corrigan fucks Pierre Fitch
Jaw-dropping Pierre Fitch and show-stopping Brent Corrigan are two of the biggest stars to ever appear in gay porn. In this meeting of mega-stars — a decade in the making — these porn icons suck, rim and fuck as if they'll never have sex again and reveling in their long-overdue meeting. Smooth, clean-shaven, and in elite physical condition, both sport tight, black jock straps, and they simply can't get enough of one each other. Plunging tongues down throats with passion, masterfully handling dicks, and expertly devouring cock are just a few of these celebrities' talents. The kissing and cock sucking turns into deep, wet rimming, which leads to powerhouse fucking. A historic romp of this 'Magnitude' requires a flip-fuck, and horned-up Pierre and Brent deliver. First, Pierre finally savors Brent's meaty cock in his ass, taking it in doggy and missionary positions. Having the long-awaited cock in his ass, Pierre can't wait to drive his rock-hard, thick cock deep into Brent from behind, and it's clear that Brent has anticipated this moment, because he takes it like the champ he is. As the energy of this perfect match-up builds, both of them reach the bursting point and unload hefty shots of cum onto Pierre's torso.

GAY MASSAGE HOUSE: Adam Russo & Brent Corrigan flip-fuck
Adam Russo is not your average massage therapist. He specializes in treating particularly anxious men, ones that are so deep in the closet that they don't even know they're gay. Adam relieves their tension and anxiety with his touch, but leaves his special 'happy ending' as a surprise. His first client is Brent Corrigan, a religious boy-next-door type who is under a lot of pressure to be a perfect Christian. Adam puts his hands on Brent to start loosening up some of his tension, then he puts his lips around Brent's dick to relieve up a different kind of pressure. Adam worships Brent's cock and then hops up on the massage bed to have Brent suck him. Brent bends over and lets Adam rim and finger him, relaxing a whole new place on his body. Then Adam slips inside and fucks Brent while jerking him. Brent asks Adam if he can return the favour by fucking him, and he's very willing to let the boy try. The guys flip back and Adam fucks Brent hard against the massage table until he cums all over Brent's perky ass. Adam fingers Brent until his tension is finally relieved all over his muscular stomach.
FALCON STUDIOS
RAGING STALLION
ICONMALE
ACTIVE DUTY
COBRA VIDEO