American Gay Porn Star, Brent Corrigan
Known Aliases: Fox Ryder (Falcon)
Years Active: 2006 – 2018
TWITTER @BrentCorrigan
original 2006 Falcon Stats:
Hair Color: Brown
Eye Color: Brown
Height: 5′ 7"
Position: Versatile
Build: Swimmer
Body Hair: Smooth
Cock: 8.5" Cut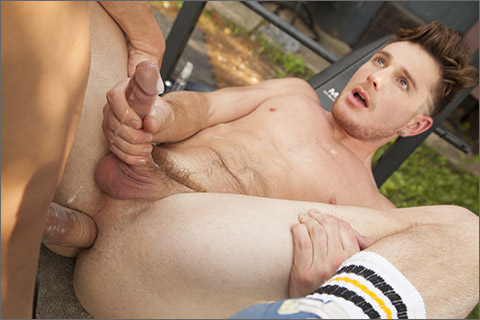 MXXX THE HARDEST RIDE: JJ Knight fucks Brent Corrigan
Reality sets in on the ranch. The guys know if they don't win the motocross competition all will be lost and they don't even have the money to enter. Inside Uncle JJ Knight is buried in bills and has reached the end of his rope with Tom's irresponsible behavior. When the too butt heads Tom does what he does best – puts on his helmet and takes off on his bike. Brent Corrigan sees the fight and comes over to do what he does best – console his horse-hung uncle with his hot mouth and tight hole. The incestuous duo take turns sucking dick but Brent knows what Uncle JJ wants. He spreads his ass-cheeks and JJ dives in, first with his wet tongue then with his legendary 10-inch cock. JJ pounds Brent mercilessly until they both drain their loads on the workout bench. Regardless of what happens to the ranch, these two go their happy ending.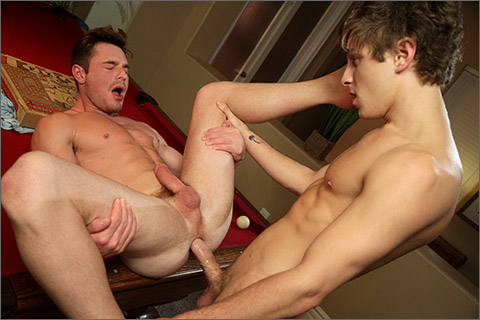 ULTRA FAN: Brent Corrigan & Calvin Banks flip-fuck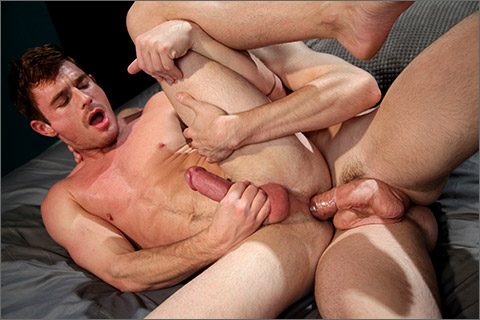 ULTRA FAN: Brent Corrigan & Jack Hunter flip-fuck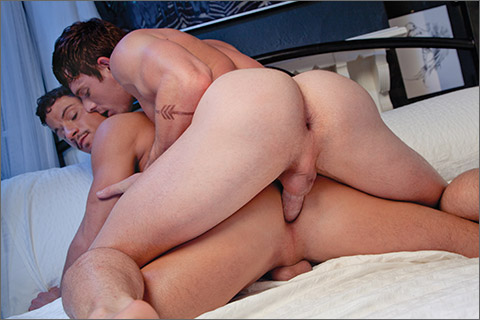 EARTHBOUND – HEAVEN TO HELL 2: Brent Corrigan as Lucky & Skyy Knox as Rogue flip-fuck
Rogue (Skyy Knox) was a sex slave, but he turned his back on his master, The Devil and became Earthbound. After stumbling into a crowded bar, Rogue finds his personal angel: Lucky (Brent Corrigan), an angelic gogo dancer. It's true love at first sight, and the power of their love frees Rogue from his enslavement by the Devil. Rogue, overwhelmed with gratitude, kisses Lucky passionately. Removing their clothing, Lucky wraps his lips around Rogue's huge cock. Switching places, Rogue slathers spit along the shaft of Lucky's cock, then uses his fingers to probe inside Lucky's tight hole, then gives Lucky a taste. Lucky throws his legs in the air, and Rogue presses his face between Lucky's ass cheeks. Flipping places, Lucky reciprocates. Sliding his tongue along Rogue's crack, then rubbing his cock right down the center. Slowly at first, then picking up speed, Lucky starts fucking Rogue doggy style. Their hard muscles flex and bend as they grind their bodies together. As Lucky lays back on the bed, Rogue uses his powerful legs to raise and lower himself on Lucky's hard cock. Standing up by the side of the bed, Rogue drives his hard member into Lucky. The incredible sensations of Rogue's cock inside him gets Lucky ready to blow. He strokes his cock and cums into Rogue's mouth, who then snowballs it back to Lucky with slow, tender kisses. Kneeling over Lucky's face, Rogue shoots his load right into Lucky's open mouth.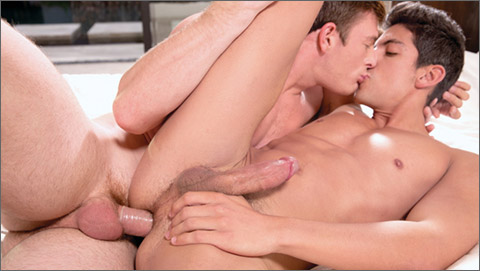 PROPERTY LOVERS: Brent Corrigan fucks Alessandro Haddad
Brent Corrigan's dream home is finally finished and furnished. He walks through the modern dwelling, admiring the handiwork that the handsome contractors did. Walking out by the pool, he pays a compliment to the gardener Alessandro Haddad, who is putting some final touches on the patio. Brent and Alessandro want to share phone numbers to stay in touch for future work, but Alessandro's thick gloves make it hard for him to get his phone out of his pocket. Fortunately, Brent is happy to help, and when he returns Alessandro's phone to his pocket, his hand lingers, clutching at Alessandro's bulge. They share a moment of connection and head inside for greater privacy. Brent kneels down and excitedly works his lips around Alessandro's tool. They go to the bedroom, where Alessandro kneels on the bed and Brent dives face first into Alessandro's hole. Stripping off his underwear, Brent rubs his hard cock into Alessandro's crack. Lubing up, he penetrates Alessandro's tight muscle ring with his cock, and Alessandro's cock leaks tons of precum. Rolling over, Alessandro puts his feet in the air and takes Brent's cock deep and hard. Grabbing his hard shaft, Alessandro starts stroking and sprays a gigantic load onto his stomach. Brent joins in, stroking out his hot white cum and letting it mix with Alessandro's.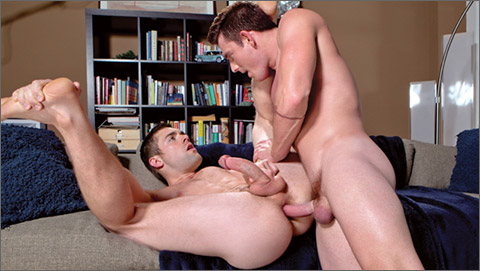 SCENE 2: Brent Corrigan fucks Griffin Barrows
Bike messenger Griffin Barrows makes a delivery to an apartment and is star struck when he realizes his client is famous San Francisco app developer Brent Corrigan! Brent is impressed that Griffin got across town during rush hour in only 24 minutes. "If you have another package you'd like me to deliver," says Griffin, "I'd be happy to do that for you." "Let's see if you can impress me again," replies Brent. They hurriedly strip off their clothes and start making out. Griffin uses his mouth to service Brent's huge, hard cock. Brent returns the favor with long, deep, sucking on Griffin's tool. Brent bends Griffin over, parting his fuzzy ass cheeks and diving in face first. The slick spit makes it easy for Brent to slide his cock along the crack of Griffin's ass, and the temptation is too much to resist. He plunges his meat into Griffin's hole, and Griffin angles his ass up towards Brent, loving every second of it. Relocating to the couch allows Brent to sit down and have Griffin climb on for a ride. As sweat glistens on Brent's shoulders, a switch to missionary allows him to penetrate deep into Griffin's tight hole. With Brent still inside him, Griffin blasts his ripped abs with ropes of thick cum. As Brent jacks his cock, Griffin gets on his knees and opens his mouth to catch every spurt of hot spunk. After seeing how great Griffin is at riding a bike – and at riding a cock – Brent tells Griffin about a special club that he should definitely check out: 'Urban Spokes'.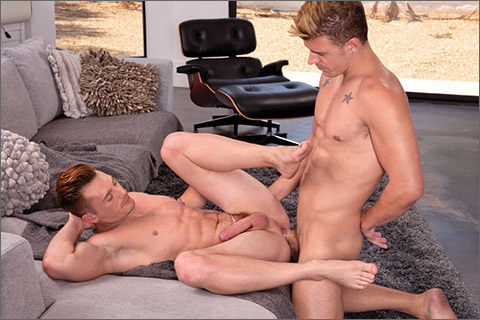 ABOUT LAST NIGHT: Brent Corrigan & JJ Knight
After a long night of bachelor partying, Brent Corrigan finds his buddy JJ Knight, the groom, crashed out on the couch. It's early in the morning, and they've barely slept, but that doesn't stop them from having one last fling before JJ's married off to someone else. Brent pulls back the blanket and opens his mouth wide to get a taste of JJ's monster cock. Reaching into his buddy's briefs, JJ fondles Brent's throbbing boner. After JJ uses his mouth to moisten Brent's cock, they rub their dicks together as they kiss. Turning around, Brent parts his amazing ass cheeks and JJ dives in face first. With JJ's tongue wedged in his hole, Brent moans and shudders with pleasure. Now on the floor, Brent gets in doggy style position and JJ mounts him with vigorous thrusting. They grind together, taking turns providing the momentum for their intense penetration. JJ gets back on the couch and Brent climbs on to ride JJ's cock. Thrusting up from below, JJ's massive balls swing through the air. Rolling over into missionary position, Brent grabs his cock and strokes himself as they reach the point of no return. With JJ still inside him, Brent shoots a white hot load. JJ stands up and sends jets of white cum into Brent's open mouth. After Brent sucks every last drop of cum from JJ's cock, they press their faces together in a final cum-covered kiss.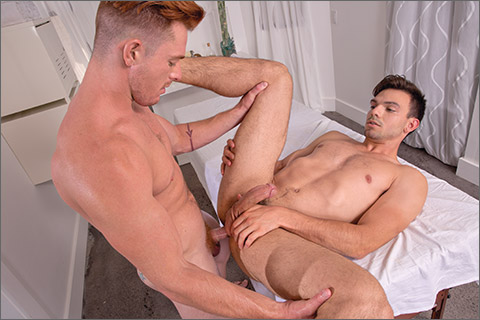 DEEP RELEASE (FVP-265): Brent Corrigan fucks Jason Maddox
Brent Corrigan slips into a luxurious soaking tub; as he relaxes, his cock swells and hardens. Jason Maddox, Brent's masseur, begins the bodywork session with firm strokes along Brent's muscled backside. The round, meaty cheeks of Brent's ass are irresistible to Jason, who's fingers reach into Brent's tight hole. With his right hand, Brent reaches out and fondles the growing bulge in Jason's pants. Loosening his belt, Jason let's his pants fall to the ground, and Brent leans in to swallow Jason's rock hard cock. Climbing up on the table, Jason plunges his face into Brent's crack, driving his tongue deep into his client's fuck hole. As he rims Brent's hole, Jason uses his hand to stroke Brent's cock. With massage oil for lube, Jason drills his meat into Brent's ass, Brent moans with pleasure as Jason's low hanging balls slap against him. Turning the tables, Jason gets on the table and opens up for Brent to fuck him in the ass. After Brent delivers a thorough pounding, they flip once more, and Brent uses his strong legs to fuck himself on Jason's stiff rod. The intense pleasure on Brent's prostate is so great, he shoots a gigantic load over Jason's torso. One huge blast goes past Jason's head, and the rest puddles on Jason's ripped abs. Standing up, Brent expertly jerks Jason's cock until Jason blows his load, dripping globs of thick, white cum everywhere.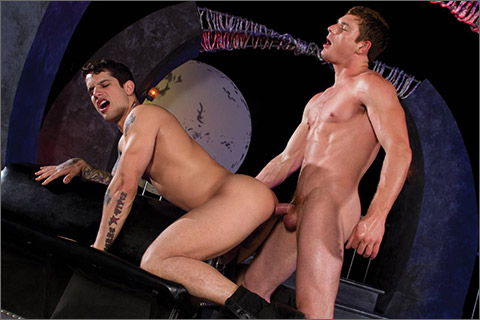 MAGNITUDE: Brent Corrigan fucks Pierre Fitch
Jaw-dropping Pierre Fitch and show-stopping Brent Corrigan are two of the biggest stars to ever appear in gay porn. In this meeting of mega-stars — a decade in the making — these porn icons suck, rim and fuck as if they'll never have sex again and reveling in their long-overdue meeting. Smooth, clean-shaven, and in elite physical condition, both sport tight, black jock straps, and they simply can't get enough of one each other. Plunging tongues down throats with passion, masterfully handling dicks, and expertly devouring cock are just a few of these celebrities' talents. The kissing and cock sucking turns into deep, wet rimming, which leads to powerhouse fucking. A historic romp of this 'Magnitude' requires a flip-fuck, and horned-up Pierre and Brent deliver. First, Pierre finally savors Brent's meaty cock in his ass, taking it in doggy and missionary positions. Having the long-awaited cock in his ass, Pierre can't wait to drive his rock-hard, thick cock deep into Brent from behind, and it's clear that Brent has anticipated this moment, because he takes it like the champ he is. As the energy of this perfect match-up builds, both of them reach the bursting point and unload hefty shots of cum onto Pierre's torso.

GAY MASSAGE HOUSE: Adam Russo & Brent Corrigan flip-fuck
Adam Russo is not your average massage therapist. He specializes in treating particularly anxious men, ones that are so deep in the closet that they don't even know they're gay. Adam relieves their tension and anxiety with his touch, but leaves his special 'happy ending' as a surprise. His first client is Brent Corrigan, a religious boy-next-door type who is under a lot of pressure to be a perfect Christian. Adam puts his hands on Brent to start loosening up some of his tension, then he puts his lips around Brent's dick to relieve up a different kind of pressure. Adam worships Brent's cock and then hops up on the massage bed to have Brent suck him. Brent bends over and lets Adam rim and finger him, relaxing a whole new place on his body. Then Adam slips inside and fucks Brent while jerking him. Brent asks Adam if he can return the favour by fucking him, and he's very willing to let the boy try. The guys flip back and Adam fucks Brent hard against the massage table until he cums all over Brent's perky ass. Adam fingers Brent until his tension is finally relieved all over his muscular stomach.
NAKEDSWORD
FALCON STUDIOS
RAGING STALLION
ICONMALE
ACTIVE DUTY
COBRA VIDEO
[Total: 125 Average: 2.9]