American Gay Porn Star, Bray Love
Years Active: 2011 – 2015
TWITTER
NAKEDSWORD INFO:
Position: None
Cock Size: 7″
Ethnicity: White
Build: Swimmer
NakedSword's Exclusive Bray Love is the most perfect 'Boy Next Door.' But don't let his cute face and beautiful blue eyes fool you, Bray Love is a San Francisco bad boy who loves to fuck, get fucked, and suck cock until his lips turn purple. There is a reason they call this one a "Cumpire."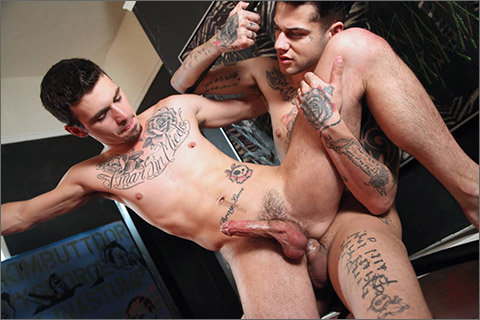 HOOKER STORIES 3 – STAY FOR MORE: Bray Love & Mickey Taylor flip-fuck
Mickey Taylor gets a call from a guy requesting two escorts at once so Mickey calls his new friend Bray Love. Both hookers expertly service their client but the whole time they can't take their eyes off each other. At the end of the hour the client pays and leaves… but Bray stays. The tattooed young studs dive on each other's hard cocks. Mickey shows off his deep throat skills then shoves his giant tool in Bray's ass. He fucks him doggy-style and flying squirrel-style, hanging off the frame of his covered bed. They fall in a heap where Bray flips the switch and fucks Mickey's bubble butt until he shoots a huge load that flies over his head. Bray hops up on Mickey's chest and shoots his load in Mickey's open mouth. Now that's a happy ending!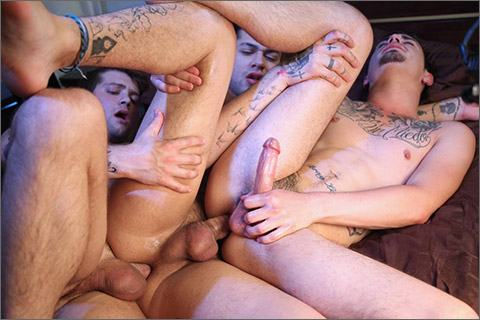 HOOKER STORIES 3 – MONEY WELL SPENT!: Bray Love & Sebastian Kross DP Mickey Taylor
San Francisco techies are hot, rich and sometimes like to hire a hooker to fulfill their fantasies like (Falcon Exclusive) Sebastian Kross. Kross hires Bray Love to come over, confessing he's always wanted two guys to suck his dick at the same time. Bray calls in his reliable buddy Mickey Taylor and they arrive ready to make dreams come true. The gorgeous threesome gets right down to business pulling a cock sucking train before Bray and Mickey both worship's Sebastian's huge cock. The muscular stud gets off on it and goes down with Bray to suck Mickey's giant tattooed dick. The cock sucking and ass eating continues until Sebastian can't stand it any longer. He plows into Mickey's asshole while Bray swings his dick around allowing both guys to suck him off. Next it's Bray's turn and another fantasy comes to life… Mickey's first double penetration! Bray shoves his massive meat into Mickey's hungry hole, followed by Sebastian who slides his hefty monster right alongside. The freeway train continues until all of them shoot their loads in each other's mouths — now that's money well spent!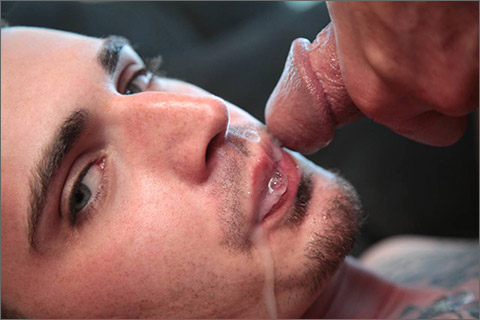 ON THE LOOKOUT
EPISODE 3 – BAY WINDOW: Austin Keyes fucks Bray Love
Catching some sun while reading a book in your window seems like a great way to spend an afternoon but when Austin Keyes notices Bray Love hanging outside his building he gets a better idea. A nod of the head is all it takes and Bray is up in Austin's flat, sucking his giant cock and licking his baseball-size nuts. The two horn-dogs don't even bother to close the blinds, treating the neighbors to a wild cock-sucking session that ends up with Bray sitting down on Austin's giant dick. The fuck-down reaches a frenzy when Austin pulls out and cums all over Bray's pretty face who proves to be a true pig, sucking every last drop.
NAKEDSWORD
FACTORY VIDEO / CUM PIG MEN
CLICK HERE TO GO TO HIS NAKEDSWORD DETAILS