Handsome Canadian Gay Porn Star, Brandon Jones
Years Active: 2011 – 2016
TWITTER @BrandonJonesxxx
LUCAS ENTERTAINMENT INFO:
Height: 5'11
Weight: 140 lbs
Dick Size: 7.5″
Position: Bottom
Sex-charged Brandon Jones got started in modeling because he loves to explore sex in front of the camera. When he was a kid he was obsessed with winning an Oscar. Now, Brandon Jones doesn't have to act because he is "having a blast with every scene." This insatiable power-bottom loves to get fucked doggy-style. His absolute fantasy would be to get gang-banged by an entire rugby team.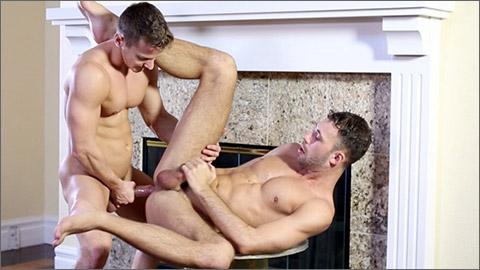 THE PIANO LESSON
I must say that i have a thing for europeans with cute accent and i was just so lucky to have hunk Darius Ferdinand to come give me a private piano lesson. Maybe music was not really on my mind cause all i wanted is to take off his clothes to lick is perfect muscled body. Not only his eyes and body are perfect, his dick is absolutely glorious and delicious too. After taking care of sucking our cock hard i had the pleasure to eat his perfect pink hole. God i could had stay there for days but i had just to stick my big cock in it. i pound him hard without mercy making sure he had enough before offering him my ass. Darius is not only an amazing bottom he is a powerful top too. His stiff uncut cock did me so good i came all over myself. Hope you guys enjoy as much as I did.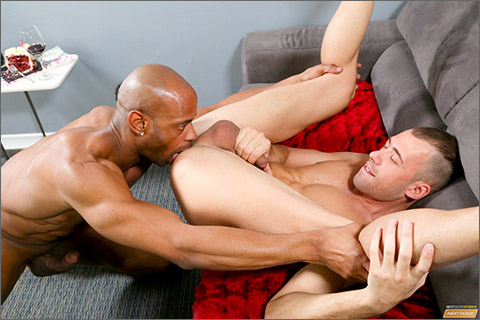 JUST POPPING IN
This is an awesome story about a guy named Marlone Star. Marlone was chillin' at home one afternoon on his birthday. He had assumed all of his friends had forgotten it was his birthday, because he hadn't received ANY calls and NO happy beeday wishes on Facebook (he didn't have his birthday information entered).
   But to his chagrin, he received an anonymous call from someone, only identifying himself as 'an old friend.' The voice told him a gift was on its way. Before he could even thank the person and hang up the phone, there was a rapping at his door.
   Marlone opened it to find a super-hot guy named Brandon Jones on the other side. Marlone knew Brandon was the gift. Brandon followed Marlone inside (Marlone backed back in) and then pushed Marlone back down onto his couch.
   Brandon sang a few bars of the birthday song as he slowly pulled his jeans down, revealing his plump, fuckable rear end. Marlone didn't waste time diving right into his present. First, the guys kissed for a while, as Marlone squeezed those luscious butt cheeks. Then, Brandon pulled out Marlone raging hard on and sucked on it. Brandon took the hard cock very deep, way down into his throat. 'What a wonderful birthday gift!' Marlone thought to himself as Brandon gagged on his stiffy.
   Next, Marlone spent some time slurping deeply on Brandon's big dick. Marlone enjoy how it felt in his mouth. Then, Marlone bent Brandon over the arm of his couch, slid his cock into Brandon's ass, and pounded away. He knew it was ok to fuck him as hard as he wanted, because it was HIS birthday, and that's how you fuck a deliciously got stranger on your birthday.
   After that, the two heated things up even more. Join this party-for-two as the handsome Marlone makes the most of his special day and his gift from an anonymous 'old friend.'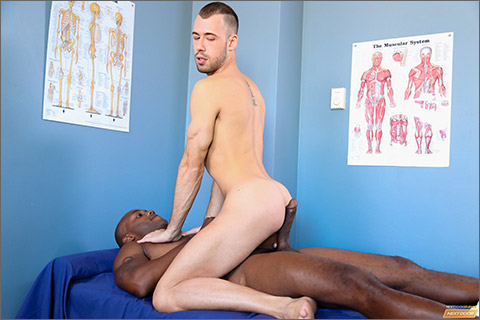 SPECIAL TREATMENT
Ah yes, the perfect day for a massage treatment. Osiris Blade likes to work his body to the MAX. He's always had a great physique and he enjoys keeping it that way. Today, he feels like he may have pulled a muscle in his back. On the way home from the gym, he's stopped into a little hole-in-the-wall massage parlor that he's always wondered about. The proprietor is a man named Brandon Jones. And Brandon is more than a little excited when he sees Osiris walk through his door.
   Brandon pleasantly instructs Osiris to become nude and lay on his back on the massage table. Brandon leaves and returns with oils and preparations for the rub down. It's not long before Brandon has pulled the towel away from Osiris's mid-section and is rubbing around his giant cock. Brandon notices Osiris's dick is becoming slightly fatter. He takes this as a sign that Osiris would probably appreciate a bit of special treatment. He slowly goes in for the luscious cock, eventually landing his lips right on it. Brandon begins sucking and taking the growing meat deeply. Osiris sighs, letting Brandon know this special attention on the cock muscle feels VERY good.
   The mood heats up a bit when Brandon takes off his own clothes and mounts Osiris, continuing to stroke his mammoth dick. The two kiss for a while and Osiris gets his hands on Brandon's big, hardening member. Brandon turns his body around on top of Osiris so he can suck his dick some more while Osiris has a taste of his tight hole. Once it's nice and wet, Eventually, Brandon turns back the other way, facing Osiris, so he can ride that huge erection. They fuck for a while in this position before standing up so Osiris can really deliver a hard pounding with that incredible dick.
   Join them and feel every muscle in your body become tighter and tighter, along with these studs, then feel that powerful release, just as you plunge with them into deep, satisfying relaxation.
JONES EXPOSED
LUCAS ENTERTAINMENT
NEXT DOOR STUDIOS
NEXT DOOR EBONY
JAKE CRUISE'S COCK SURE MEN
NAKEDSWORD
COCKYBOYS
VIDEOBOYS
MEN AT PLAY
HARD BRIT LADS
CLICK HERE TO GO TO HIS LUCAS ENTERTAINMENT DETAILS