Handsome Canadian Gay Porn Star with Fat Uncut Cock, Brad Rioux
Known Aliases / aka:
Years Active: 2002 – 2014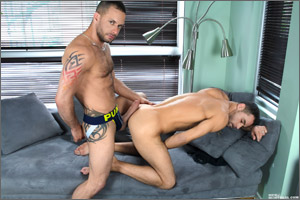 BATTLE OF THE BIG GUNS!
We recently received the applications from veteran actor Brad Rioux and newcomer Marco Gagnon, both Montreal guys wanting to shoot with us. Marko Lebeau had set up a shoot for Marco Gagnon and the guy he was going to shoot with bailed last minute. So, we contacted Brad and decided to make this impromptu acquaintance between the guys.
   After strolling around the neighbourhood in Marko Lebeau's car, Marco and Marko picked up Brad and heeded back to the loft so our newcomers could get it on. As soon as they arrived the two guys got into things and each other, peeling off clothes, showing off some pretty hefty tools. Marco dove right away for Brad's 9′ x 7′ cock and then off they went. After each sucking the other's huge cock, Marco was the first to get to his partner's ass. Brad definitely was enjoying that big cock in his ass… his boner was telling the story. Marco's ass was pretty stunning as he was pounding away as Brad's legs were reaching all the way back to his head.
   After taking Marco's cock up his ass for a while, Brad got into some serious ass rimming of his partner. Aided by his index finger, Brad was darting his tongue in and out, slapping away at Marco's hot buns. It was then time for Brad to shove his massive dick into Marco's inviting ass. It took a couple of deep penetrations to get Marco's ass opened up, but it wasn't long that Brad was pounding away, while Marco was jerking himself off.
   Marko Lebeau then gave the guys a huge Billy stick. After putting it into Marco's ass, Brad took the other end and put it in his hole. But after a few minutes of shoving the Billy stick into Brad's ass, he wanted more cock up his own ass. That is when he sat and rode Brad's beer-can sized cock. Marco was jacking himself off as he rode Brad and soon shot his load on the hairy chest beneath him. Then Brad ramped up and shot his load as Marco's ass hole was still hovering inches above his dick. Marco's hole was spread with cum juice as the guys kissed and called it a day.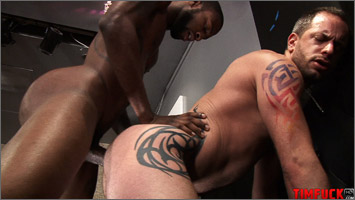 HOT ROD FUCKS BRAD RIOUX
Brad Rioux is not your daddy's twink porn star anymore. All grown up, Brad gets impaled by Hot Rod's 10-inch black love stick in this sizzling exclusive TIMFUCK scene. Bent over on a public bar lounge bench, Brad begs for that huge monster cock to fill up every part of his hole. Hot Rod is happy to squirt his delicious cum into the man's ass. A Max Sohl scene.
MEN OF MONTREAL
TREASURE ISLAND MEDIA
TREASURE ISLAND / TIM FUCK
More Brad Rioux at: AEBN SMUTJUNKIES THEATER