Cute Smooth American Jock Gay Porn Star, Brad Benton
Known Aliases: Pete, the photographer Tucker Bang, Brad Brantley (Grapik Art)
Years Active: 2001 – 2011
RANDOM INFO:
Here's a "Dirty Boy" from the Dirty South is how Brad Benton describes himself. This 29 year old star of "DANTE'S COVE" is an Atlanta son and definitely a head turner. His charming features, and the club that comes with it, have landed him squarely in the adult industry, a far cry from Law school which was where he was headed. He began dancing at clubs to help pay for law school when he was discovered by a big wig Studio Exec who offered him a role in one of his feature films. Always one for adventure, Brad said yeah and ended up landing him in some 26 movies to date and won him an award for the hottest 3-way in that debut film. The film turned out to be Falcon's fifth installment of a sizzling series that originated back in 1978: "THE OTHER SIDE OF ASPEN". Brad's very open and says he came out at 12 when he introduced his boyfriend to his Momma. "I didn't know any better." He laughs.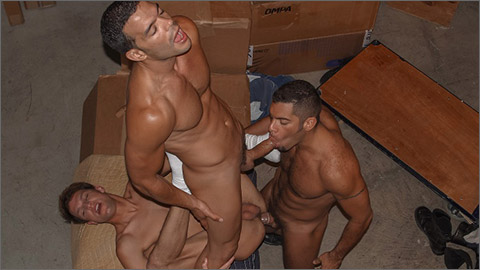 PACKERS: Brad Benton gets packed full of uncut latin meat by Marcos David and Mario Ortiz!
Brad swaggers into a South of Market packing plant with an order he needs filled, and an eager hole that's twitchin' for action. So he doesn't interrupt when Mario and Marcos start making out. When the two smoldering Spanish studs spot Brad spying, they've got his head pushed down on one fat, uncut dick and then the other pronto. Before the lucky boy can even say please, Marcos bends Brad over a packing hopper so he can eat his fresh, white ass while Mario crams the boy's face full of spicy manmeat. When the hot skinned sex-pigs start plugging Brad's tender hole, Brad loses it. Unable to hold back, all three men let loose their heavy loads. But that doesn't mean they're finished. Marcos squats on Mario's mammoth meat, impaling himself as Brad furiously beats his meat. Ravenous, Brad and Marcos flip the mighty Mario over, thrust their slippery cocks up his moist fuckhole, and make him explode in thick molten streams of man-juice. Brad and Marcos second that emotion — in a big way.
TITAN MEN
FALCON STUDIOS
CATALINA VIDEO
COLT STUDIO / BUCKSHOT PRODUCTIONS
CHANNEL 1 / RASCAL
ALL WORLDS VIDEO
JAKE CRUISE'S COCK SURE MEN
MEN.COM
SUITE 703: MEN HARD AT WORK
GAY ROOM
CLICK HERE TO GO TO HIS TITAN MEN DETAILS

MEN MAGAZINE PRESENTS: TITAN MEN