Blond Handsome Hung Czech Gay Porn Star, Boris Lang / Petr Jarena
Known Aliases: Rob Blond, Marty (Dirty Scout)
Years Active: 2017 – 2019
STAXUS INFO:
Date of birth: 10th July, 1995
Height: 5'8″ / 172 cms
Cock size: 7.5″ / 20 cm
Ethnicity: Czech
Role: Top
A clever, articulate boy, Boris has ambitions to be a personal trainer to the stars. Life being as it is, there's no guarantee his dream will be achieved; but he admits that if gets to enjoy plenty of pert ass in the meantime he'll be more than happy!
Interesting Fact:
Boris is a self-confessed fitness fanatic, whose idea of a perfect day is one spent pumping iron in the gym!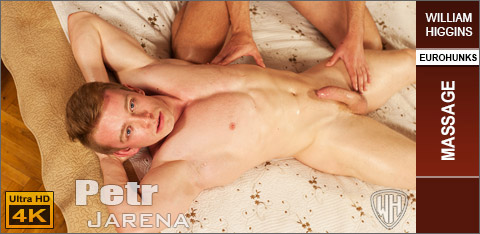 MASSAGE: PETR JARENA
Petr Jarena is a great looking str8 guy who came in for a massage. He looks so good as he strips down to his underwear, showing off his magnificent body, and lays on the bed to await the arrival of his masseur. The masseur soon joins him and Petr mentions that his whole body aches. The masseur takes some oil and gets to work on Petr's shoulders. The neck and shoulders are worked deeply and then the hands begin to move down the back too. The underwear is slid off Petr's sexy ass so that the cheeks can be massaged as well. The hands glide over the hairy cheeks pulling them apart. With the underwear lowered the cheek part well to show off Petr's hot, hairy, hole. The hands glide over the thighs too, and down Petr's legs, then onto his feet as well. More oil is used to massage into the feet. Then the hands move back up to that sexy ass. Petr's legs are parts and his cock and balls adjusted, pushing them down between the thighs. Oil is dripped onto his sexy ass adn the hands massage it in. The hands rub over the cheeks, parting them and rubbing the hot hole too. Reaching between Petr's legs the hands grab his dick as well. Petr's ass is raised off the bed a little as the hands keep rubbing over it. Then he moves onto his knees and a hand grabs his dick and starts to wank it. As the cock gets nice and hard in one hand the other uses a finger to slip into Petr's tight ass. The finger fucks his ass deeply as his hard cock is wanked. Petr takes the finger very easily in his hot hole. More oil is applied to the hole and the finger fucking continues. The finger comes out of the ass and the oily cheeks are spread to show that hole. Petr's dick is wanked continously as the finger goes back into his ass. Then a thick vibrator appears and that is pushed deep into Petr's hot hole. It goes in well, with Petr taking it all. When the toy is released it stays in his ass while his cheeks are rubbed. The vibrator is removed and then shoved back into his ass, fucking in and out as he is wanked. Then Petr turns over and lays on his back. His hot chest is oiled too and his big cock is wanked some more. The wanking gets harder and faster until Petr shoots his hot cum onto his belly. That big dick is milked dry and then lays in a pool of sticky cum as his chest is massaged one last time.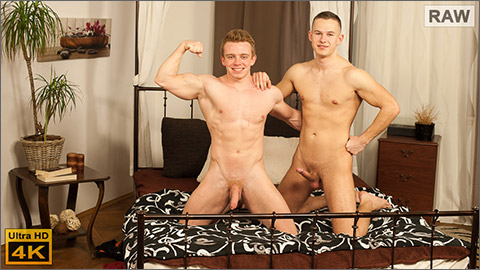 CHERRY BUSTING: PETR JARENA & MARTIN HOVOR
Petr Jarena is a fabulous looking str8 guy. In this scene he gets his hot Cherry Busted. He sits on the bed and does a lovely interview and then he takes off his tee shirt and, following directions, begins to flex and pose. Then he is asked about any experiences with a guy. He says he has no experience but is happy to try something small with Martin Hovor, another hot str8 guy who has arrived. The two begin to kiss and feel each other. As they continue to kiss Martin bares his chest too, and opens his jeans to release his rock hard cock. Petr takes that big cock into his mouth and starts to suck on it. He sucks well and then Martin starts fucking his big dick into Petr's mouth. Petr's lips close tight around that big cock and he sucks it well, wanking it too. Then both guys remove their jeans and Martin lays down as Petr returns to sucking on that big dick. He licks and sucks on Martin's balls too. Then Petr removes his underwear to reveal his stiff cock which Martin eagerly takes into his mouth. Martin sucks hard on that cock and on Petr's balls too. He does a good job at sucking Petr's dick. Petr they lays on the bed and raises his legs for Martin to slide his big cock into the tight hole. Martin's dick pushes into the virgin hole and goes all the way in. Petr moans as he feels the big cock stretch his ass and start to fuck . He takes the cock well as Martin slowly fucks the hot ass. Martin's fucks speeds up as Petr's hole gets used to that big cock . Petr raises his head, to look down at the cock that is pounding his tight hole. He moans loudly as Martin keeps up the hard fucking. Martin's dick pummels the hot hole, banging away as hard as he can. Petr takes it all and then he moves, to sit on Martin's big dick and ride it. He slides his ass up and down on the big cock taking every inch deep into his ass. He comes off the cock and turns around to face Martin and then slides his ass back down on the dick. Petr keeps riding that cock, bouncing up and down on it. Then he climbs off and lays down as Martin spoons with him fucking him hard and fast. Petr wanks himself as Martin's dick slam into his hole. Soon Petr's dick releases the hot cum as Martin continues to fuck that tight hole. Martin keeps up his hard fucking until he is ready to cum too and then he pulls out, and shoots a big load all over Petr's cock and balls. They kiss again to end a wonderful cherry busting.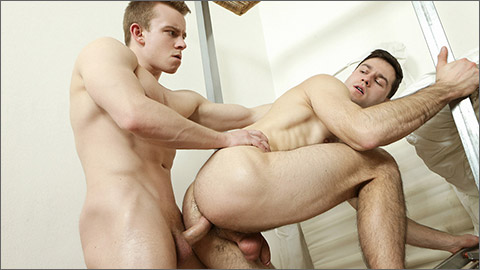 BOOTY BASH
Boris Lang has a burning desire and he's going to take it out on Tomas Salek. Plucked from the streets and taken to an abandoned room, Tomas submits to Boris' probing hands & mouth. When Boris slides his uncut cock in raw, the passion intensifies, until Tomas is cast aside as quickly as he was snatched up.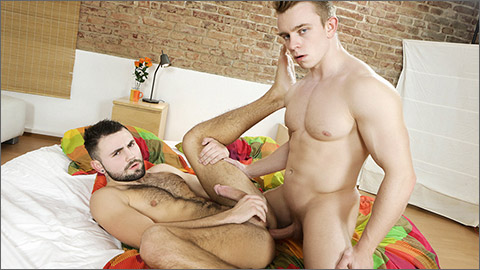 DO AS YOU'RE TOLD
If we can be sure of one thing, it's that Jeffrey Lloyd has a delicious ass, and Boris Lang knows exactly how to tame it. Boris shoves his uncut cock in every one of Jeffrey's holes, taking full control with finesse and vigor. Watch Jeffrey and Boris get sweaty & sloppy in this steamy bareback fuck fest!

RAW OVERTIME
Boss Boris Lang needs his employees to go above and beyond at work and Rudy Valentino is eager to please. This is what Raw Overtime looks like.
CLICK HERE TO GO TO HIS WILLIAM HIGGINS BIO PAGE
CLICK HERE TO GO TO HIS STR8HELL BIO PAGE
VIDEO ON-DEMAND: WILLIAM HIGGINS @ AEBN SMUTJUNKIES THEATER
ENDLESS STREAMING MEMBERSHIP: WILLIAM HIGGINS @ NAKEDSWORD