American Gay Porn Star Huge Uncut Cock, Boomer Banks
Years Active: 2013 – 2016
TWITTER @Boomer_Banks
MARCH 2016
Becomes a CockyBoy Exclusive.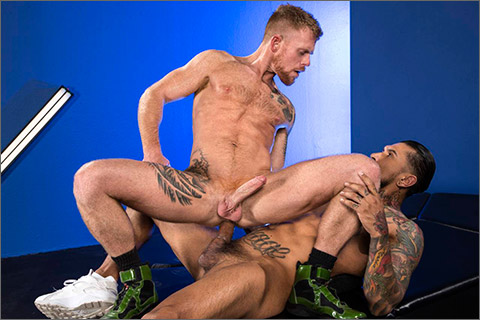 'BOUT TO BUST: Boomer Banks fucks Jack Vidra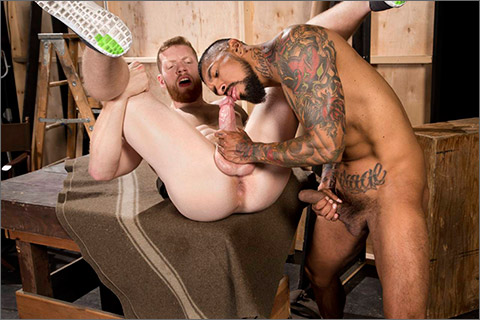 BACKSTAGE PASS: Boomer Banks fucks Cass Bolton
Boomer Banks and Cass Bolton sniff and lick, both gravitating towards each other's armpits. They are both tall and athletic, but Cass is pale and freckled compared to Boomer's darker skin, covered in ink. Boomer's cock is the ultimate challenge to Cass' sucking skills, and the cords of his neck stand out as he tries to swallow more and more. Boomer shows no mercy, fucking Cass' face and making his eyes tear. Cass gets a break when Boomer wants his foreskin played with. Cass' chest and pubes are covered with crisp red hairs that match his beard. He and Boomer make out, and Boomer sucks his cock, having no trouble swallowing it. Nuzzling the hole, tonguing it, and massaging it with his thumb, Boomer turns his attention to Cass' crack. Boomer lies on his back and Cass slowly lowers himself onto Boomer's rock-hard 10′ cock. They pound into each other from opposite directions, rattling the table and slamming their nuts together. Boomer feeds his massive load to Cass, who sprays his seed across the floor as he swallows.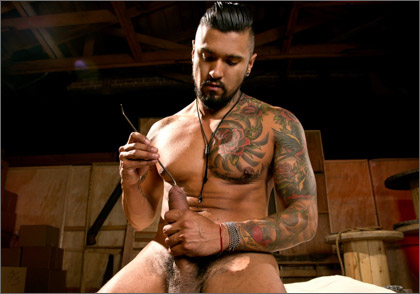 SOUNDING #9: Boomer Banks
Boomer Banks has double-digit inches of cock to play with, so when he lines up the gloves, lube, and sounding rods, he's got your attention. His method is focused and intense: set the rod, slide it in a few inches, then let gravity take control. Boomer moves the sound up and down like a piston, gasping and moaning as he pushes his limits. His mouth stretches into a big 'O,' as he discovers how deep the smooth steel can go. When he's ready, he pulls the sound out and reads it like a dipstick. The gloves come off, the strokes quicken, and Boomer shoots his massive load. He scoops it up and eats his own manseed, fully enjoying the results of his work.