Blond Russian Gay Porn Star Power Bottom, Bogdan Gromov
Known Aliases / aka:
Years Active: 2016 – 2017
TWITTER @gromov_ps
LUCAS ENTERTAINMENT INFO:
Height: 5'9
Weight: 165 lbs
Dick Size: 8"
Position: Versatile
Bogdan Gromov knew he wanted to perform in Lucas Entertainment films after watching the studio's content on the website. Bogdan is versatile in bed and his favorite sex acts are kissing and rimming, and it's especially fun when it's taking place at a pool (Bogdan loves having sex in water). Bogdan has a thing for tall and athletic men, and he's curious about putting himself at the center of a gang bang.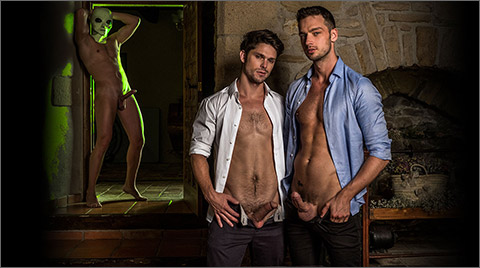 MUST SEED TV: THE XXX FILES | Devin Franco, Damon Heart, Bogdan Gromov
It's a parody, it's a reboot — it's a reboot-parody! It's Must Seed TV! Special Agent Cox Smulder (Devin Franco) wants to prove he was abducted by an alien, but with a skeptic of a partner like Agent Sully (Damon Heart) it's easy to get pulled back to earth. With one unsolved mystery after another, Sully and Smulder find themselves closer to the truth, until they come face to face — and face to cock… and ass to mouth — with a close encounter of the probing kind.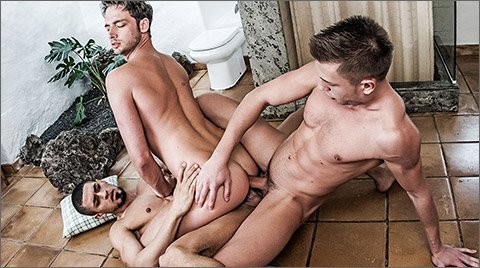 RAW DOUBLE PENETRATIONS 5: Damon Heart Gets Double-Fucked by Ibrahim Moreno and Bogdan Gromov
Ibrahim Moreno has lately been the reigning master of double penetration at Lucas Entertainment, and in today's bareback encounter he once again shows us he's ready and willing to see how much cock he can take up his ass and for how long. First, however, another exclusive model wants to give raw double penetration a try: Damon Heart. With help from Bogdan Gromov and Ibrahim Moreno, Damon gets his ass stretched out by two cocks at once!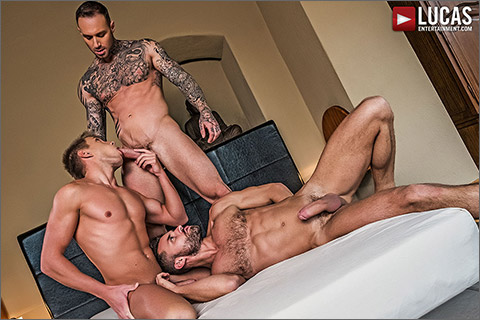 ASS-FUCKING ALPHA MALES: James Castle and Dylan James Own Bogdan Gromov's Ass
James Castle snuggles up with his young lover, Bogdan Gromov, in bed watching television. James is fresh from the shower with only a towel covers his always stunning body. What Bogdan doesn't know is James invited over alpha-male Dylan James to shake things up and give them both a taste of some masculine dominance. Dylan shows up in a tank top and jeans and jerks his dick while James and Bogdan fool around. But before long Dylan James strips down (showing off his sexy-as-hell tattoos) and gets his hard raw cock wet in both James Castle and Bogdan Gromov.

BAREBACK BOYFRIENDS & BROS: Viktor Rom Owns Bogdan Gromov's Ass
As mentioned in his threesome with his step brother Klim Gromov and the alpha top Marq Daniels, Bogdan is a versatile guy who has skill in the bedroom both giving and taking dick. Bogdan and Viktor Rom (another alpha top who uses his fat eight inches of uncut cock as a battering ram) are no strangers to each other. They've been in a handful of group sex encounters together, but have never had a chance to be together one-on-one. Viktor Rom, as noted several times, is a top only, which leaves Bogdan Gromov with one option. Fans of lean twinks getting their asses wrecked by macho alphas will not want to miss this scene!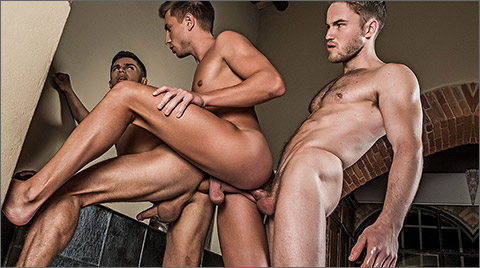 BAREBACK BOYFRIENDS & BROS: Marq Daniels And Bogdan Gromov Double-Team Klim Gromov
The Russian step brothers Bogdan Gromov and Klim Gromov traveled together to Spain for the chance to have a bareback threesome with the gorgeous (and fellow Lucas Entertainment exclusive model) Marq Daniels. Bogdan has demonstrated on several occasions that he's just as good and energetic at topping as he is at bottoming. But his step brother, Klim, is a total bottom who treats his ass as a receptacle for raw cock and cum. He totally gets off on offering his little twink hole up to his step brother and alpha tops. Klim takes double the raw uncut cock from both Bogdan and Marq Daniels in this encounter.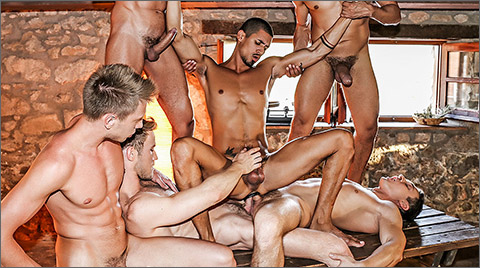 RAW DOUBLE PENETRATIONS 04 – STUFFED: Ibrahim Moreno Bareback Double-Penetration Orgy
Ibrahim Moreno has proven himself time and again to be the go-to guy for extreme anal penetration. Don't be fooled by his warm smile and sweet personality — while that's all true, he's also an animal in the bedroom, and he stars in this lineup of the studio's premiere Lucas Men. Ibrahim's bareback orgy features Marq Daniels, Bogdan Gromov, Alejandro Castillo, Javi Velaro, and Alex Kof. Ibrahim's Latin hole is ready to be stretched, and when you check out 14:30 you'll see Alex Kof and Alejandro Castillo going deep inside him for some hardcore raw double penetration action.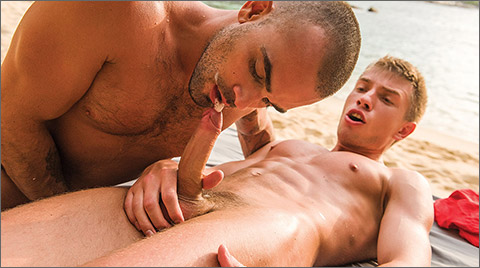 GOOD SERVICE: Damien Crosse Barebacks Bogdan Gromov's Ass
The Lucas Men are enjoying a day at the beach while Damien Crosse watches them from afar. Damien is known for his sexual appetite, and he can't help the erection he gets while lounging on the sand observing all of the fresh meat at play. Bogdan Gromov is the guy he's got his eye on, so he fakes a coughing and choking fit to get the attention of the bodyguard. It works, and Bogdan uses his hard, uncut cock to open up Damien's windpipe. Bogdan may be in a position of authority with his job — saving lives isn't easy — but when he's with a man he gives full service to his top. That's why he submits his ass so easily to Damien Crosse, who gives Bogdan an unforgettable bareback pounding on the beach as the sun goes down.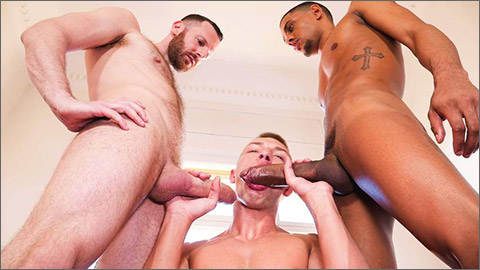 TIM KRUGER & CAIO VEYRON FUCK BOGDAN GROMOV
Monstercock Superstars Tim Kruger and Caio Veyron are taking turns on Bogdan Gromov's asshole.
   Bogdan asked for it (literally, in a Whatsapp message) and we gave him the total package: Both guys fucked his ass hard, Tim held him tight white Caio jackhammered him…and you just have to become a Member to see the full 24 minutes of the action…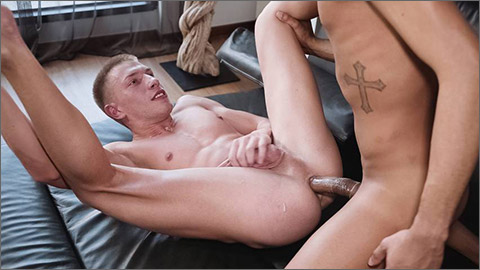 CAIO VEYRON FUCKS BOGDAN GROMOV
Caio Veyron is one of our strongest Fuckers and of course we really wanted to pair him with our new most wanted Bottom Bogdan Gromov.
   When Bogdan came into the room on that day Caio was in Love right away. And when Caio fucked Bogdan real deep you can see the smile on Bogdan's face. That was perfect chemistry.
   And now we have all that for you as a Movie to download and stream. Just become a Member and have Fun.
CLICK HERE TO GO TO HIS LUCAS ENTERTAINMENT DETAILS