American College Jock Gay Porn Star, Blake Barnes
Known Aliases / aka:
Years Active: 2014 – 2016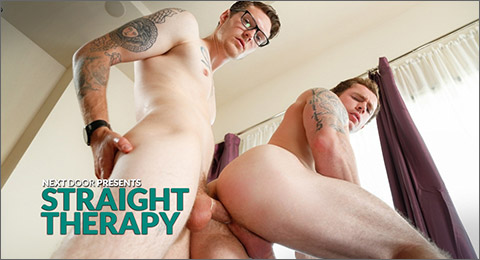 STRAIGHT THERAPY
Markie More is conflicted. Unsure about his feelings towards his attraction to men, he's sought out some professional help for his situation. Therapist Blake Barnes has seen other patients with Markie's problem, but none so pronounced and full of obvious denial. Blake recommends Markie should act on more of his impulses and urges, and as he jots down a few notes, he realizes how effective his advice is received, as Markie reaches out and runs his hand up Blake's thigh. Happily married, Blake is flattered, but assures Markie that isn't what he meant. Markie persists, taking off his shirt, and he can instantly see that he's not the only one in the room who is repressing urges. He asks Blake to take his own advice, slowly unzipping his pants and pulling out his cock. Blake takes it into his mouth, cautiously at first, but with increasing desire as Markie's cock swells hard inside his mouth. Confident and enabled, Markie takes the lead, pulling Blake's shirt off and returning the favor, sucking off his therapist right in the middle of his office, before letting Blake have his way with his wanting and waiting ass. Markie mounts Blake, riding him reverse as he strokes himself hard, his cock bouncing against his stomach with Blake's every thrust. Really getting into it, Blake suggests Markie bend over his chair, and Markie does so, as Blake pounds him from behind, his cock sliding in and out of Markie's hole as he watches Markie moan in delight.Markie flips over and Blake fucks him til he cums, pulling out and nutting all over Markie's stomach, as they both smile at the break-throughs they've shared with each other.

RAW INTRUSION
Proving utterly inept at the trade, would-be burglar Blake Barnes is foiled in his attempts to rob a random hotel room when lawyer Lance Taylor comes back and catches him red handed in the act. As he tries to call authorities, Lance is thrown onto the bed and Blake explains his situation: he's a desperate man on the run, wanted for a crime he didn't commit. Luckily for Blake, Lance happens to be a lawyer, and provided that Blake is willing to entertain his fantasies, Lance offers a trade of services to help Blake out of his jam. Blake scoffs at the deal until Lance reminds him he doesn't have much of a choice, telling him to lean back and enjoy it as he sucks him off.
   Lance blows him hard and then bends over, telling Blake to pretend it's his girlfriend's ass. Blake fucks him from behind, pulling on Lance's tie and slamming him hard with his raw dick. Lance smiles as Blake continues to pound, pile-driving him as Lance lays flat on his stomach, then flipping him over and fulfilling his side of the deal as he fucks the cum out of Lance, blowing his load all over him before sticking his dripping dick back into Lance's cum drenched hole for a second round of negotiations.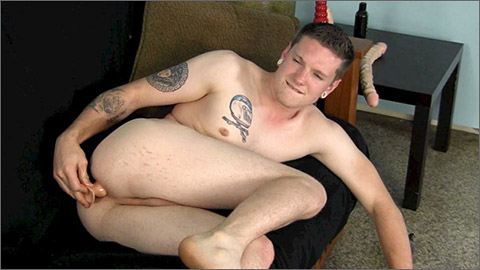 STRAIGHT FRATERNITY AUDITIONS: BLAKE BARNES
Blake Barnes is not sure what to expect when he walks in and sees all the sex toys, but he's curious to know what it feels like to cum with something in his butt. Blake tries a dildo about the size of his dick, but when he can't get it all the way in, he switches to a short butt plug. He makes that one in but can't keep it there, so finally he uses a small strand of anal beads and has the most intense orgasm ever.
NEXT DOOR STUDIOS
BAIT BUDDIES
STRAIGHT FRATERNITY
DALLAS REEVES
CLICK HERE TO GO TO HIS NEXT DOOR STUDIOS DETAILS