Compact Cute ChaosMen Amateur Jock, Bjorn Manning
Known Aliases: Bjorn, Bjorn Bronson
Years Active: 2015 – 2016
TWITTER @BjornManningXXX
TWITTER @BjornBronsonXXX
BRIAN OCKERT / CHAOS MEN INFO:
Start Age: 22
Debuted: June 22, 2015
Height: 5'3″
Weight: 135 lbs
Cock: 6″ Cut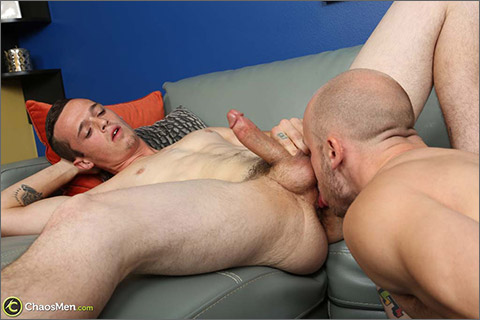 SERVICED: BJORN & FRANCO
We started this Serviced video with Franco standing. He seemed more confident getting hard and even cumming that way during his solo. So I wanted to start strong.
   Bjorn works his way down to his cock, and quickly gets him hard. Franco is great at dirty talking! Wow! I haven't heard a young guy say "daddy" before, but it works with him! His bossy nature took over.
   Bjorn has him lay down, and I worried this position would be too passive for him. But Franco had no problems staying hard, though he snuck a lot more peeks at the video playing for him.
   Bjorn had access to his hole, so started rimming it. Franco loses interest in the porn playing for him, and strokes his cock while enjoying having his ass rimmed! Hmmmmmm! Another sign he might be a versatile type of guy?
   We even get a short amount of Franco sucking on Bjorn's cock. For his first time, he hesitated only a moment, then tried his best to explore techniques to turn his buddy on. It doesn't last long, but basically I wanted him to get that hurdle over with before coming back to do a full sex scene.
   Bjorn lies on his back while Franco strokes his load right into Bjorn's mouth. His cock puts out a lot of cum, and Bjorn swallows what he could. Franco pushes his spent cock into his mouth, making him clean it. He starts encouraging Bjorn to cum by dirty talking while rubbing his chest.
   That did the trick and Bjorn busted a nut that actually hit Franco!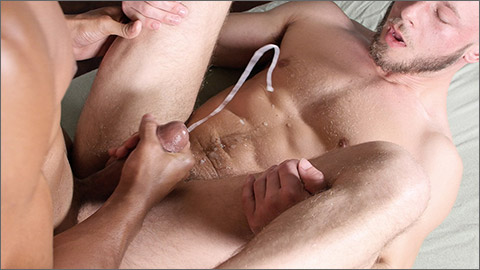 MUSCLE WORSHIP
Devon Felix gives Bjorn Manning an oily massage and finishes him off with an ass pounding.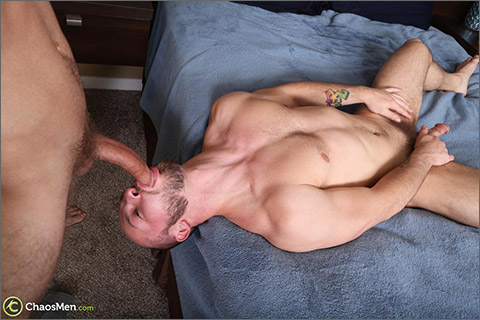 SERVICED: AUGUSTINE & BJORN
Augustine said he would not be shy about playing with another guy. Phew!
   He said that only once when he was really drunk did he mess around with a guy. Sounds like they sucked and fucked each other, so in his mind, he would be fine.
   He actually takes the lead, and works at getting Bjorn's cock out so he can stroke it. His cock does not spring to life, so Bjorn slides down to help his buddy out. It grows to a thick tree in no time!
   Once it was up, Bjorn was all about worshiping his long cock! And clearly Augustine loved having someone slurp up his meat. He has a natural ability to dirty talk, and it is great to hear him encourage Bjorn to slobber on his knob.
   Augustine gets up on his knees and then you really see how long his cock is! Bjorn does his best to take his cock at that angle, but his eyes keep watering.
   He flips Augustine onto his back so he can fuck his throat. That gives Bjorn a chance to play with his own cock. Once it is up, it too tempting for Augustine to not give cock sucking a try. Yeah! He tried sucking dick while not drunk!
   Augustine also loved having his ass rimmed. His hair is very fuzzy, so a little hard to see, but Bjorn did his best to bush whack. Augustine would writhe around as his ass gets eaten, then shove his cock down Bjorn's throat.
   Augustine pulls out and jerks his cock until he cums. The cum drops straight down Bjorn's gullet! He shoves his cock in, forcing the cum all the way down his throat.
   Bjorn starts jerking his cock in order to cum. Augustine is a patient and helpful buddy. He dirty talks to him and lets him continue to suck his cock. He knew Bjorn got off eating his hole, so he even goes to sit on his face to help his buddy over the top!
   Bjorn load shoots out like a laser, coating his body, and even splatting on Augustine's thigh!
   If you love long cocks and cum eating, you will love this video!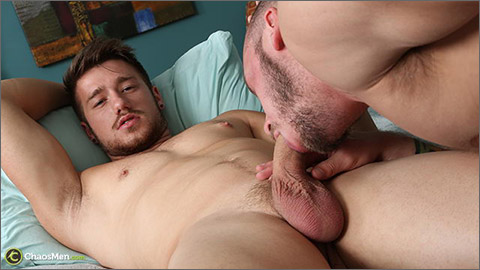 SERVICED: BJORN & VAUGHAN RAFFERTY
Despite having done video work elsewhere, Vaughan was very uncertain about getting head. Apparently he had stuck to just jerking-off alone or in a group. He waited a week before coming back for more.
   He needed the money for a new motorcycle, and was willing to let a guy suck on his cock.
   You can tell he is a bit incredulous about it at the start. But Bjorn dives in fast and it only takes a minute for Vaughan to realize he was going to like having his thick uncut cock serviced.
   He doesn't spend too much time watching the TV. I think he truly liked watching his cock get swallowed.
   Vaughan also got his cock sucked backwards while he was doggie style. Bjorn snuck in some rimming, to which I think Vaughan was not expecting. He stays hard though!
   Bjorn works like a dog, sucking and pumping his cock until a creamy load drools out of his foreskin!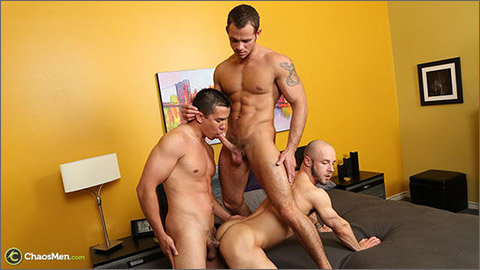 TAGTEAM RAW: BJORN & COOPER REED & PAX
Bjorn was eager to get started, and I knew the boy could handle a lot of cock!
   I had been wanting to put Pax and Cooper together, but had my reservations that Cooper could handle Pax's giant rod. Oh, he never would complain, and would take it, but I think his expression would look pained, and his cock would crawl up inside of him. He is trooper, but I think I would have felt like a sadist making him sit on it.
   So Bjorn was set to be the bottom boy and Cooper and Pax would use him!
   We start with Bjorn servicing Cooper and Pax, who spend some time kissing while their cocks get worked on.
   They all move over to the bed where Cooper gets a taste of Pax's meat. He then feeds it to Bjorn, making sure it goes all the way down his throat. Pax was in the zone and actually eager to try sucking an uncut cock. He seemed fascinated by it, and nursed on it while Bjorn worked his stick.
   Cooper and Pax lay across from each other, while Bjorn took turns sucking their cocks.
   It wasn't long before they had Bjorn doggy-style. Cooper rimmed Bjorn's hole, getting it all slicked up for his cock. In the meantime, Bjorn kept his mouth action on Pax's cock.
   Bjorn said he could handle anything, but ironically both Cooper and Pax struggled to get inside Bjorn's tight hole. Cooper did the loosening up with his tongue and finger, and you can tell he struggled to get into Bjorn's tight hole.
   Pax climbs over Bjorn and feeds his ginormous cock to Cooper, who bangs the heck out of Bjorn. Cooper really liked that and encouraged Pax to try the same thing.
   Pax, our shy and reserved dude, looked very happy fucking a dude while sucking a cock. He really had to concentrate at doing both tasks, but it is so cool to see him just dive in and try most anything.
   They switch it up to some spooning, which I think is Pax's specialty. Cooper goes back and forth feeding his cock to both Bjorn and Pax. Again, Pax looks happy sucking and fucking at the same time.
   Pax was actually struggling to not cum through out this video. That presented a problem for him to fuck Bjorn until he would nut.
   In order to make Bjorn cum, we knew it might take a lot of time to get Bjorn over the top. Pax feared he would nut inside of him, while Cooper knew he could keep going without busting. So we had our final ending position and everyone was really ready to bust.
   Cooper fucks the cum out of Bjorn, and nearly seconds later, Pax is feeding his load to Bjorn. I am sure Bjorn was in pig bottom nirvana! Timing is a hard thing to accomplish in porn, and these two were on their game!
   Not to say that Cooper wasn't! I quickly had to get down underneath to capture Cooper giving Bjorn a creampie. He was super close too and you can tell I am racing to get it all in focus and at the right angle.
   Vander recommended Bjorn, and this tiny titan is a power bottom. He is off to an amazing start!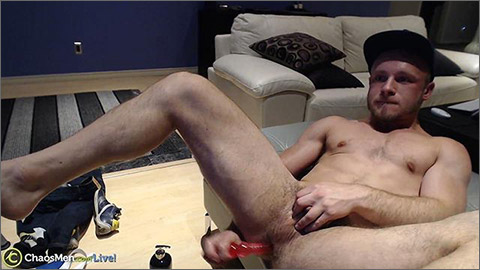 LIVE! 08-01-15: BJORN
Bjorn does not have a lot of video online yet, but since he is local, he came on over to chat and play with you all.
   He is an adorable little tyke, and loves to play with his ass.
   This Friday, there is a hot scene of him being TagTeamed by Cooper Reed and Pax!
TAGTEAM RAW: BJORN & COOPER REED & PAX
LIVE! 08-01-15: BJORN
SERVICED: BJORN & GLENN
SOLO: BJORN
CHAOS MEN
JASON SPARKS LIVE
GAY ROOM
GAY ROOM / GAY CASTINGS
KINK MEN
CLICK HERE TO GO TO HIS CHAOSMEN BIO PAGE