British Ginger Gay Porn Star, Billy Rock
Years Active: 2015 – 2018
UK HOT JOCKS INFO:
Location: Hull, England
Age: 21
Height: 6ft 4ins
Weight: 73kg
Hair: Red, Short
Eyes: Green
Cock: 7ins, Uncut
Role: Versatile
Orientation: Gay
Sweet as pie, tall as a house and horny as a young buck Billy Rock was very eager to get into porn and UKHotJocks gave him his debut! All the way from Hull in the north east of England, a bright eyed boy comes out of a little town and into the big city to make his first venture into gay porn. A keen and lean gym boy, he's got a great framed body, broad shoulders, big chest and at 21 years old and 6'4" tall, we have a feeling he'll be breaking some hearts through his twenties and beyond. Flame red ginger, massive deer-like eyes, round, full lips and a versatile performer, he's got it all going for him. Welcome Billy!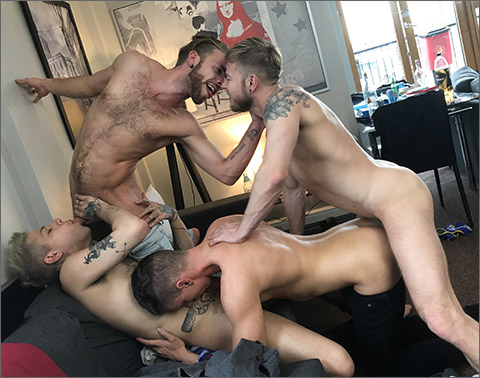 GUYSPOTTING – BUMP AND GRIND: Mickey Taylor, Matthew Anders, Billy Rock & Gabriel Phoenix
Mickey Taylor and Gabriel Phoenix are high on love but sometimes that's not enough. When they get to their mate's flat the party is already in full swing and everyone is getting high on everything they can find. Glasses of wine and poppers lead to bumps and before you know it everyone is naked and on the grind. Mickey is on his knees sucking all three cocks then has his cock up Billy's ass. Matthew Anders and Billy Rock take turns fucking Mickey and Gabriel and they switch places. At one point all four guys are lying in a giant fuck pile and loads are swallowed. It's good to be young, gay, and Guyspotting in Manchester.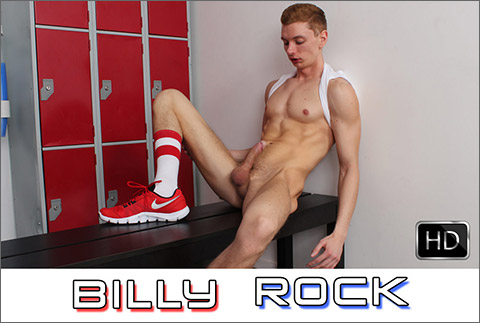 LOCKER JOCK: BILLY ROCK
Young and adorable Billy will Rock your world, or at least your bed! Fresh faced, twinkly eyed and totally keen he's ready to dive head first into porn and get his rocks off for you. Super tall, lean with a gorgeously defined and smooth body, he's got all the goods going on. Ginger on top but none of the other features associated, not a freckle in sight on his perfect skin.
   We get down to it, rubbing his sports wear and getting hard in his shorts, jock strap peeking out of the top. Up he stands tall against the lockers, his head clearing the top, just as a scale rule! He glares down at the camera lens with those massive anime eyes.. We bet he uses those to get what he wants on occasion! Getting hard and getting out, his thick slab of lean meat in his hand beating off, bending over to show off his hole and sliding a few fingers in there, groaning as he does. He's ready to shoot his spunk so lays down, plays with his hole a bit more and splat!!
CLICK HERE TO GO TO HIS UK HOT JOCKS DETAILS