Handsome Titan Men Black American Gay Porn Star, Diesel Washington
Years Active: 2006 – 2016
TWITTER @DieselWashXXX
TITAN MEN INFO:
Titan Media Signs New Exclusive Diesel Washington
(San Francisco, June 9th, 2006)
Titan Media, parent company of gay mega-brands TitanMen, ManPlay and TitanMen Fresh, has announced the signing of its newest exclusive model, Diesel Washington. The 32-year old Brooklyn native stands 6′ 6″ tall, is 250 muscular pounds and sports a 9-1/2-inch cock!
"The first day Diesel was on the set, shooting a scene for Hitch, I knew I wanted him back as an exclusive," says Brian Mills, TitanMen's lead director and GAYVN Hall of Fame inductee. "He's handsome and hung, with an amazing body and a terrific can-do attitude. This guy has everything we could ever look for in a performer."
"After I filmed my first scene with Titan, I thought I gave a good performance, but when I was asked to come into the TitanMen office, I was nervous and figured that they were just going to tell me that they were going to stay in touch with me and use me for the future," says Diesel.
"To my shock, I was offered an exclusive contract with TitanMen. My jaw hit the floor, and I was speechless. I could not have asked for a better company to work with; Titan is by far the premier gay studio!"
The top stud's first film is Hitch, directed by Brian Mills, which releases at wholesale October 31, 2006. Scheduled appearances include roles in a major leather/fetish-themed film to debut at the 2006 Folsom Street Fair, and additional Brian Mills features for Holiday 2006. Diesel will also appear exclusively for TitanMen during the 2006 Folsom Street Fair and the 2007 GAYVN Expo.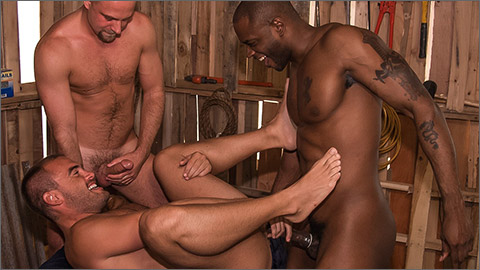 HITCH: Diesel Washington and Nick Horn fuck and fist Jessie Balboa in the barn
Later, Jake encounters Jessie Balboa, who is looking for work. Jake gives him a pass, and soon Jesse is putting the moves on his prospective employer, Nick Horn. As Nick and Jesse get better acquainted, the scene shifts to tall, muscular stud Diesel Washington (another notable performance), who drops the bib of his overalls and pisses off the side of a barn. There's no reason for this especially, except for the fact that Diesel looks so damn fine doing it. Diesel is Nick's helper, and so of course he pitches right in when the time comes to try out the new guy. Jesse deep-throats Nick as Diesel watches, but the look in Diesel's eyes is pure, unadulterated lust, and there's no doubt that when he gets his turn with Jesse, it's going to be all the way on. The action in this three-way rocks, from the daisy-chain suck that gets things started to the tag-team fuck Diesel and Nick give to Jesse, but one of the highlights in it, and indeed in the production overall, is the smacking, sucking kisses Diesel provides the assist by holding Jesse's legs apart and talking dirty. Following a trio of excellent cum-shots, Jesse's butt gets even more action, a fisting by Nick while Diesel watches and talks dirty. Hey, it's a living.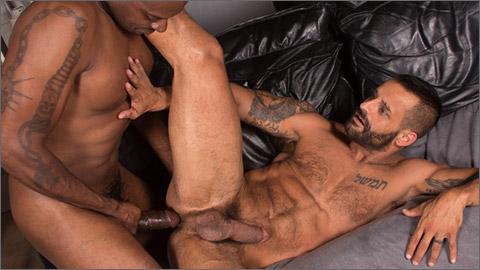 TAXMAN CUMETH: David Benjamin gives Diesel Washington full service
SF Titans Baseball coach and former star player Diesel Washington gets a visit from his accountant David Benjamin—who's nervous about income his client wants him to ignore. Diesel uses his crotch to tempt his aroused accountant: "It's all yours…go for it." David engulfs Diesel's monster, gagging on it: "It's fucking huge!" says the breathless sucker, soon begging Diesel to rape his mouth. "Don't get bossy with me," says the increasingly verbal alpha, "I'll make you choke on it." A big spit strand connects David's furry face to Diesel's cock, the smiling sucker extending his tongue for a dick whipping. Diesel sucks the excitable stud back, then eats and slaps his ass before fucking him. David's stiff dick bounces as he gets fucked, Diesel telling him to "squeeze it!" A pearl of precum drips from David's dick, the bottom soon on his back begging for more: "Stretch that fucking hole!" David's whole bod shakes as he gets owned, his cock squirting without any stroking—Diesel then dumping his load on him.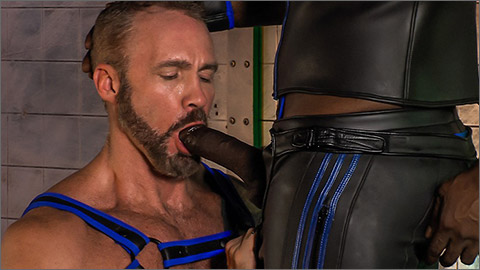 ICONS: Diesel Washington fucks Dallas Steele
Covered in neoprene and wearing motorcycle helmets, Dallas Steele and Diesel Washington rub each other's bodies—teasing each other as the tension builds. After sliding his helmet on Dallas's ass, Diesel reaches around and releases the muscle stud's throbber—then gets a whiff of it over his open visor. Diesel guides Dallas down, his huge dick soon choking the sucker. Dallas engulfs Diesel's balls as the side of his face gets dick whipped, spitting down on his own cock as he sucks ("Get it wet," moans Diesel as Dallas gasps). Diesel returns the favor, worshipping Dallas' steel rod. Diesel opens wide, huge strands of spit falling to the floor. With one strand still stuck to his face, Diesel moves his head in circles to wrap the spit around Dallas's cock again. Diesel beats his face with it, moaning as he sucks balls deep. Dallas fingers the spit and feeds it back to the breathless sucker. They kiss, then eat each other out. Diesel pins Dallas against the wall and fucks him hard, the rock-hard bottom then sitting down on the big dick—his massive legs working hard—before getting on his back. The two fire their wads, Diesel dousing the bottom's groin.
TITAN MEN
FALCON STUDIOS
RAGING STALLION
RAGING STALLION FETISH FORCE
LUCAS ENTERTAINMENT
KINK MEN
KINK.COM / BOUND GODS
COCKYBOYS
PRIDE STUDIOS
MEN.COM
CLICK HERE TO GO TO HIS TITAN MEN DETAILS

MEN MAGAZINE PRESENTS: TITAN MEN
VIDEO ON-DEMAND: Diesel Washington @ AEBN SMUTJUNKIES THEATER
DVDs & ON-DEMAND: Diesel Washington @ TLA VIDEO