Blond Sexy French Canadian CockyBoys Gay Porn Star, Benjamin Blue
Known Aliases:
Years Active: 2016 – 2017
COCKYBOYS INFO:
Benjamin Blue is young, cute, and very new to sex. He's one of our CockyBoys from Montréal, bilingual in English and French, and has a pretty adorable accent when he opens up and talks. Naturally shy, Benjamin is a total bottom — he loves the feeling of a big cock up his perky little butt! With his blue eyes, blond hair, smooth torso, and uncut dick, Benjamin basically made fellow Québécer Gabriel Clark fall head over heels for him. It wasn't long before Ben was broken in with an exceptionally passionate "Clark-ing" experience, proving he's got what it takes to make any top's dreams come true. The very definition of a cutie, Benjamin's open-mindedness and boyishly handsome good looks make him a real CockyBoys winner!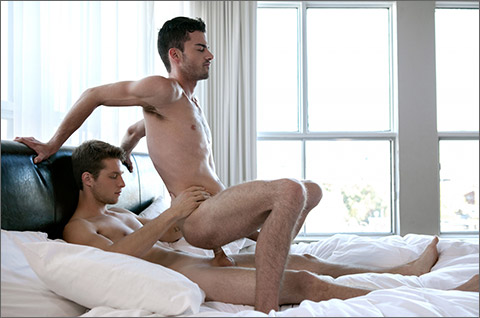 BENJAMIN BLUE FUCKS CORY KANE
Benjamin Blue has a few lessons to teach Cory Kane and not all of them include French. Sometimes the language of love is better felt than heard and Benjamin is eager to teach his new pupil just how much he can give and take.
   With a wink and a coy smirk, Benjamin shows Cory that he can take all of his massive girth in his willing mouth and Cory eagerly returns the favor, rimming him for added enjoyment. Things take a steamy turn when Cory invites Benjamin to join him on the bed and into his mouth. Cory's intense blowjob skills quickly lead an invitation to ride Benjamin's cock, much to both of their pleasure. The sexual tension builds into new positions until Cory takes Benjamin from behind.
   Their chemistry escalates as Cory fills Benjamin's willing hole and the sheets become twisted in his hands as he is left breathless on the bed, face contorted with ecstasy. But Cory isn't done yet and he flips Benjamin over to power into him with his full length. When Benjamin can no longer contain his excitement, he grips his own cock while being filled completely by Cory, and shoots his load over his own toned stomach, adding to Cory's excitement as he powers into Benjamin. It isn't long before Cory can no longer contain himself and he unleashes an impressive cum shot to Benjamin's stomach before they both collapse breathless in passionate kisses.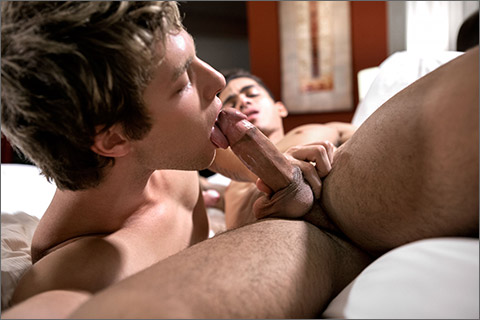 ASHTON SUMMERS FUCKS BENJAMIN BLUE
Ashton Summers and Benjamin Blue spent the day together checking out the local parks in Montreal. But all the sight seeing in the world can't compete with two horny guys and before you know they're swapping blowjobs on a park bench! They took this as a sign and headed back to the room for some serious fucking.
   The two hop on the bed and Benjamin takes Ashton's enormous cock in his mouth. Swirling his tongue around the swollen head as he looks with those beautiful blue eyes. Ashton responds by grabbing his head with two hands and pumping his cock in and out of his mouth. But Ashton wants more so he leans over and takes Benjamin's perfect uncut cock his mouth. Stopping to admire is beauty before bobbing his head back and forth on Benjamin's knob. The two share a steamy sixty nine before Ashton announces that he wants at Benjamin's ass.
   He sits up and spreads Benjamin's cheeks to get a good look at that perfect little hole then dives right in. Sliding his tongue all the way in Benjamin's tight hole as the little blonde twink moans his approval. Ashton smacks his ass a couple of times thene sits up and aims that huge cock at Benjamin's ass. Sliding it all the way to the balls in a single thrust that leaves Benjamin gasping for air!
   He fucks Benjamin hard on his knees then flips him over and fucks him slow on his back. Inching his cock all the way out of his ass before driving it back into the balls. The whole time looking directly into Benjamin's gorgeous blue eyes and kissing him sweetly on the lips. These two studs enjoy the ride then switch to the chair where Benjamin can ride Ashton's cock. That huge tool finds its way easily back into Benjamin's ass and he rides it like a champ. Bouncing up and down on Ashton's lap and driving himself crazy in the process.
   Ashton picks Benjamin up and moves him back to the bed where the two start back at a furious pace. Ashton pounds that hole like a jack hammer then reaches down and grabs Benjamin's cock and gives it a couple strokes. The little blonde twink must have been on the edge the whole time because Ashton's very touch seems to set him off and he blows a big load all over his smooth belly.
   Ashton pulls out just in time to shoot his own load at Benjamin's belly. A thick and hot load that joins his buddy's jizz and creates a beautiful mess as the two rub together and share sweet little kisses while looking into each other's eyes. Content and satisfied at last…
CLICK HERE TO GO TO HIS COCKYBOYS DETAILS