Hard British Lad Gay Porn Star, Ben Grey
Known Aliases: Ben Gray
Years Active: 2014 – 2015
TWITTER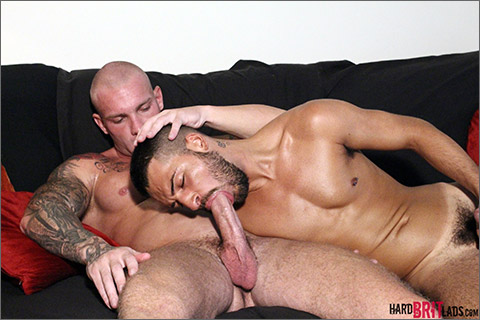 LEE TYLER & BEN GREY – STRAIGHT HUNG SKINHEAD BODYBUILDER GET HIS BIG THICK COCK SERVICED
Something pretty special here…Lee Tyler is a straight bodybuilder, 6 foot two, skinhead, major tats, and a really big thick meaty uncut cock. He did a couple of solo shoots, and after much persuasion, seeing as he really loves good oral, he finally agreed to let a lad suck his huge dick, with some very horny muscle worship thrown in too! And highly sexed young hottie Ben Grey is the lucky lad who gets to service him. Starting off in just their white sports briefs, Ben rubs oil into Lee's broad, powerful chest, and over his ripped six pack, his pecs are huge. He flexes his biceps for Ben, who rubs oil into them, then he gives his nipples a good sucking as he massages Lee's thick bulge. He drops to his knees, pulls down Lee's undies, and takes hold of his semi hard, big thick uncut meat and starts sucking. Ben goes deep but this is a massive cock, and seriously thick at the base. Ben can't take it all, but he's a talented and eager sucker, and lets Lee fuck his throat. It gets pretty noisy! Next, they're on the sofa. Lee lays back to let Ben take care of his girthy knob with lots more noisy, deep, wet sucking, and more hard face fucking. Then Ben lays on his back with his head hanging off the side of the sofa. Lee kneels to fuck Ben's mouth and throat some more. Ben cock is rock solid, even though that meaty cock pounding his throat is more intense than he can handle at times. Both lads are gagging to shoot their loads now. Lee kneels over Ben and they jerk off together. Lee shoots first, big thick heavy spurts of spunk squirt out over Ben's abs, and Ben shoots immediately after. Another great cum shot, as a powerful load of jizz pumps out over himself. They laugh a bit, and Lee flexes his bicep and flashes a big smile at us. This is a totally unique, seriously hot, one off video. Unmissable!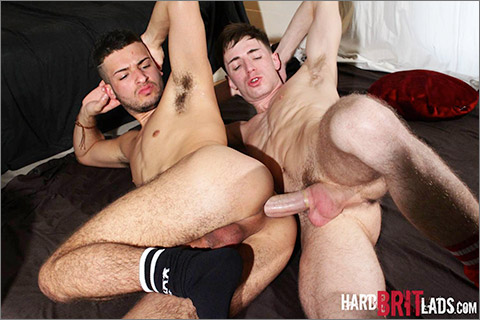 HOT, HORNY YOUNG BEN TAKES KAYDENS EXTRA THICK MONSTERCOCK!
Prepare for one of the HOTTEST videos I have ever made. Making a spectacular debut, super hot new young model Ben Grey gets his mouth and arse seriously stretched to the max by Kayden Gray's super thick 9.5 inch monster cock. Ben is laddish, cocky, with hairy legs and a thick meaty dick which permanently throbs. He might be young, but he is a very horny fucker, and gets off on being pushed to his limits. The action is non-stop, with both lad's big thick dicks throbbing from the start. After some passionate kissing and hard bulge action, the lads take turns feasting on each others cocks in very horny positions, with Kayden forcing his massive meat as far down Ben's throat as he can. Kayden deepthroats Ben, almost making him cum, fingering his hole deep as he sucks his stiff meat. The fucking is mind blowing. We have loads of positions, each one jaw dropping hot as Kayden gives cock hungry Ben the most intense fuck of his life, stretching his arse wide, with non-stop graphic close ups. By the end, both lads are aching to cum, and Ben shoots a thick heavy load as Kayden pounds his butt hard and deep, then Kayden pumps out an explosive cum shot, drenching Ben in his hot jizz. UNMISSABLE!