Slutty Kink Men American Gay Porn Star, Beau Reed / BJ Adia
Known Aliases: BJ Adia
Years Active: 2015 – 2017
KINK MEN INFO:
Body Type: swimmer
Height: 6'3″
Weight: 205
Hair Color: brunette
Gender: male
Cock Girth: normal
Cock Length: 7
Foreskin: cut
Scene Role: bottom
Pubic Hair: stubble
Ethnicity: white
Twitter @xbeaureedx
BREED ME RAW INFO:
Beau J. Reed is a raw breed indeed! Standing 6'4″ and 220 lbs, this hot muscle bottom was a perfect match for my site…and for me! He loves his big muscle daddies and loves to just get fucked. Own his ass and whore it out and he will love you forever. If you can find him a couple of black dicks he will be even happier. Loves to get his hole stretched by a hot double penetration and don't leave until you drop every last cum drop in his deep muscle butt!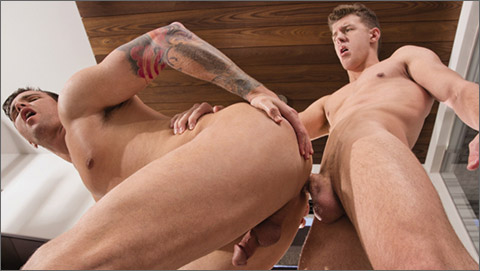 PROPERTY LOVERS: JJ Knight fucks Beau Reed
After a long day, JJ Knight and Brent Corrigan collapse into bed. Brent excitedly tells JJ about how he caught Alex and Dustin fucking on the job, and the sexy story inspires them into a nighttime quickie. The next morning, Beau Reed arrives to finish some work as JJ is still wrapped in a towel, finishing shaving. Beau nervously asks if he should come back later, but JJ assures him it's no problem. Stepping into the shower, JJ rinses off the shaving cream and shows off his massive boner to Beau, whose eyes widen with surprise and lust. Stripping off his clothes, Beau walks over and kisses JJ, then eagerly opens his mouth wide to swallow JJ's anaconda cock. Thick spit drips from Beau's mouth as he works hard to deepthroat JJ's massive meat. Bending over, Beau spreads his ass wide inviting JJ to give him a deep rim job. Using his finger, JJ works his spit down inside Beau's tight, pink hole. Lubing up his cock, JJ slides himself inside Beau doggy style. Flipping over and putting his legs in the air, Beau jerks his cock while JJ fucks him deep and hard. With JJ still inside him, Beau explodes with a massive load that splatters across his smooth torso. JJ pulls out and strokes out a thick, enormous load that coats Beau's cock with cum.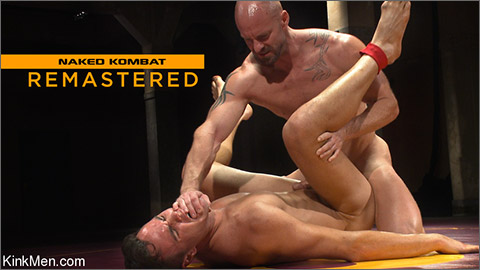 MITCH VAUGHN vs BJ ADIA
With his height and long arms, BJ Adia thinks he can easily take on KinkMen vet Mitch Vaughn in a battle of ripped bods and hard cocks. Shrugging off BJ's threats, Mitch feels more than ready to put BJ Adia in his place. The first round sees a thunderstorm of fast-paced wrestling. The combatants move quick to lock in technical points from brutal holds as their rock-hard bodies tussle on the mat. In the second round, the sexual domination comes to the forefront, with holes fingered and ass cheeks slapped as the wrestlers fight for Top Cock. The winner comes ahead with a clear margin and celebrates his victory with a wet, sloppy blowjob from the loser. He shoves the loser to the mat and jams a heavy metal asshook deep inside the loser's pathetic hole. The hook makes a great harness for pony ride, as the loser takes the winner around the ring before a vicious piledriver dicking. The winner puts the loser on his back and commands the loser to jerk out a load as his hole gets reamed mercilessly. The loser accepts his own jizz before his face gets creamed from winner cum. After receiving the hot loads, he licks the winner's armpit clean in gratitude.
FALCON STUDIOS
KINK MEN
AMERICAN MUSCLE HUNKS
BREED ME RAW
CLICK HERE TO GO TO HIS FALCON STUDIOS DETAILS
KINK MEN INFO PAGE