Hung Handsome Black American Gay Porn Star, Bam Bam
Known Aliases:
Years Active: 2015 – 2016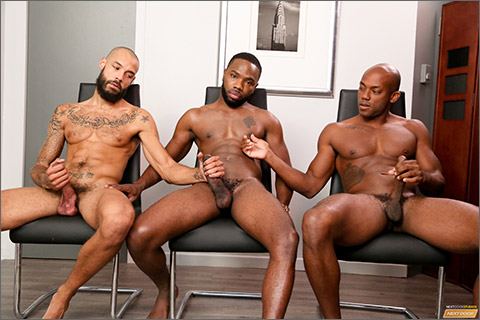 CARD DECKS & HARD DICKS
It's a good thing Osiris Blade is always prepared for friends to drop by. On this occasion, his good buddies, Bam Bam and Dylan Henri happened to show up to hang out. Osiris pulls out a deck of cards to inspire a playful attitude and enjoy some friendly, competitive fun.
   Instead of playing a boring game of Old Maid, Osiris tells the guys that the game they'll be playing is a version of the classic favorite, Strip Poker! Bam and Dylan don't protest, and before long, Bam is pulling his pants down to expose to his friends his large, swelling cock.
   When Bam loses yet again in the next round of play, he finds himself with Dylan's big dick in his mouth. That's the way it goes at Osiris's house…it's all or nothing!
   After Bam Bam gets a taste of both hard cocks, Osiris lets Dylan slide his fat erection in and out of his mouth, while Bam Bam works on Osiris's boner. From there, they switch things up so Dylan can enjoy a taste of Osiris's tight hole as Bam Bam gets a turn having his dick sucked.
   This gets the trio juiced up for some fucking, so, being a gracious host, Osiris takes Bam Bam's thick cock in his eager ass. Dylan and Bam Bam kiss passionately as Osiris takes a good banging. Then Dylan gets in there and slams that sweet hole for a while too.
   Bam Bam likes this and offers up his own tight pocket. Dylan takes advantage and pounds him for a while.
   This is an adventure that must be experienced to be believed! Join these three as their simple card game turns into a fuck fest where everyone gets a piece of ace!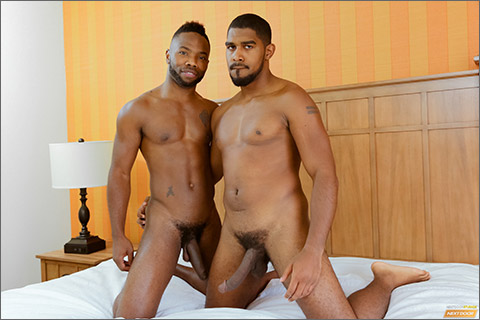 EROTIC MAJESTY
They come together like this only occasionally. It's a unique, sensuous experience for each of them, and is regarded appropriately as a spiritual encounter. XL and Bam Bam know the rich, beautiful power invoked when they hook up. And this time is more explosive than they could have even imagined.
   They begin with some smooth kissing. They're wearing only underwear, each sporting a massive, throbbing bulge. As they make out, their bulges rub together. Then XL goes to his knees and pulls Bam Bam's underwear down, uncaging a thick erection. XL wraps his soft lips around the hard cock and looks Bam Bam in the eyes. He sucks deeply.
   Then comes more passionate smooching. Bam Bam goes down for not only a taste of XL's large dick, but also of his tight hole. Licking and sucking, he prepares XL's ass for what's to cum.
   Bam Bam finally lifts XL's ass upward towards him and slaps his swollen dong on the hole. Then he slides the pulsating cock into the tight pocket and fucks him hard. They fuck while XL is on his back, then XL flips onto his belly to let Bam Bam really pound him good.
   After some nice, solid banging, Bam Bam offers his own ass to XL. And indeed, XL does unleash a hard fucking. Look at Bam Bam's face as he takes that big, rock-solid cock. You'll be transformed by this rare encounter when these incredibly hot men become bathed in erotic majesty.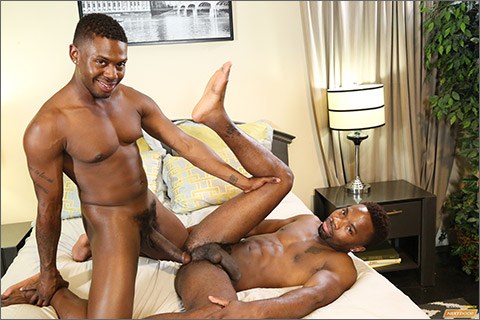 SUGAR BEFORE BED
Bam Bam loves getting naughty in the sack before bedtime, but his REAL-LIFE boyfriend, Krave Moore, is often too tired to fool around after a long day at the office. But Bam knows that he can usually coax his handsome beau into engaging in some sexy action…with a little work, of course!
   As Krave lays with his eyes closed, telling Bam to knock it off and go to sleep, Bam gently kisses his neck. He knows this spot usually melts Krave into acquiescence. Slowly, Bam works his way downward, Krave's protests wilting. He reaches the cock to find it already very stiff. Bam carefully wraps his wet lips around the throbbing dick and begins sucking and bobbing his head. By this time, Krave has accepted it. Bam can feel his lover enjoying the warm blowjob. He brings his head up and two kiss passionately. Their hard cocks rub together as they make out.
   They move into a 69 position on the bed, where Bam continues enjoying Krave's enormous erection, and Krave sticks his tongue deep into Bam's sweet hole. Then Bam lays on his back while Krave slurps his fat dick. The feeling of Bam's strong boner in his mouth makes Krave's asshole yearn to be fucked, so he climbs atop his boyfriend, eases his large, throbbing cock into his ass, and begins bouncing, gradually picking up the pace. They work up to a hard, intense pounding before switching things up so Bam can get plowed by Krave's incredibly huge cock. From there, they let their passions permeate every bit of their beings, allowing natural, instinctual desire to take over as they switch and flip flop between positions.
   Join these true-life lovers on an amazing erotic adventure, all in the privacy of their own shared bedroom.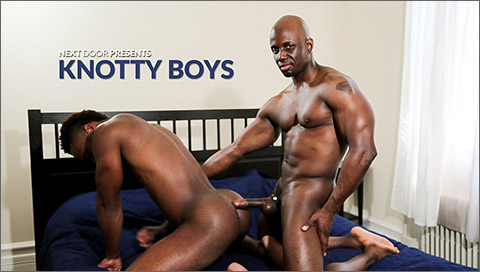 KNOTTY BOYS
When Jay Black requested a dominant, thick-dicked boy to come over and fuck him, they sent Bam Bam. Jay asked that a 'prepper' show up ahead of the main course in order to bind his wrists and feet. The service accommodated and by the time Jay's order arrived, everything was in place.
   Jay began to drift off to sleep as he waited. When Bam Bam entered his bedroom though, Jay became completely awake. He looked him up and down. 'They sure got it right this time,' Jay thought to himself.
   Bam Bam was gorgeous. He was extremely well hung and had desire in his eyes. Jay could tell Bam Bam had engaged in similar behavior before. This wasn't new to him, but he could tell Bam was very hungry for his ass.
   Bam laid atop Jay and they grinded against each other, kissing passionately. Bam's enormous cock grew harder as it rubbed between Jay's balls and thigh. Bam Bam began sucking Jay's fat dick as he still lay there bound. Bam then untied Jay's feet and fucked his asshole with his tongue. It all felt so good. It was scratching the itch Jay had had for quite some time.
   Then he untied Jay's hands. Jay moved down and sucked Bam Bam's gargantuan erection. Bam flipped onto his stomach and allowed Jay to continue sucking, while enjoying some of Bam's ass simultaneously.
   Next, Jay pushed his swollen cock into Bam's hole. He fucked slow, then quite fast and hard. Bam Bam lamented loudly in ecstasy. Jay threw his head back and let his hips slam into Bam with great power.
   And then they switched. Jay laid back down on his back, tied his dick and balls up with some of the rope that had been around his wrists. What Bam Bam does from there must be witnessed to be believed. Join these two and watch. It's an incredible end to a very extraordinary sexual encounter.
NEXT DOOR STUDIOS
NEXT DOOR EBONY