ChaosMen Amatuer American Gay Porn Star, Baker
Years Active: 2014 – 2015
ChaosMen Start Age: 22
ChaosMen Debuted: March 10, 2014
Height: 5'11"
Weight: 160 lbs
Cock: 7″ cut
Baker is semi-local and he and the next model airing next week, came on over when I was "shut down" for the holidays.
   He has messed around with guys in the past, but decided his main interest was women. Not exactly sure how that works, but these guys are young, and some are still trying to figure things out. I thinks it's funny that they don't even go with a "bi" label.
   I let him do his own thing for the solo, chasing him around a bit. He fingered his hole, and that made his cock extra hard. So it made me wonder exactly what has he tried with a guy in the past?
   He had no problems considering doing a Serviced video, and Glenn was local too, so he stayed the night in the studio, and the next day the two of them played with each other.
   Both he and Glenn were working Winter beards, and they look surprisingly well together! Stay-tuned for that video next week!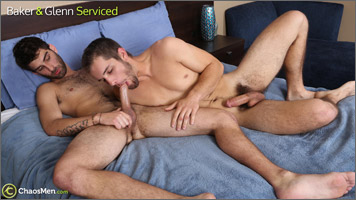 SERVICED: BAKER & GLENN
I mentioned in last week's summary about Baker that he and Glenn were both working their Winter beards. Glenn grew his out for 'No Shave November' and then his girlfriend really liked it, and it such a different look for him, that we have kind of kept it. I am sure it will go away soon if you aren't digging it. Facial hair is something these guys all seem to like to play around with.
   He has stopped shaving his chest, and over the last two years, our little twink has turned into a hairy beast. When he started working for me, I don't think even need to shave his face or chest!
   I did have them both scale back/trim their beards as they were getting a little too "hermit in the cabin" for my tastes. But overall, I think it is great to see some fur flying on the site.
   Both guys have beat-up knuckles. Glenn works construction and landscaping, as well as constantly tinkering with his ginormous lifted pick-up truck, so his hands usually are in bad shape, but the two of them were looking like they got into a fist fight before this shoot. Boys!
   Having said all that, the two of them really get into each other. Baker loves having his ass played with while Glenn sucks on his cock.
   The cumshot on this one is premium. Baker makes himself nut, mouth-wide open, and it takes Glenn abut 90 seconds to unload all over and riiiiight into Baker's mouth.
   Baker gurgles it around a bit, and I will be danged if the guy doesn't swallow the load! You can hear him gulp it down!
   Great energy and a great ending on this one!