Hung Pierced Young American Fisting Gay Porn Star, Axel Abysse
Years Active: 2015 – 2016
TWITTER @AxelAbysse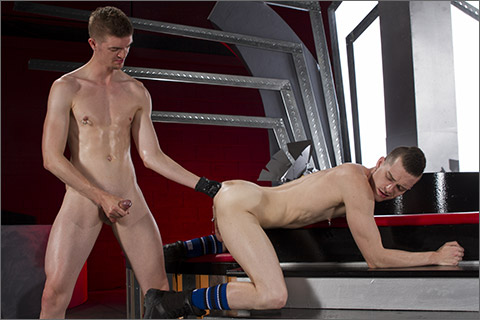 THE ABYSSE – PART 1: Matt Wylde fists Axel Abysse
Axel Abysse and Matt Wylde bathe each other in a tongue bath while groping their bulging cocks thru their jocks. Matt makes the first move and reveals Axel's pierced, uncut cock and taint as he strokes the hefty rod. The stud's transition to an inverted 69 leaving Axel on his back choking on Matt's pierced meat and eating his smooth hole. After riding Axel's face, Matt bends him over and goes straight to pounding Axel's hole fast and hard. When Matt feel's that Axel's hole is warmed up, he rips out his cock and prepares his fist for entry. Axel's talented piggy ass takes every fist pounding thrust with ease and pleasure. After multiple jabbing punches into Axel's Abysse, Matt yanks his fist out of the gaping center leaving Axel with a blooming red rosebud. Axel is so proud of his efforts that he wets himself with excitement as Matt's fist drills deeper. When Matt is done, Axel is rewarded with a destroyed hole.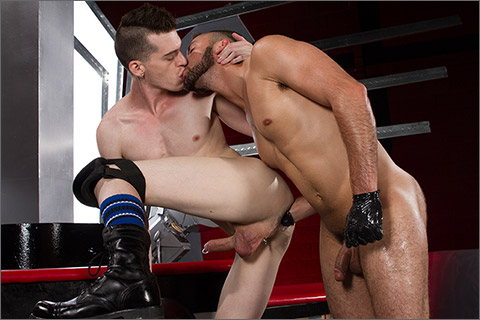 THE ABYSSE – PART 2: Axel Abysse & Aiden Woods
Sub sex pig, Axel Abysse crawls on hands and knees over to dominating Aiden Woods' boots. Starting from the bottom of Aiden's boot, Axel licks his way up to Aiden's stiff, enticing dick. Swift, smooth gulps put Aiden's cock at the back of Axel's warm throat. Wanting more, Aiden bends Axel over and pummels his cock into Axel's more-than-willing hole. Things heat up when Aiden replaces his cock with his entire hand, stretching Axel to the limit. Twisting and turning his hefty fists in and out of Axel's insatiable ass, Aiden gives Axel a handballing he won't ever forget. Next, Aiden Woods is on his back and yells to Axel Abysse, "fuck my mouth, fuck all of my holes". Axel responds by shoving his uncut, pierced cock in Aiden's mouth. Mounted on a lazy-Suzan, Axel spins Aiden around and gives his succulent hole a slobbery tongue bath. Aiden returns the favor bending Axel over to swirl his tongue into his swollen hole. Switching positions, Axel lays back and jerks his pierced, uncut cock while Aiden continues to fist punch his bare hole. Aiden continues to rearrange Axel's insides until they stand and jerk their loads into the air.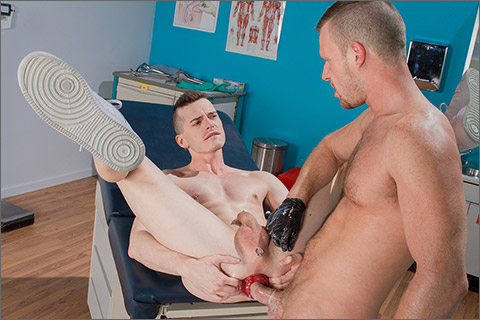 O.F.D. – OBSESSIVE FISTING DISORDER: Brian Bonds fucks & fists Axel Abysse
Axel Abysse gets naked and hoists his legs up on the examination table. Brian Bonds gloves up and swallows Axel's uncut, pierced cock. Moving down from his cock to his pierced taint, Brian teases Axel's pink hole with his talented tongue. Brian drenches his cock in lube and shoves it deep into Axel's asshole. Alternating between fucking Axel with his cock and pounding him with his fist, Brian reaches deep into Axel. Each time Brian removes his fist, Axel pushes out his hole and gives Brian a bright red rosebud to lick and fuck. Switching positions, Axel rides on Brian's fist hard.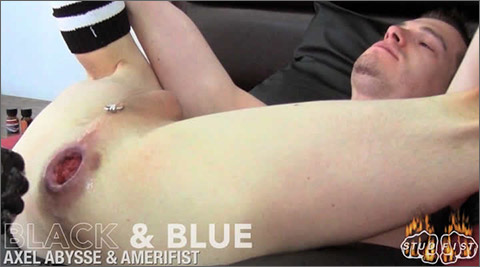 BLACK & BLUE
Axel knows a good thing and gets all he can. Amerifist loves to destroy a boy's hole. His slopped out ,bruised asshole takes a beating that must have taken weeks to recover from. Wincing and groaning Axel spreads his ass for relentless punches until couldnt take it anymore.
HOT HOUSE CLUB INFERNO
STUD FIST