American Gay Porn Star Hunk, Austin Wolf
Years Active: 2012 – 2015
TWITTER @AUSTINWOLFFF
RANDY BLUE INFO:
We hate Austin Wolf. Well, not really. But when he said he never works his abs and you see how chiseled they are you just cannot help but feel a twinge of jealousy. But that fades quickly when you gaze upon his adorable face, see him slip out of his clothes so you can enjoy his lightly hairy body. This sexy New Yorker is such a horny guy, he loves getting off as much as he can. You can tell by the way he gently twists and pulls his nipples, giving him a rock hard boner. He loves running his hands over his muscular pecs and down to his cock, giving it nice long strokes. Then he flips over and you see his nice firm ass, hole open and inviting. He runs his finger over the opening and before you can even wonder if he will venture inside he slips his finger in and totally gets off on how good it feels. He takes a good long while working his hole, making his need to cum grow stronger and stronger. Finally, he lays down on his back and goes right for home stretch. And Austin does not have an orgasm, the orgasm has him. His whole body tenses and his hand squeezes his cockhead as if to catch the sexual energy and shoot it back up through his body. And the look on his face when he is finished is not so much one of contentmen…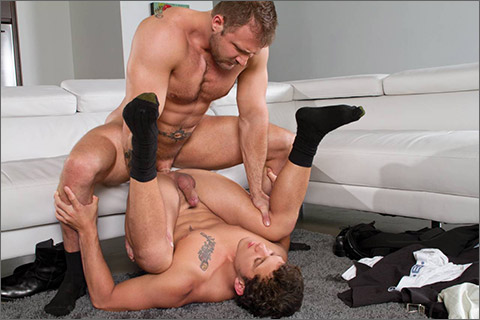 SEX PAD: Austin Wolf fucks Nicoli Cole
Instead of a power lunch with clients, sexy executive Austin Wolf opts for a power fuck at the 'Sex Pad' with hot copy-boy Nicoli Cole. Curly-haired Nicoli is on his knees and sucking as soon as the door shuts. The blow job turns into a rhythmic face-fuck that threatens to stain Nicoli's tie with cock slobber. Austin leads him by the hand to the sofa, and they shed their clothes on the way. Once Nicoli's ass is bare, Austin plunges two fingers in. Nicoli's smooth buns react as if they've just been switched on. He drops to his knees and arches his back. But before taking Nicoli's hole, Austin needs to taste it, and he grabs Nicoli's cock stealing a taste in between. He enlists gravity to get his tongue deeper, hoisting Nicoli upside-down until he's resting on his elbows, then his shoulders. Nicoli is a sturdy man, but Austin's massive, hairy muscular body is up for the task. They fuck in four prostate-pounding positions, each working extra hard. Nicoli reaches behind to grab Austin's cock and spear his ass with it over and over. Their ejaculations paint their torsos with white-hot jizz, and Nicoli sucks the final drops from Austin's emptied cock.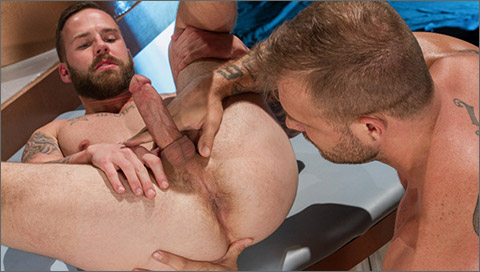 MONUMENTAL ASS: Austin Wolf fucks Chris Bines
Big, beefy, handsome top Austin Wolf swaps spit with inked-up Chris Bines. Austin reaches back to Chris' furry hole and sticks a finger in while Chris sucks Austin's fat cock. Probing him from both ends, Chris gags on Austin's girth and is ready for that cock fill him from every angle. Austin definitely wants more of this hot, hungry stud, and he puts Chris on his backside and switches between sucking his cock to rimming his eager hole. Chris shows off his flexibility when Austin pulls his legs up and eats his ass while Chris chokes on his meat. Primed, ready and wanting more, Chris is practically begging for Austin to fuck him hard. From missionary to doggie style, Austin pummels Chris' hole, using it as his tool to get off. As Austin keeps pumping, Chris moans 'I'm gonna cum' and shoots a load. Austin slowly slides out of Chris' stretched ass and covers his cheeks and hole with a hot, creamy load.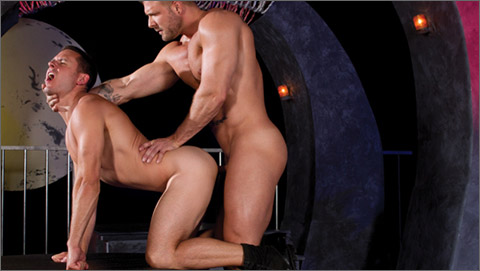 MAGNITUDE: Austin Wolf fucks Brenner Bolton
Austin Wolf has a three-day beard and a deep chest sprinkled with hair. Brenner Bolton is smooth and toned. His face gets buried between Austin's strong pecs. Brenner licks Austin's nipples, then tours his armpits with his tongue. Austin squeezes Brenner's ass, stretching his hole and teasing it with his fingers. Continuing his tongue bath of Austin, Brenner ends at his cock, which he swallows deeply Austin adds his spit as more lube for the blow job until Austin's balls won't let him go any further. Stroking his wet cock, Austin pushes his face into the cleft between Brenner's ass cheeks, drilling him with his tongue and fingers. Brenner's ass is heated up, and he heats up Austin's in return when like an afternoon in the desert. Austin plants his hole on Brenner's face. Showing off his sexual prowess, Austin takes Brenner through a two-position fuck that culminates in high arcs of cum erupting from Brenner's cock. Austin scoops it up and feeds it to him, aiming his own load at Brenner's mouth. Exhausted and relieved, they share a cum-filled kiss.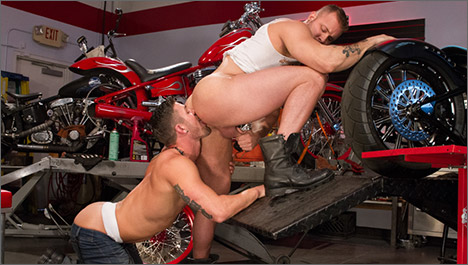 AUSTIN WOLF FUCKS RYAN ROSE
Hot House Video Working at the motorcycle shop, handsome stud Austin Wolf is distracted by stunning Ryan Rose's tasty bubble butt. Ryan's tempts Austin while he's bent over working on a bike, and Austin wants it! With a bulging hard on, Austin can't hold back any longer. He seizes the opportunity, moving over to grab more than a handful of Ryan's delicious ass. The look on Austin's face lets Ryan know he's in charge. Taking the cue, Ryan slurps up Austin's cock into his hot wet mouth, swallowing deep and servicing Austin fully. Austin wants Ryan to have some of his amazing ass too, and he guides Ryan's head to deliver Ryan's tongue deep into his hot hole. Revved up from the oral prowess of Ryan, Austin returns the favor by laying Ryan across a workbench and devouring his juicy center, lubing it up for a hard hammering. With an intense need to drill Ryan, Austin slides his throbbing cock into Ryan's tight, eager ass. They work each other hard, finding the best ways to satisfy each other ending up with Austin railing Ryan hard until he shoots a load all over his gleaming abs. Head back and twisting on his wired nipples, Austin finishes himself off with a warm load covering Ryan's smiling face.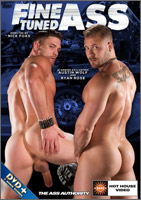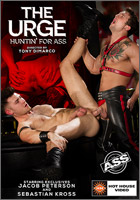 FINE TUNED ASS
THE URGE – HUNTIN' FOR ASS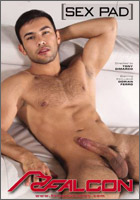 SEX PAD (FVP-254)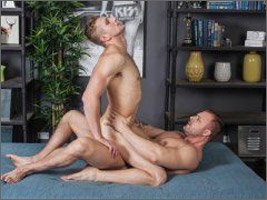 GAY PORN STAR AUSTIN WOLF FEEDS BISEXUAL HORN DOG, JAMIE PAVEL HIS HOT CUM
GAY PORN STAR TYLER WOLF CUMS INSIDE OF MUSCLE HUNK, AUSTIN WOLF
HOT HUNKS AUSTIN WOLF AND KURTIS WOLFE FLIP FUCK AND EAT CUM
LATIN JOCK, ANGEL SANTIAGO GETS HIS ASS FUCKED BY GYM HUNK AUSTIN WOLF
AUSTIN WOLF TAKES JOE CLARK AND FILLS HIS STRAIGHT ASS WITH DICK
GAY PORN STUD AUSTIN WOLF TIES UP AND FUCKS HAIRY OTTER IAN PARKER
AUSTIN WOLF PLAYS DIRTY DIRECTOR TO HOT GAY STUDENT, SHAWN ABIR
SHAWN ABIR MAKES HIS GAY PORN DEBUT WITH THE HELP OF AUSTIN WOLF
AUSTIN WOLF AND SKYLAR WEST IN A HOT GAY PORN MASSAGE
AUSTIN WOLF GIVES RICHARD PIERCE ASS A WORKOUT
WELCOME TO LA EPISODE 3 – SILVERLAKE
WELCOME TO LA EPISODE 2 – BURBANK
AUSTIN WOLF FUCKS BRETT SWANSON
AUSTIN WOLF FUCKS ABELE PLACE
AUSTIN WOLF FUCKS CALEB STRONG
AUSTIN WOLF FUCKS CHRIS ROCKWAY & JORDAN LEVINE
AUSTIN WOLF FUCKS KAI MADISON
AUSTIN WOLF FUCKS JAYDEN TYLER
AUSTIN WOLF FUCKS NICCO SKY
AUSTIN WOLF SOLO
CLICK HERE TO GO TO HIS HOT HOUSE DETAILS
CLICK HERE TO GO TO HIS RANDY BLUE DETAILS