American Gay Porn Amateur, Atticus F.
Known Aliases:
Years Active: 2016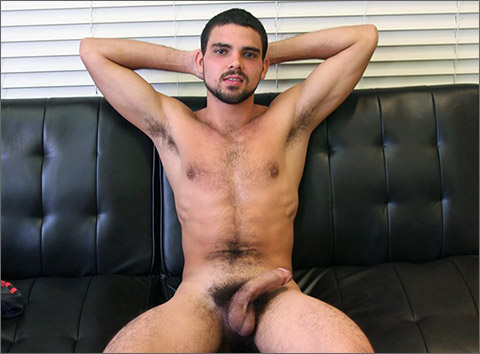 RAW CASTINGS #103: ATTICUS F.
Young stud Atticus hails from Queens, New York. He isn't very talkative – more of the strong silent type. Atticus is a lot like your average gay4pay guy – he likes basketball and hip-hop, and he is unemployed. What sets this adonis apart from most is that he is a virgin. Not only has he never been with another dude, he has never been with a chick, either! He hasn't even had his dick sucked before. "Only kissed," he says. This boggles the mind in several ways, most importantly being – How does a guy this good looking make his way to age 19 without having had any sexual interactions whatsoever? Secondly, of all the ways to experience sex for the first time, what would drive poor Atticus to the gay casting couch? Ponder these things as you watch him slurp all over a cock and then get fucked bareback. As the interview progresses, Atticus undressed to show a fine hairy torso, and he has a perky bubble butt to complete the package! Throwing in the beautiful smile that the casting guy coaxes out of him every once in a while, Atticus seems like the perfect performer looks-wise. And really, Atticus does great. He sucks cock very well, takes directions easily, and even better, he has a raging hard-on while he is giving a blowjob. Once his legs are in the air, the viewer can see that he has a great hole. The director's cock slldes in without too much effort (lots of lube, though!). He can get fucked pretty well, and the only drawback to his performance is that he is awfully quiet, but when the director asks him to make some noise he complies. The casting director tells him, "You gotta act! Do you like that dick inside of you?" Atticus responds, convincingly, "I love it!" This is one hot POV scene, and when Atticus finally takes a massive load of jizz onto his hole, it's almost a shame that the fuck is over. Atticus, though, must have been happy it was over, because he then proceeds to dump his own load all over that fucking fantastic torso of his. That orgasm must have been building for a long, long time. For a virgin who isn't into guys, he certainly can play the part!