ChaosMen Amateur Guy, Atticus
Known Aliases: Atticus Benson, Aticus Benson
Years Active: 2012 – 2015
TWITTER @AtticusBensonxx
BRIAN OCKERT / CHAOS MEN INFO:
Start Age: 23
Debuted: October 19, 2015
Height: 5'10"
Weight: 200 lbs
Cock: 6″ Cut
Atticus is a 23-year-old big, muscular, hunky guy!
   He likes the guys, and has done a few sex videos elsewhere. So he was not nervous at all for his solo.
   He works out for about 3-4 hours each day, and he said he consumes about 7000 calories a day. Atticus says he weighs about 200 pounds, but I think I would be squashed under his mass! He will be leaving his body hair alone in the future. It is time to stop the battle against all that natural fur!
   He likes athletic guys, and seems to date in the 20-30 year-old range. He is more of Top, despite Bottoming for his other videos. He actually sounds very versatile, but once you see him fuck the FleshJack he played with, you can see he knows how to pound an ass!
   Atticus plays great to the cameras, and really lures you in to wanting to suck his cock.
   He is one big beefy dude that you will want to curl up with!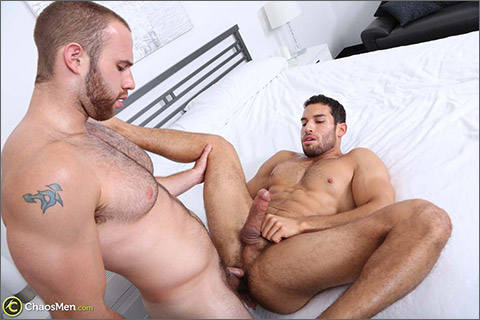 PURE: ATTICUS FUCKS RICKY DECKER
Since Ricky Decker has a large body of work, I thought I would skip his oral video and jump right to getting his ass fucked raw!
   Atticus had done a couple other videos at another studio in which he got pounded pretty hard. It kind of scared him off from bottoming. He really wanted to start by Topping and move into bottoming at his own pace.
   Both Ricky and Atticus arebig and meaty and look fantastic together. If you like hairy men, then this video is filled with eye-candy!
   Despite Ricky's big cock, he tends to want to bottom so the pressure isn't on him to stay hard. I am sure he is a great top, but he seemed super relaxed and very into working with Atticus, content to have his ass fucked.
   Ricky starts by oiling up Atticus' chest and cock. If you love the sensual part of the Pure videos, you won't be disappointed! Great chemistry between these two guys! Lots of body worship, kissing, and sexual energy. Atticus even gets some armpit worship going, while Ricky sucks on his nipples.
   Atticus gets his cock sucked expertly by Ricky. Atticus then lays Ricky down to oil up his backside, and shows-off his amazing ass. Atticus grinds his cock around, tempting Ricky with penetration. Instead, he flips Ricky on to his back and starts to suck his buddy's cock. Ricky has a lot of mass, and it just astounding to see how big his cock gets!
   After getting Ricky all turned-on, Atticus flips him onto his stomach again, this time with the full-intention of fucking his ass. Ricky takes it like a champ, while Atticus eventually pulls him to the edge of the bed to really pound his hole.
   Ricky rides Atticus's cock too. His fat floppy cock bouncing around as Atticus slides his cock up inside him over and over!
   Atticus fucks Ricky on his back until he blows his load all over and in his hole. So nice to see Ricky's ass seeded once again!
   Atticus lays down so Ricky can stroke his cock and shoot all over his face.
   Ricky delivers a perfect huge load into Atticus open mouth!
   Perfect!
   Cum gurgles out everywhere!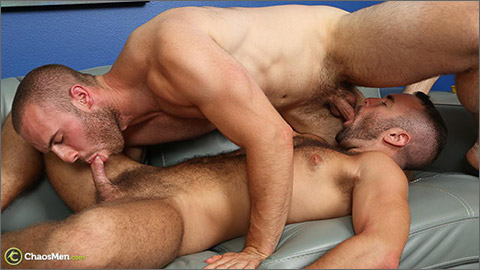 SERVICED: ATTICUS & NOAH RILEY
Wow! This is an amazing Serviced video, with two guys who are totally into sucking and pleasing each other's cocks!
   You can see a Bossy Top vibe that Atticus has when he takes control of Noah from the outset. He is all about toying and teasing his new buddy. Noah was dripping precum the whole time!
   The verbal on this video is really hot. You might have to turn your speakers up as Atticus whispers some amazingly hot things to Noah!
   The two also clearly love to kiss each other!
   They also rim each other, but pay close attention to Atticus as he plays with Noah's boy hole! Yep, that looks like a natural Top to me! Sucking and licking his hole while also making sure his cock is teased really showcases the skills Atticus has in bed!
   Noah didn't miss out on rimming Atticus either. He has such a massive frame that we got him upright so Noah could plunge his tongue deep.
   They get in a 69 position with Noah on bottom. Atticus keeps his cock planted in Noah's mouth while working his cock extra hard.
   That makes Noah cum, and he is left gasping for air with Atticus mass practically suffocating him!
   They swap places so Atticus can rim and play with his Noah's hole. That gets Atticus hard again, so Noah moves in between his legs to get into a Full Servicing position!
   Noah makes Atticus cum and it mirrors perfectly his own cum shot. They both lap up the oozing seed from each other's cock!
   Noah finishes it off by sharing Atticus's load with a nice cummy kiss!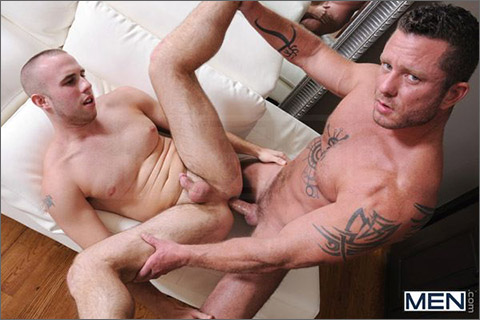 SPYING ON THE NEIGHBOR
Atticus Benson is the hottest peeping tom in the neighborhood and when he gets busted by Charlie Harding, he gets exactly what he deserves! Atticus knows he's being punished, but it's obvious he wants it as he gives up his mouth and ass to Charlie's hard cock.
CLICK HERE TO GO TO HIS CHAOSMEN BIO PAGE