British Gay Porn Star, Ashley Ryder
Known Aliases: Ashley Rider
Years Active: 2007 – 2016
TWITTER @ASHLEYRYDER_
UK NAKED MEN INFO:
Ashley Ryder is a young lean stud and a real pioneer of fetish performances and extremes. His sexual knowledge outweighs his youth, and what Ashley doesn't know about sex isn't worth knowing! Ashley is a boundary pusher, and can't get enough of burly muscle men fucking him. Ashley is a well endowed bottom to beat all other bottoms. Apart from being able to self-fist, he also loves being fisted by others, filled and eating cum. We love this filthy fucker!
AEBN INFO:
Ashley Ryder
Date of Birth: 5/18/81
Height: 5 ft 8 in (172 cm)
Weight: 151 lbs (68 kg)
Eyes: Blue
Ethnicity: White
View Ashley Ryder's Media:
Movies: 23 Scenes: 16
BIOGRAPHY
Eurocreme exclusive Ashley Ryder is a bald British stud with a notably aggressive bottoming style. Born May 18, 1981, he got into porn in 2006 with standout performances in films for RudeBoiz, Alpha Male, and Eurocreme. He further stole the screen with total bottom-boy greed in Eurocreme's Bulldog XXX films Lost Innocence 1 & 2 and Bulldog Brutal (2007), as well as Dream Boy's Borstal Boy (2008). You don't want to miss his incredible performance in Ashley Ryder's Ultimate Anal (2009). Ashley is always up for fun and let's face it, how can you not love a guy who admits that he was born to be fucked?
OTHER INFO:
The guy famous for putting really big things in quite small places puts the biggest and best of CrackStuffers dildos through their paces and both CrackStuffers and Ashley perform impressively. Taught and toned and looking good, the original self-fisting twink is growing into a handsome and accommodating man.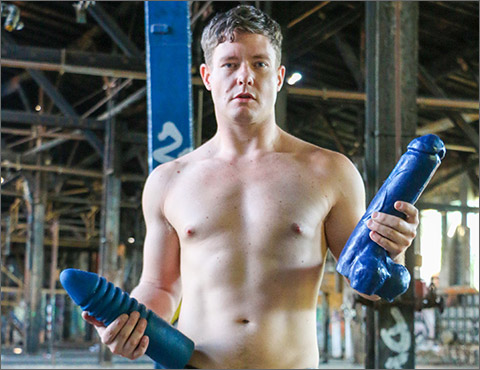 ASHLEY RYDER BIG DILDO SOLO
Ashley Ryder is without a doubt one of the biggest stars in the industry. The largest dildos and the hardest cocks fit into his ass. His motto is always to go a little further than others and push the boundaries of his lust steadily forward.
   For our session, we have ordered him in an abandoned Berlin warehouse. Dressed with only a leather jock waiting for the unknown. When finally an SM master arrives and you can see the desire in his eyes flash.
   Mercilessly he binds the hot slave with a wicked red rope to Ashley BB´s body, constricting his limbs and thus stealing his entire movement.
   Before him now is a blue giant dildo, standing before him on the dirty floor. The master tilts a portion of lubricating gel over it until the monster cock in slippery drool just floats.
   The small slave Ashley has difficulty to closing his ass lips around the dildo. The Englishman moans – squeezing little by little the monster in his greedy ass.
   The pig fights against the resistance and forcing his ass to continue open until finally swallowing the Blue Monster rubber cock.
   The master is ready for his pig but still a surprise. He sticks a different Monster dildo in a column and tells Ashley to push his hairless body against the cock column until the monster completely disappears into his meaty ass.
   After so much action Ashley may finally Cum and eats the white drool as a reward.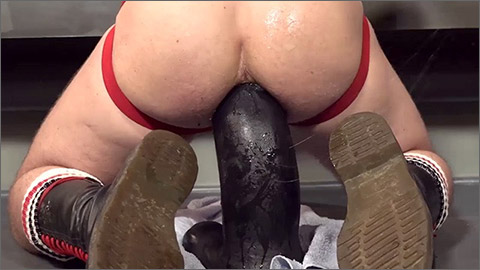 NICO LUST, ASHLEY RYDER & ALEXX STIER
Ashley Ryder is the perfect pig to use forever. His insatiable desire has led each top to the breaking point.
   Without uttering any words, Ashley is on his knees and blowing the dick of Nico Lust with spit dripping out of his mouth. He stuffs the cock deep down his throat and chokes him as piece by piece it goes deeper down. Then, he reaches the hot Italian's hairless pink ass right in your face, so he can then push his slippery tongue into the warm hole and lick Ashley to the edge of lust.
   His fingers slide into the open asshole and pull the meat apart. Spit once on the hand and already the Italian's cock disappears bareback into Ashley's ass. Jacked up in the sling Ashley squeezes his muscles to recoil the cock even deeper in. He wants more, and boy does he get more.
   First the horny top bores his hand in Ashley's receptive ass and opening the gaping cunt more and more. The ass lips close on Nico's fingers and pull them deeper and deeper into the red meat. Ashley Rosebud comes crawling full size out of his ass and presents his swollen lust. But Nico has yet more surprises for Ashley ready until he finally sprayed his pent-up cream on the English ass and rubbing the sauce in the cunt while he further attends to the hole.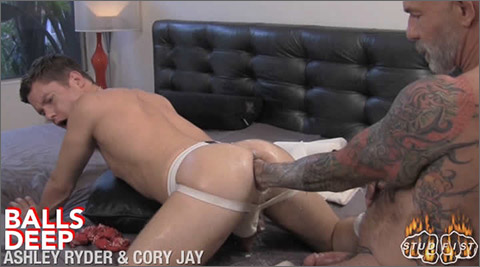 BALLS DEEP
This shit is over the top!
   Cory & Dyn0 went to a party. After 4 or 5 drinks we were suprised to see Ashley Ryder right in front of us with a big smile on his face.
   It took all of 90 seconds before plans to spreads Ashley's hole were under way and exit strategies devised.
   Back at the room it was game on as soon as the door closed. Camera on, clothes off! Tongues, cocks, dicks, toys and fists went into Ashley who asked for more and more!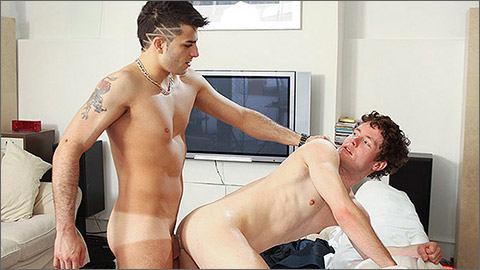 FUCKSTONS
We love a motivated seller and an eager, ambitious estate agent. In the current climate young men are forced to go the extra mile to sell London properties. Ashley Ryder is one such young man, and what lengths he's prepared to go to to unload an apartment….
   Like offering up his juicy arse to prospective buyer Harry Louis's fat, hard, uncut cock to clinch a sale, and wow does this guy take a hammering from Harry's hot tool until his seed is surging up and spraying all over Ashley, from naval to forehead and a little bit further. Two hot naked men, one contract signed, everyone's happy… that's what they mean by a 'hard sell'.
CAZZO FILM BERLIN
UK NAKED MEN
STUD FIST
ALPHAMALES
EUROCREME
BULLDOG PIT
CLICK HERE TO GO TO HIS UK NAKED MEN DETAILS
CLICK HERE TO GO TO HIS CAZZO FILM BERLIN DETAILS