ChaosMen Amateur, Aric
Years Active: 2015
BRIAN OCKERT / CHAOS MEN INFO:
Start Age: 32
Debuted: July 20, 2015
Height: 5'9″
Weight: 165 lbs
Cock: 7.5″ Cut
I thought I would bring you some rough trade for the day.
   Aric is literally a lumberjack. He has a tough living, cutting down trees and chopping wood. Hence the beat-up shins and very dark tanned face and lower arms.
   But he is a full-on Ginger, and he had his fiery pubes completely intact. No waiting for them to grow back!
   He likes the ladies, but has had guys suck his cock. He struggled getting along with women, so thought maybe he might be bi, and tried it with a couple guys. I think he realized quickly that it wasn't his sexuality, but just how he was behaving, then cleaned up his act.
   He just turned 32, and you can tell he has a lot of experience jerking his cock. I am guessing he is likely just as good in bed.
   His ass is awesome, and his butthole needs to be penetrated. He says girls have tried to finger him before, but he always makes them stop before they make any progress. So my guess is he will not be keen on getting fucked, but ya never know!
   His orgasm is tremendous! Cum shoots up in the air like a sprinkler gone crazy! It is very clear, and on his Ginger white skin a bit hard to see, but volumes come out and he has spasms from the amazing orgasm. It looks very intense!
   He will be back to get a massage next week, so stay tuned for more rough trade red-head action!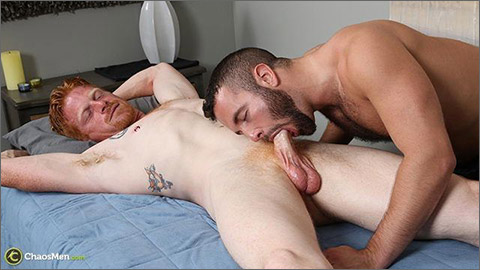 SERVICED: ARIC & NOAH RILEY
Aric had mentioned he had tried messing around with dudes when he was in his early 20's. I didn't think he would be that nervous to get a happy ending massage video, but he still wanted to keep things simple.
   He was not keen on anyone playing with his ass, but we snuck in some rimming to show-off his hot pink hole. As we suspected, it didn't help wake his cock up, and Noah's beard was tickling him. After this shoot, we scaled his beard way back. Noah didn't realize just how ticklish he was being.
   Once he gets Aric on his back, he tries jerking his cock to life, but it turns out it needed a warm mouth to perk up.
   Aric is hot listening to him whisper under his breath and watching him writhe around on the table in ecstasy.
   Noah works like a dog to pull the load out him. Aric said he could cum from a blow job. Once again, I pretty much left the full 2 minutes of Noah working on his cock to completion.
   Noah thinks he is going to cum and switches his angle of attach to get ready to eat his load. But it was premature, but he gets right back on it and about 20 seconds later he gets the full load out of his cock.
   Again, Aric's orgasms are so intense! Love making guys cum!
CLICK HERE TO GO TO HIS CHAOSMEN BIO PAGE