Young Hung American Gay Porn Star, Archer Hart
Years Active: 2014 – 2015
TWITTER @ArcherHartXXX
BAIT BUDDIES INFO:
Height: 5′ 5″
Weight: 127
Hair: Brown
Eyes: Blue
Cock: 7″ cut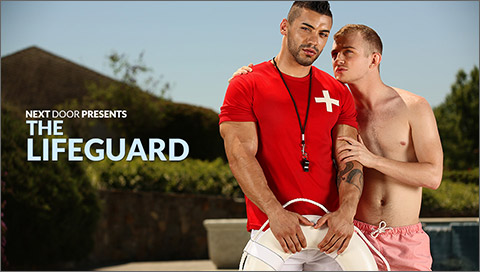 THE LIFEGUARD
Hijinks is always around the next corner at the neighborhood pool, especially when Archer Hart is involved. As lifeguard, Arad, walks down the gravel pathway toward the pool, he hears a splash, then screams of distress. Arad is extremely well-trained in water rescue, so he snaps into the mode of proper procedure.
   He sprints to the pool, removes his shirt, and dives in. Archer is floating lifelessly. Once Arad pulls Archer out and administers mouth-to-mouth, Archer surprisingly begins giggling! Arad realizes the entire thing was some kind of prank. Appalled, he asks, 'seriously?'
   Archer, still smiling, tells Arad that he couldn't help himself, Arad is just too sexy. Arad's upset, but not made of stone. He can't turn down the opportunity to have his way with such a luscious Twink. The two kiss deeply. Archer moves downward and takes out Arad's hard cock. Arad feels the warmth moving up and down his swollen meat. He lets his hands run all over Archer's naked body.
   They move to a pool chair where Arad lifts up Archer's legs so he can experience his ass and dick. Archer can't believe he — sort of — tricked the hot lifeguard into sucking his cock and licking his ass! After a little while, Arad stands up and shoves his firm erection into Archer's tight ass. Oh what a feeling on a hot Summer day! This is a pairing you won't wanna miss. Arad's insane body fucking sweet, spirited Archer poolside as warm rays beat down is a memory you'll hold onto to keep warm all year.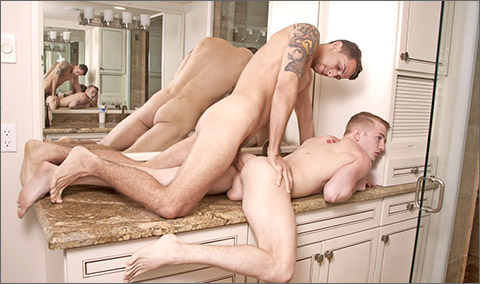 TANNER SKYE BAREBACKS ARCHER HART
Archer Hart undresses to hop into the shower, and as each article of clothing come off, more of his sexy gym-build body is revealed. He turns on the faucet, and we get to peek in on him – nice abs, amazing bubble butt, beautiful pecs, and a cute face! It doesn't take long for him to begin stroking his cock – thi guy is always horny! Archer doesn't realize it, but Tanner Skye is knocking at the front door as he enjoys the steam shower. Tanner lets himself in through the unlocked door to look around, and soon Tanner finds Archer in a perfect position for some afternoon fun! Tanner loses his clothes faster than Vegas hooker, and within seconds Archer is getting an amazing blowjob from this randy stud. Tanner gives a mean knob polish – Archer is in sheer delight with the way Tanner's mouth and throat feel. Archer doesn't want to be outdone, though; he is soon on his knees showing Tanner the cock sucking skills that he has. As Archer focuses on the roxck hard piece of meat in his mouth, Tanner focuses on Archer hot little bubble butt, giving it a few grabs and smacks. Needless to say, Tanner has his face completely buried in Archer's ass not more than a few minutes later. Tanner tongue-fucks almost as well as he pounds ass, which is truly saying a lot! Once Archer's manhole is nice and wet, He hops onto Tanner for a ride. Tanner fucks him from beneath with his bare dick, making Archer moan deeply as they make out. Archer's stature makes him a perfect fuck toy – He bounces up and down on a stiff pole with ease! Not only that, He makes for an easy lift. Tanner hikes Archer halfway onto the bathroom counter to drill him properly. Tanner loves the feel of his cock quickly and deeply moving in and out of that hot hole as he grabs Archer by the buns. To finish off, Tanner places Archer on his stomach over the sink, giving it to him even hard, until he is close to jizzing. At just the right moment, Tanner pulls out just an inch away from Tanner's hole and nuts all over it. He then sits on the floor and takes Archer's entire load in his mouth. The two snowball for a raunchy ending to a hot fuck!
STUDY BREAK with ARCHER HART
ARCHER HART GAY CASTINGS
A BIG DELIVERY
NICOLI COLE DOMINATES ARCHER HART
PRIDE STUDIOS
BAIT BUDDIES
DALLAS REEVES
BOYS FIRST TIME
MANHUNT'S MAVERICK MEN
GAY ROOM
GAY ROOM / GAY CASTINGS