Sexy Italian Daddy Gay Porn Star, Antonio Garcia
Years Active: 2012 – 2015
2015 PROWLER PORN AWARDS NOMINATIONS
   BEST BRITISH DADDY 2014
UK NAKED MEN INFO:
I was introduced to Antonio by a mutual friend and after some talking he invited me to his south London flat. I think I remember an offer to "show me his butterfly collection" but a zip fly might have been mentioned. Anyway I go over to his and this sexy Italian beef greets me topless, in loose sweatpants. He is fit, beautifully hairy, with a touch of white in his beard and clearly eager to show me the rest of himself. He whips out a magnificent cock, a good 8″, uncut, thick, slightly curving upwards, and begins to stoke himself. I can't help myself and lend a hand for a bit; I hold and stroke that Sardinian cock, kicking in my hold and turning into stone. My mouth is so dry that I ask for a time out and some juice, I get my drink and then Antonio stands over me and starts stroking himself again; he works himself and finally he unloads a massive amount of spunk over me.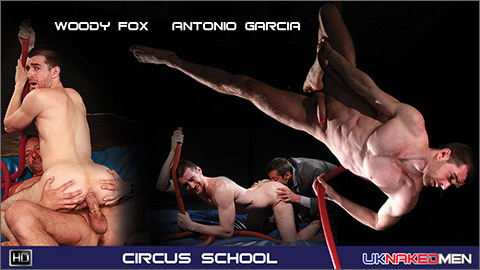 ANTONIO GARCIA & WOODY FOX in CIRCUS SCHOOL
The Sex Circus is in town and aerialist Woody Fox is in training. Ring master ( in oh-so-many-ways) Antonio Garcia is watching Woody train – nude- as he swings every toned muscle and sinew is flexing on Woody's magnificent body, his big, uncut dick swinging 360%. Antonio feels the bulge in his trousers growing as Woody spins. So when Mr Fox comes back to earth and realises he's expected to impress this ambitious and stunningly handsome lad, is eager to get ahead! Woody sinks to his knees to unzip Antonio's packed pants and take that long, unfurling cock into his hot mouth. Antonio's dick is soon rock hard, the foreskin peeling back as it swells. Woody was a confirmed top but he wants all of this spicy, meat sausage inside him. Its a struggle at first, but Woody's soon bouncing and pushing hard to take every inch in his aching, dilated hole, until Antonio is bursting to shoot a hot load into Woody's eager upturned face.
GET THEE BEHIND ME
ANTONIO GARCIA & WOODY FOX
FUCK LOVING CRIMINALS – EPISODE 7
STUDIO OF SIN
KEEPING HIM SWEET
TWELVE FUCKS AND A FUNERAL – EPISODE 2: PALL BEARERS
ALEX MARTE & ANTONIO GARCIA
ANTONIO GARCIA FUCKS NICHOLAS KEY
MARTIN MAZZA & ANTONIO GARCIA
ANTONIO GARCIA SOLO
ANTONIO GARCIA FUCKS YOHANN BANKS
ANTONIO GARCIA SOLO
HUNG ITALIAN DADDY ANTONIO GARCIA AND SUPER TWINK DARIUS FERDYNAND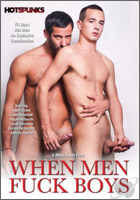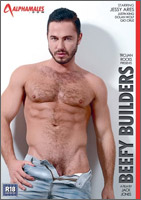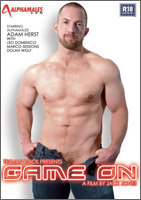 WHEN MEN FUCK BOYS
OUT IN THE COUNTRY
BEEFY BUILDERS
FIXED & FUCKED
GAME ON
UK NAKED MEN
BUTCH DIXON
ALPHAMALES
EUROCREME
CLICK HERE TO GO TO HIS UK NAKED MEN DETAILS