Cute William Higgins Czech Jock Boy Gay Porn Star, Anton Kaner
Known Aliases / aka: Patrik Czech Hunter 332
Years Active: 2017 – 2018
WILLIAM HIGGINS INFO:
Model Name: Anton Kaner
Age: 18
Home Town: Strakonice
Height: 175cm/5'8″
Weight: 65kg/143lb
Foot Size: EU43/US8.7/UK8.2
Penis Size: 16cm/6.3″
Profession/Student of: Actor
Hobbies: Sport
Favorite Sports: Boxing
Active Sports: Fitness
Movie/Music/Sport Stars: Sharon Stone
Visited Countries: Switzerland
Want to Visit Countries: Sweden
Dream of My Life: I do not know.
Zodiac Sign: Aquarius (January 20 – February 18)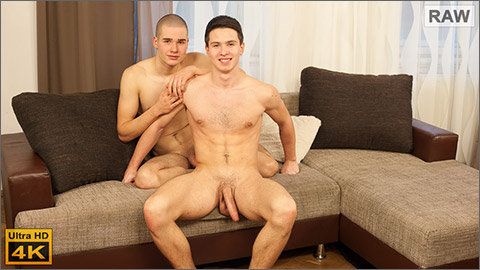 CHERRY BUSTING: ANTON KANER & MIRO DALEK
We have a great Cherry Busting, with hot str8 guys Anton Kaner and Miro Dalek. It is Anton who has never had sex with a guy who gets his hole filled by a cock for the first time. The guys sit and chat for a while and then they start to kiss. They quickly strip to the waist and Miro's jeans go down to release his cock. Anton is eager to please and starts sucking on the rock hard dick, licking up and down the shaft too. His mouth wraps tight around the cock and Miro pushes his head down on it. Then Miro stand and fucks Anton's mouth thrusting his hips to slide the dick inside. Then Anton's pants are removed and his legs raised into the air so that Miro can rim his virgin hole. That hairy hole feels the hot tongue lapping at it. Then Miro slips a finger into the tight hole. Anton moans as he feels the finger in his ass. It fucks in and out, going in nice and deep. Miro moves onto his knees and positions his cock. Then he slides it into that hot hole. His dick stretches the hole wide as he starts to fuck deep inside. Anton moans as he takes the cock all the way. Miro speeds up his fucking, with his cock slamming into the tight ass. Anton keeps taking it, moaning all the while. He is moved onto his keens for Miro to fuck him from behind. Miro's dick goes all the way in and he starts to fuck. Having taken it well Anton then sits on that big cock and rides it before they move to a spoon position. He wanks himself as Miro fucks his ass as hard as he can. Anton keeps wanking and soon shoots his creamy load as Miro's cock is working his hot hole. Then Miro pulls out to shoot his load over Anton's balls and thigh.

AIRPORT SECURITY: ANTON KANER & KAMIL BANEK
Two very hot str8 guys are in this Airport Security scene. Kamil Banek is the guard and Anton Kaner is the traveller. It seems that someone has put something in Anton's luggage, though Kamil doesn't believe that. He makes Anton strip so that his can check his clothes. Anton strips to his underwear as sits as Kamil tells him that cameras have recorded him stealing the items. He tells Anton to stand and starts groping his underwear. Pushing the underwear down he wanks on Anton's cock. Then he tells him to kneel. Kamil opens is pants and pulls out his stiff cock. He says that Anton can save himself, meaning by sucking on that stiff cock. Although he doesn't want to Anton eventually leans forward to take the rock hard dick in his mouth. He sucks on the cock as Kamil opens his shirt and removes it. He grabs Anton's head and pulls it onto his cock. Anton gags as he sucks and then Kamil fucks his dick into the mouth. He makes Anton lick his balls too and then return to sucking that throbbing cock. Then he bends Anton over the desk and shoves his dick into the hot ass. Anton cries out loudly as the dick enters his hole. Kamil pounds that hot ass deep and hard as Anton keeps moaning. His ass is stretched wide as Anton keeps up his fucking. Then Anton turns over and lays back on the desk for more deep fucking. The cock bangs into his ass hard and fast as Kamil slaps him. Anton grabs his own cock and wanks it. Laying with his legs in the air lets that big cock bang deep into his tight ass. He keeps wanking himself as Kamil fucks relentlessly. Kamil pulls out and wanks and then shoves his dick back into that ass. He fucks deep as Anton shoots his load. Kamil fucks a little longer and then pulls out to wank himself and shoot his cum too.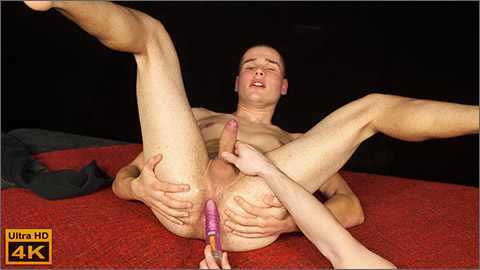 HOT ASS: ANTON KANER
Anton Kaner is a very good looking str8 guy. He looks so good as he sits on the edge of the massage table groping himself. He takes off his tee shirt to show his slim, fit, body, running his hands all over his chest. Then he removes his pants to release his stiffening cock. Taking hold of his dick he starts to wank it. Then he lays back on the table and lifts his legs to show off his hot ass as he wanks. He reaches for his ass and spreads the cheeks wide to expose that hot hole. A helping hand arrives and drips oil onto Anton's cock and wanks it. Then the hands rub his ass with a finger running over the hole. The finger slips into the tight hole as the cock is wanked. That finger goes in deep and starts to fuck Anton's hole. The finger comes out and hands spread the cheeks, opening up the hole. Then the finger slides all the way inside again and fucks that ass as Anton's dick is wanked hard. Two fingers are shoved deep inside the ass, right up tot he knuckles. Anton takes them well and his dick stays so hard as he is wanked. A vibrator is then shoved into his hole, fucking it hard and very deep. He wanks himself as he takes the toy all the way. He turns over, onto his knees and the toy goes back into his ass, stretching that hole wide. When it comes out and the hands pull on the ass cheeks the hole opens up. Fingers go in again as Anton wanks himself. On the floor, legs up and ass in the air, he feels the toy shoved deep into that ass again. Then it comes out to show the open hole. The toy is fucked in and out of that ass as deep as it can go. The hole opens so wide when the hands spread the cheeks. Then Anton sits on the table and wanks his big cock. As the cum builds up he stand and shoots the creamy load onto the floor.
WILLIAM HIGGINS
STR8HELL
CZECH HUNTER
CLICK HERE TO GO TO HIS WILLIAM HIGGINS BIO PAGE
CLICK HERE TO GO TO HIS STR8HELL BIO PAGE