Sexy Tattooed Spanish Gay Porn Twink, Angel Lopez
Known Aliases:
Years Active: 2016
STAXUS INFO:
He's lived in Spain since he was a young boy and is a naturalised Spaniard, but Angel originally hails from Paraguay. He often heads back to South America to see his extended family, but he's always glad to get back to Spain, where (he says) the boys are sexier and hornier!
Model Stats:
Date of birth: 20th September 1995
Height: 5'10" / 177 cms
Cock size: 7″ / 18 cm
Ethnicity: Spanish
Role: Bottom
Interesting Fact:
Angel's sense of direction isn't always the best. Once – journeying back to Spain – he caught the wrong train to Asunción airport and ended up missing his flight!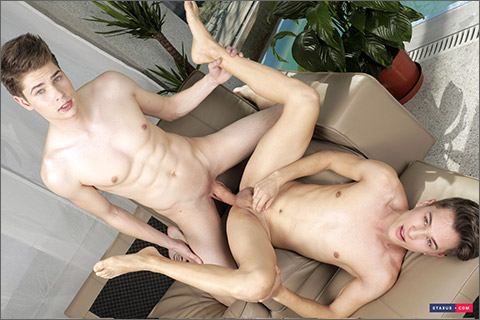 BIG IS BETTER: Swimming Buddies Head Out Of The Water For A Hot, Raw Fuck
No question about it, Jaro Stone and Angel Lopez are such a fucking hot pair of horned-up beauties that you could surely quite literally sit and watch the duo splashing about in the water all day; but the fact of the matter is that they're never the sort of boys who can play too innocent for long. Indeed, you won't find yourself having to wait more than a minute or two before both beauties are out of their swimming trunks and engaging in somewhat suggestive play; which soon leads to the guys smooching away in anticipation of a decidedly hardcore session.
   Not unnaturally, of course, given the nature of their characters and the fact that Lopez in particular is quite simply a living, breathing cock-whore, it's no time at all before the initial round of vigorous dick-munching has given way to an energetic session of sodomy; with Lopez eagerly parting his legs so that his butt can accommodate the full length of Stone's infamous poleaxe. And to his credit, the young lad takes every fucking inch like the pro that he is; getting buggered raw in a whole series of positions, whilst taking intermittent breaks to slurp on his buddy's cock as if to keep reminding himself (if indeed it was ever needed!) that Stone's beautiful buttpicker is actually for real.
   No need to worry about that though, boy. Our Stone is as one hundred percent legit as the day is long; and having finally secured his place cowboy-style on the summit of the fellow's cock, it's no wonder that Lopez is soon spurting like a fountain in sweet appreciation. Before finally allowing Stone to unload a fine wad all over his face!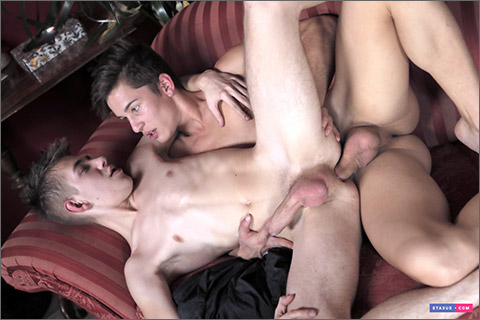 KNEEL & PRAY: ANGELIC LOPEZ DEVILISHLY CREAMS HIS BUDDY'S ARSE MID-FUCK
To any outside observer it seems that young priests, Angel Lopez and Johnathan Strake, are as devout as it's possible to be – reading scripture and praying on a daily basis. Take a closer look, however, and you realise that the temptations of the flesh are all too real for these horny fellows; as Lopez's hand wanders onto his buddy's thigh, and the two beauties slowly abandon their worship of the divine in favour of more carnal adoration. To some, of course, this constitutes a sacrilege of a holy estate. For the rest of us, however, there's no denying that the sight of two cock-hungry twinks lusting after each other almost has a touch of the divine about it; not least of all when Lopez finally strips away his pants so that Strake can gobble away on the thick, meaty flesh that nestles inside.
   An act that Lopez himself is only too willing and eager to replicate; before turning his eye to his buddy's arse-hole, which he promptly rims into submission. By the time that the Spaniard is finally buried balls-deep in his Czech mate's pucker, there's every possibility that you'll have completely forgotten the theological overtones of the scene.
   All the same, you'll be in complete rapture at the sight of Lopez creaming Strake's hole (somewhat prematurely!); before stiffening up again almost immediately so that Strake can ride the said pole like a whore. And with another round of Bible-bashing just minutes away, Lopez draws the action to a stirring close by yanking out a second (albeit smaller) load; before a final gooey smooch marks the conclusion of a truly unforgettable act of worship!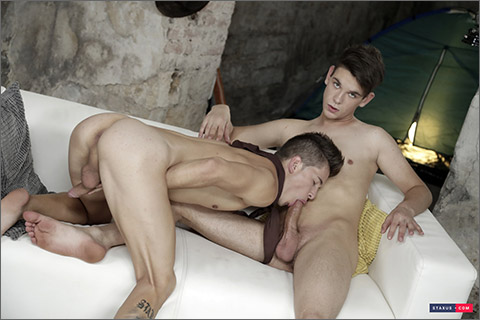 CAMP FUCKERS: COCK-LOVING ANGEL TAKES A RAW RIDE ON NEW RECRUIT'S BIG DICK
You don't need to have ever been a scout to know that learning how to do knots is an integral aspect of scouting life – a skill that the absolutely divine Angel Lopez puts to excellent use when he quite literally ties up handsome newcomer, Martin Cusan, and proceeds to manhandle the young fellow. That, of course, makes it sound as if the newbie is forced into action against his will; but given the swollen nature of his dick when Lopez unzips the fellow's jeans it's obvious that that's not the case at all. Far from it in fact; as both boys smooch and strip off their uniforms, before Lopez continues with some kinky rope play on his pal's rampant joystick.
   It's clearly more than enough to get Cusan to an even higher state of arousal than he was before; and he promptly gorges on Lopez's finely curved shaft, before turning his attention on the fellow's arse. By this point in proceedings it's pretty obvious that the action is only headed in one direction, and indeed it comes as no surprise that Cusan's hot rimming of his friend's cute little pucker is quickly followed by him impaling every inch of his thick, uncut ramrod into that hungry ass-hole.
   It's a move that quite literally brings out the sexual animal in Lopez, who then proceeds to ride the new boy's cock like a slut on steroids – bouncing up and down on Cusan's knob with such fucking gusto that his own dick flaps around like a yoyo! Of course, the fact that he's donning his neckerchief only adds to the kink; and by the time he sprays an unbelievable wad, before gobbling Cusan's load in return, your balls will be utterly drained!
CLICK HERE TO GO TO HIS STAXUS DETAILS
VIDEO ON-DEMAND: Angel Lopez @ AEBN SMUTJUNKIES THEATER
DVDs & ON-DEMAND: Angel Lopez @ RAD VIDEO