Czech Bareback Gay Porn Star, Ondra Vidim / Angel Dee / Karel Jozef
Known Aliases: Deny Cris, Denny Cock, Albert, Alexander, Dee, Mad Max, Jaro, Czech Hunter 157
Years Active: 2012 – 2018
WILLIAM HIGGINS INFO:
Model Name: Ondra Vidim
Age: 23
Home Town: Prague
Height: 178cm/5'10"
Weight: 88kg/193.6lb
Foot Size: EU42/US8.5/UK8
Penis Size: 17cm/6.69″
Profession/Student of: Bartender
Hobbies: Sport
Favorite Sports: Rugby
Active Sports: Bodybuilding
Movie/Music/Sport Stars: Jamie Oliver
Visited Countries: USA
Want to Visit Countries: China
Dream of My Life: I do not know.
Zodiac Sign: Aquarius (January 20 – February 18)
JAKE CRUISE'S COCKSURE MEN INFO:
Age: 31
Sign: Taurus
Height: 6′ 1″
Weight: 194
Dick Size:7.5″ uncut
Position:Versatile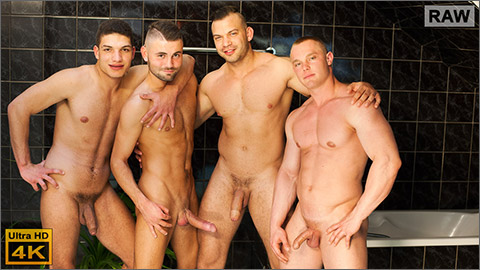 WANK PARTY #85
In Wank Party #85 we have Niko Kadera, Jan Bavor, Milos Ovcacek and Ondra Vidim. We find Milos and Niko asleep on the bed as Jan is in the bath, being assisted by Ondra. Milos awakes and begins rubbing and kissing Niko. Jan gets out of the bath and Ondra starts to dry his body. As the towel is rubbed over that sexy body Jan and Ondra kiss each other. Ondra reaches for, and gently gropes Jan's cock and balls as they kiss. Meanwhile Niko is fully awake and kisses Milos who responds by pushing Niko onto his back and taking down his underwear so that he can suck his cock. Niko's cock is rock hard as Milos' head bobs up and down on it. Ondra drops to his knees as Jan sits on the edge of the bath. He takes Jan's cock in his mouth and begins to suck on it. Jan's cock quickly responds from the attention. Then Ondra stands for Jan to return the favour and suck in is lovely fat cock. Jan licks and sucks on that rock hard cock. Meanwhile Milos continues to work on Niko's dick too. Niko thrusts his cock up into Milo's eager mouth. Milos frees his own throbbing cock and wanks it as he keeps sucking. Then he lays back and Nikos moves between his legs so that he can take a turn at sucking. His hot mouth encloses Milos' rock hard dick and sucks it, lapping at the balls too. Milos suggests joining the others, so they go into the bathroom and start to kiss Jan and Ondra. Jan drops to his knees and sucks Milos' massive cock. Nikos does the same to Ondra, taking the cock deep into his mouth. Then it is all change as Ondra takes a turn on Milos' cock before giving way for Niko to suck again. Niko, Ondra and Jan all take turns on Milos big cock. Then Niko has to depart for work, leaving Jan and Ondra to enjoy Milos' cock. Milos needs more than sucking though and bends over the basin for Ondra to slide his fat cock deep into the waiting ass. He fucks Milos' tight hole as he is encouraged by Jan. Then Ondra pulls out and Jan takes his place, pounding Milos' hole deep and hard. Jan's ass wants some cock too and he lays on the floor, legs up, for Milos to fuck him. He wanks himself as Milos' dick works deep into his tight hole. Ondra squats by Jan's head and wanks himself as Milos keeps fucking. Jan's cock is rock hard and he soon shoots his creamy load over his belly. Milos fucks Jan's tight hole as Ondra wanks hard and shoots his cum all over Jan's hot body. Then Milos pulls out and wanks until he cums too.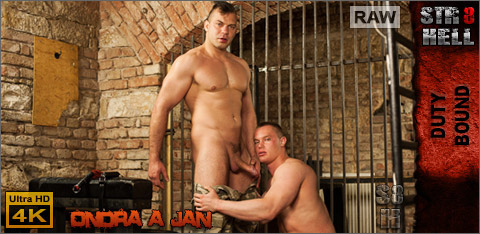 DUTY BOUND: JAN BAVOR & ONDRA VIDIM
Jan Bavor is gagged and shackled, with his hot chest bared as Ondra Vidim approaches from behind. Ondra reaches round and plays with Jan's nipples. He feels Jan's huge muscles before moving to the front and running his hands all over that sexy chest. He leans down and licks Jan's nipples as he gropes him. He opens Jan's jeans and then begins hitting on his belly. Pulling on the nipples Ondra then applies clothes pins to one, and then the other. He continues to attach pins to Jan's hot body. Then he attaches nipple clamps and pulls on them before using his whip on Jan's hot body. He reaches inside the jeans to free Jan's cock and balls. Then he drop down and takes the cock in his mouth. Jan's cock gets very hard as Ondra sucks on it. Then Ondra releases Jan and they start to kiss each other. Jan drops to his knees and sucks on Ondra's big, fat, cock. He takes the fat dick in his mouth working it well. Ondra wants more though and has Jan bend over so that he can fuck his hot ass. The fat cock slides deep into Jan's tight hole and fucks him deep. Jan enjoys the deep fucking and turns over to get more fucking. He wanks himself as Ondra pounds his tight hole. Jan keeps wanking hard and soon dumps his hot cum onto his thigh as Ondra's dick is deep in his ass. Jan milks all the cream from his cock as Ondra keeps fucking him. Then Jan, drops down and wanks that big, fat, cock until Ondra's cum is released too.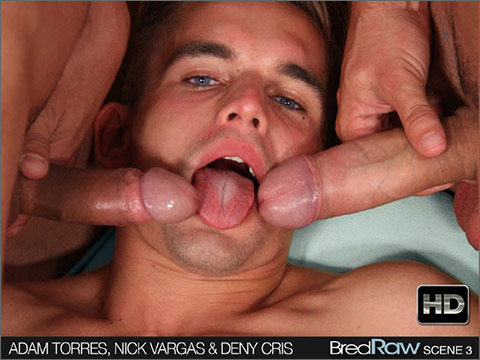 BRED RAW: Adam Torres, Deny Cris, Nick Vargas
Three-way cock sluts Adam Torres, Nick Vargas, and Deny Cris fuck raw and let the juice and cum flow wherever.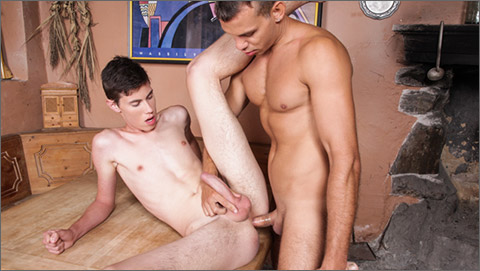 TOO BIG FOR TWINKS 8: Dee fucks Matt Johnson
It's a giant cock tail!
   While Ennio is giving Justin a guitar lesson he realizes that Justin is really bad at it. Justin gives up for the day, so Ennio gives him something else that he can play. Diego is outside reading a magazine when Enzo walks over with a soccer ball in hand. Enzo asks if he want to play, but there's a catch. If Enzo scores on him then Diego has to suck his monster dick. Richy is taking a nap when Cavin comes in to get a book to read. He then notices that Richy is half naked and packing a huge cock. Richy awakens to Cavin mouth open gazing at his junk. While Dee is chopping wood for his fire place Matt walks up to the fence to ask him something. Matt gives up trying to talk to him and heads back into the house. Dee walks in with fire wood and notices Matt touching himself. Timoti's having problems with his heater, so he gets a handyman to come and fix it. Georgio is lying on his back fixing the heater when Timoti comments on the big tool between Georgio's legs. To Timoti's shock it's not a tool, it's a massive cock.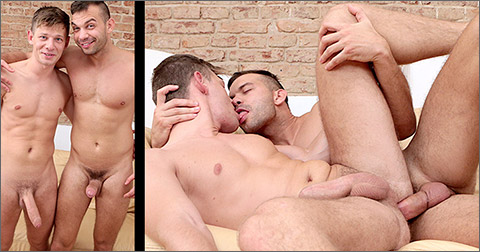 KAREL JOZEF BAREBACKS MIKY BOLTON
Karel Josef and Miky Bolton kiss and feel each other's bodies passionately. Karel pulls his shorts off, and Miky sucks on his big, uncut cock. Karel stands on couch on top of Miky, and face-fucks his mouth, while Miky fingers Karel's hole. They both take off their shirts before getting into the 69 position. Soon Karel eats Miky's ass like crazy, getting it ready for his prick. Miky sits on Karel's pole making Karel thrust his raw cock bareback deep inside from the bottom up. Miky hops off and kisses Karel just to hop back on his cock bareback, facing the other way around. He goes for a joy ride on his own riding the raw cock like a rodeo champ. Karel takes control again and slams his shaft deep inside 'til his balls stops his cock from going any further. They lay down next to each other, spooning, and Karel barebacks Miky from behind. His hard raw cock slides in and out of Miky's juicy hole. Karel then pile drives Miky's hole on the couch before he jerks his load on Miky's hole, then barebacks him again seeding his hole. Miky jerks his jizz all over himself. Karel then sucks his cock, sucking out the last bit of cum. They end with a kiss.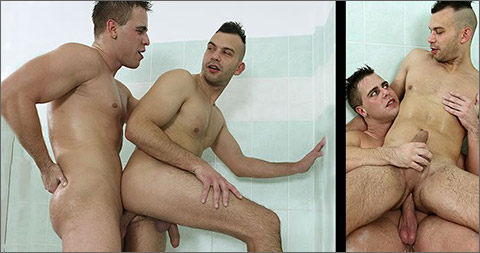 IVAN JIZERA BAREBACKS KAREL JOZEF
Ivan Jizera and Karel Jozef are relaxing in a bubble bath, enjoying snacks and red wine. With the wine going straight to their blood stream, Ivan decides he wants a different snack. He gets down on his knees and shoves Karel's dick as far down his throat as he can. Karel returns the favor by tasting Ivan's cock. Karel turns around and Ivan tongues his ass like a hungry hog. Ivan sits on the edge of the tub, Karel follows and sits on his raw cock bareback. Karel rides his pole like a pro, slamming his ass on Ivan's cock. Karel stands, leans on the tub, spreads his ass open to accept Ivan's bareback cock doggy-style. Both studs get out of the tub and keep on fucking on the floor. Ivan fucks him raw missionary style before he pulls out and shoots his load on Karel's ass cheeks. Karel lays on top of Ivan Jizera and jerks his huge load on Ivan's chest. Karel Jozef kisses Ivan one last time before returning to the bubbles.
CATALINA VIDEO
JAKE CRUISE'S COCKSURE MEN
MILE HIGH MEDIA / MALE REALITY
STAXUS
BIG DADDY
CZECH HUNTER
CLICK HERE TO GO TO HIS COCKSURE MEN BIO PAGE