Spanish Columbian Sexy Gay Porn Star, Angel Cruz
Known Aliases:
Years Active: 2014 – 2017
TWITTER @ANGEL_CRUZ_STAR
STAXUS INFO:
Date of birth: 30th April 1992
Height: 5'10" / 178 cm
Cock size: 7″ / 18 cm
Ethnicity: Colombian
Role: Versatile
Interesting Fact:
Angel has studied theatre since childhood as he has a real passion for it.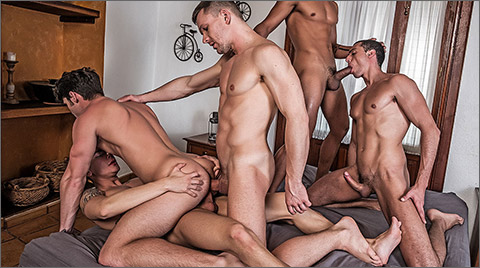 RAW DOUBLE PENETRATIONS 5: Devin Franco, Andrey Vic, Javi Velaro, Drae Axtell, Angel Cruz | Raw Double-Penetration
Devin Franco is the center of attention in this five-way raw fuck fest, and it's Andrey Vic who takes a special interest in pounding his ass bareback. Angel Cruz, Javi Velaro, and Drae Axtell get in on the fun — and it's guaranteed that you'll see plenty of thrusting asses and hard cocks ready to cum. But not before Andrey and Angel squeeze into Devin's ass and fuck him together. Two cocks in one butt is a lot of bottoming to handle, but Devin is up for it. He's one dependable bottom!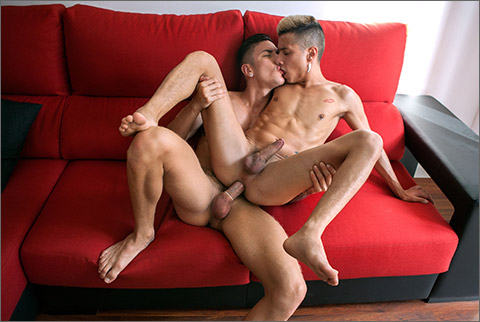 ANGEL CRUZ FUCKS CORY PRINCE
Angel Cruz is especially excited today because he gets to not only introduce us to his best friend (who is also his favorite fuck-buddy) but also show us around his beautiful hometown – Valencia, Spain. Cory comes over right on time and the two of them take off on a day-long city adventure to explore the sunny beaches and museums and of course – to make out in every spot they could find. Finally back at Angel's apartment, the hardcore fun is about to begin. Cory and Angel waste no time as their clothes start to come off. Cory is clearly hungry for Angel's dick and keeps begging him to feed it to his hungry throat which of course Angel is more than happy to do. Every time Cory takes Angel's big cock deep down his throat Angel can't help but moan and admit that he's the best fuck buddy he's ever had. That's quite an honor coming from one of Spain's biggest pornstars so you know Cory must be pretty good at it.
   After some innocent throat fucking it's time for Cory to get his perfectly smooth tight little hole eaten out and Angel pretty much goes to town on it. It is quite obvious that Angel is in love with Cory's hole and can't get enough of it because he makes sure that either his tongue or his finger (or both) is up in there at all times. As Cory moans from all the pleasure Angel decides that he wants to get his dick sucked again but this time while he's rimming Cory so they get in a 69 position and start to suck and rim each other like it's what they're been waiting for all day.
   Of course Cory's initiation into Cockyboys' Hall of Fame would not be complete without getting his hungry hole royally fucked by Angel so after all the sucking and rimming it is now time for the main course. Angel is determined to plow Cory in every imaginable position and does so on the couch, by the window, in the air as he hold Cory by the legsÖ Seriously, Angel is a beast who deserves the award for Best Top. However, we all know a good top is only as good as his bottom and Cory sure doesn't disappoint as a power bottom. His rock hard cock starts to shoot cum once he starts riding Angel and before he knows it Angel's chest is covered in cum. Welcome to Cockyboys, Cory!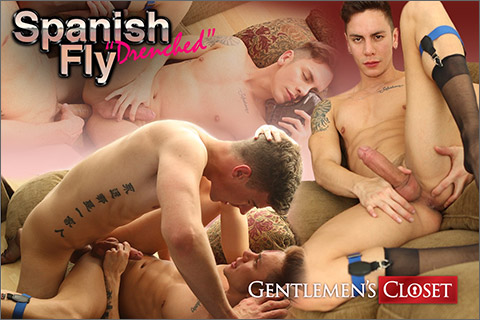 SPANISH FLY SERIES
The passion pours out and the boys lick it back up. The extreme foot play is followed by Angel begging for cock. Sniffing and licking the sheer white underwear of JJ Knight and making his giant cock throb. Stretching the see through material. The sharp dressed men are getting undressed as fast as possible leaving only the sheer black socks and garters on. They devour each other trading positions and spit at will. So turned on Angels cock is throbbing and pulsating with the spanish fly. JJ sucks Angels Cock and strokes his own .Wasting no part of Angel he licks and rims his way through paradise. These two beautiful sex artists going at it in sheer socks is pure elegance. Angel moans with fury and JJ goes down further on his cock. The white cream that oozes from JJs mouth tells the story. JJ spits the love out on the sheer socks and licks it back up again. The two kiss and share the love.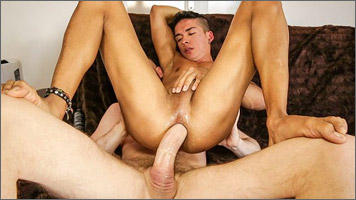 TIM KRUGER & ANGEL CRUZ
Angel is a young man from Colombia, a country we heard of that Timtales is very popular there. He said he has watched our videos for years and always dreamed of being in one of them. Well, this young man's dream comes true. He came to visit us and showed that he can take big cock like a pro. His boyish body is already toned and athletic, so Tim enjoyed a lot what he got on this afternoon. And now it's time for you to enjoy…
LUCAS ENTERTAINMENT
GENTLEMEN'S CLOSET
COCKYBOYS
TIM TALES
FUCKER MATE
LUCIO SAINTS
HARDKINKS
STAXUS