American Gay Porn Star, Andy Blue / Andrew Blue
Known Aliases / aka: Joey Driver (str8 Porn), Jake Taylor / Dr. Taylor (College Boy Physicals)
Years Active: 2007 – 2013
COCKY BOYS INFO:
If you look on the homepage at the very bottom you'll see a "Get Discovered" button. It's for guys who want to be in one of my videos to send me their 411. I almost always pull boys from my "black book". Most of what comes in over the site is pretty fucking scary. But once in awhile I'll get one that's a full blown hottie and just wants to fuck with a hot boy on camera. Meet Andrew Blue. He applied on the site – said he was a straight boy doing gay work for some kind of surfer company – and wanted a chance to roll with us. I bounced the pics off my boy Derrick Vinyard, and Vinyard wanted to fuck him. Blue didn't even have a car to get to LALA land to meet with us – so I sent my driver down to the OC to pick his ass up. Vinyard and I were on the fence – every dipshit on myspace uses fake pics – so we weren't sure what to expect. When Blue finally got to my pad – he was nervous as shit – but definitely a surfer boy SoCal hottie. We chatted for a bit and got straight into the scene. For a "straight" boy – Blue can bottom like a fucking champ. At first Vinyard was going easy on him – but I saw Blue taking it in stride – so I told Vinyard to really hit it. Man can this kid take cock. He should definitely be a contender for best bottom in about anything. Holy shit. You'll be seeing a lot of Andrew Blue, and loving every fucking second of it.
Age: 20
Ethnicity: Caucasian
Height: 5′ 10"
Weight: 170
Hair/Eyes: Blonde / Blue
Position: Versatile
Cock Size: 7.5
Sign: Taurus
Hometown: Miami, FL
Turn-Ons: Kissing, biting, muscles and abs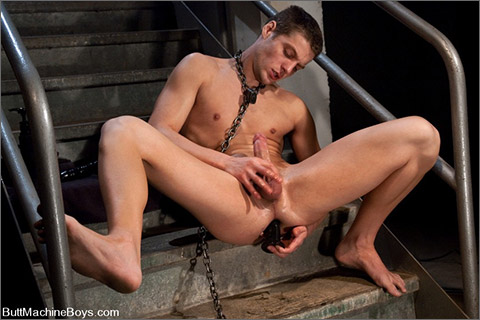 ANDREW BLUE AND THE ASS MASTER
Andrew Blue wakes up in the Ass Master's cell. He resists the AM's requests for days and now finally gives in. Andrew amuses the AM by stripping naked and playing with his hole and cock. Still chained around his neck, Andrew endures harsh probing of the Scorpion machine. That doesn't compare to the giant industrial machine, the Buddy Fucker. The sexy stud moans and screams as the BF milks his hard cock completely dry.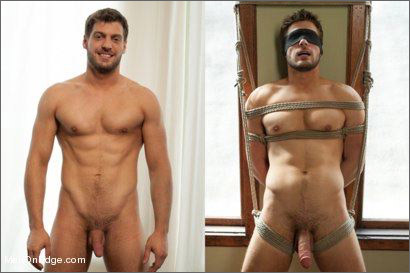 SUPER HUNK ANDREW BLUE BOUND AND BEGGING TO CUM
For his first time here on Men on Edge, hot straight stud Andrew Blue is a bit nervous. Andrew is blindfolded before his clothes are removed down to his underwear. His cock begins to grow in his underwear as Sebastian teases him with his tongue. Andrew's underwear is torn off to reveal his hard cock, begging to cum. Andrew begins to get a little feisty once he's brought to the edge a few times, so we put a ball gag in his mouth to shut him up, then beat him down with the flogger. Bound to the bed, the stud has dildos shoved in both his holes. The vibration on his prostate brings him to the edge once more. Andrew can't take it and finally sprays his hot cum all over. After having his cum smeared all over his face, we keep stroking Andrew's cock as he screams for mercy from the post-orgasmic torment.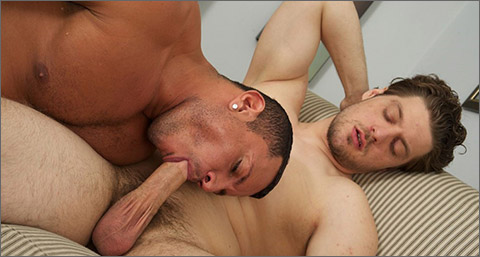 DICK DELIVER: ANDREW BLUE FUCKS ANGELO MARCONI
Angelo Marconi is back on MenOver30.com after popular demand. Angelo is 33 years old and from Los Angeles. Angelo is smooth, ripped, sexy and definitely turned up the heat, just as the temperatures were beginning to dip, with his steamy debut solo last month. We've been bombarded by requests to see more and that's just what you're gonna get today. Back from the past is a local native we haven't seen in a few years, Andrew Blue. Andrew is home waiting for his food to be delivered when he hears a knock on the door. It's Angelo in jeans and a tight tee. "Damn you look good' Andrew gushes 'if I eat healthy will I look like you?" Angelo grins as he mumbles a 'maybe' as Andrew starts to feel his chest. Angelo isn't about to stop him as Andrew lands on his knees and starts to fumble with his pants. Andrew soon has Angelo's growing cock out of his pants and inside his mouth. Angelo moans as he gets that dick of his sucked. Andrew then stands up and drops his shorts jeans and hauls ou t his fat cock. Angelo is more than willing to return that favor as he wraps his lips around Andrew's thick cock. Andrew fucks his face for a bit before sitting back and getting comfortable as Angelo makes a meal out of his thick dick. Once Angelo is ready to get that dick 'delivered' he gets on all four; arches his back and moans "Fuck me". He spreads those muscular cheeks wide open as he plays with his hole teasing Andrew. Andrew gets in on that action as he kneels behind that ass and starts to finger that hole. "I don't want you teasing me' Angelo coos, 'I want you inside me!" Angelo doesn't have to be told twice as he presses his rock hard cock against that hole and slides inside. He gets that dick all the way inside that hot as and starts to tap that ass doggy style. ndrew then gets Angelo to bend over on the chaise and slides his dick back inside that hungry ass. Angelo can't contain his desire as he just begs Andrew for more. Missionary is next as he puts Angelo on hi s back and gets busy fucking that ass hard and deep. Angelo can't help but jack off as that fat dick slams into his prostate. He unloads all over his chiseled abs as Andrew fucks him deep. Andrew then pulls out and busts his own load, sending jet after jet of thick cum splattering all over Angelo's lean, cum-soaked navel.
KINK MEN
PRIDE STUDIOS
NEXT DOOR STUDIOS
GAY ROOM
MEN.COM
FALCON STUDIOS
COLT STUDIO / BUCKSHOT PRODUCTIONS
CLICK HERE TO GO TO HIS PRIDE STUDIOS DETAILS
CLICK HERE TO GO TO HIS KINK MEN INFO PAGE