Spanish Power Bottom Gay Porn Star, Allen King
Years Active: 2014 – 2015
TWITTER
COCKYBOYS INFO:
Allen King is the type of guy who's impossible to hate. He's got a thousand watt smile that can light up any room and his positive energy is contagious. He's also got one of the most toned, beautiful bodies we've ever seen. Originally from Spain, allen found Cockyboys through his boyfriend (and fellow cockyboy) Angel Cruz, so of course his first scene with us had to be with angel. To see them together on dates, flirting in spanish, and flip-fucking is a sight to behold. Though he might be off the market, allen will surely charm the pants off any guy.
MEN.COM INFO:
Hair Color: Brown
Sign: Scorpio
Eye Color: Brown
Dick Size: 7.8 uncut
Height: 5'5″
Weight: 128
Sexual Positions: Versatile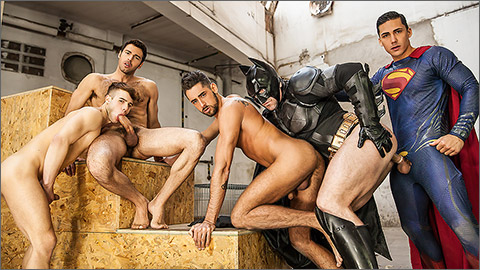 PART 3: Allen King, Dario Beck, Massimo Piano, Topher Di Maggio, Trenton Ducati
The series finale has Superman and Batman joining forces to rescue three cock hungry studs. Watch as Superman and Batman cum together with Dario Beck, Massimo Piano, and Allen King, in this extraordinary orgy finale.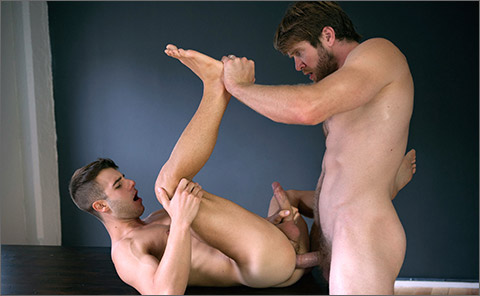 COLBY KELLER FUCKS ALLEN KING
Guess who's back! That's right, it's the one and only Colby Keller. Often described as a "sexy mountain man," Colby's rugged, scruffy, and very muscular body more than lives up to that name. He's a real charmer with effortless sex appeal, and of course there's that beer can-sized cock of his. Colby was smitten when he met Allen King for the first time, calling him his "sexy little brother." And Allen was all smiles, completely swept off his feet as their chemistry quickly escalated and they began making out.
   Colby loves being a sensual top… at first. He showed Allen a lot of affection from the start, tearing off his clothes, engulfing his cock around his bearded lips, flipping over his completely smooth body and giving him a rimjob to remember. But once Colby took off his shorts, Allen's mouth was on Colby's cock in a matter of seconds — eager to return the love! Colby always makes the best sounds and faces when he's getting a blowjob, and it was obvious Allen was a master of technique. While this was going on, Colby's hands kept gravitating toward Allen's ass, his fingers lodged deep inside Allen's crack.
   Finally, Colby lifted Allen completely off the ground, set him back on the table, and teased Allen's hole with his rock-hard cock. Proportionately, it looked like there was NO WAY Colby's rod could possibly fit inside Allen's cute, perky ass. But after a few heavy breaths, Allen took it like a champ. This gave permission for Colby to be as rough as possible, and he certainly was — propping Allen up on the table and fucking him doggy-style, letting Allen ride him on a chair, before Colby really proved his strength by picking up Allen off the ground again and plowing him in the air! For the grand finale, Colby slammed Allen back on the table, sweat now dripping from his hair, and power-drilled Allen to climax. Colby came nearly seconds later, pulling out his cock and shooting a huge load on Allen's abs. Both their bodies covered in cum and sweat, Colby kissed Allen's spent body up and down before saying, "You're amazing."


GABRIEL CLARK FUCKS ALLEN KING
Gabriel Clark always likes to make sure the lines of communication are open between him and whoever he's about to plow, which is why he asked Allen King how to say "lick your ass," "suck my dick," and "I want you to cum on me" in Spanish when they first met. Since English is not Allen's first language, he loved teaching Gabriel the words for exactly what they were going to be doing a few minutes later.
   Allen is still pretty new to CockyBoys, but he was a pro at receiving and giving Gabriel a blowjob. That was only a preview, though, because it wasn't long before Gabriel prepped and primed Allen's hole for his cock. Gabriel then completely reamed Allen in several different positions on his back, and then finally scooped him up and fucked him in the air!
   We haven't seen Gabriel fuck a willing bottom with such force and vigor in a long time — he was really, really into Allen! He almost wore himself out from all the pounding, but thankfully Allen got on top of a breathless Gabriel and rode him home. Allen came while still sitting on Gabriel's dick, while Gabriel got back on his knees to shoot his load all over Allen's torso.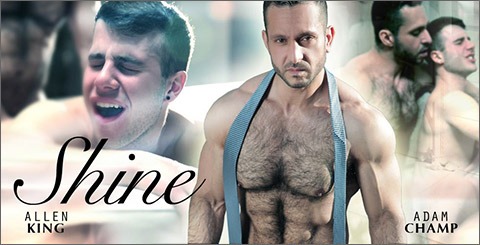 SHINE
Adam Champ has got himself a brand new toy to play with – the young and very hung Allen King. And Adam's rules are pretty simple, Allen has to do whatever he says, whenever he says, after all when you're filthy rich you can do anything you like including treat your houseboy like a total slut. Adam starts his day by ordering Allen to shine his shoes but as soon as he's on his knees Adam's head gets full of dirty thoughts and gets rock hard in his suit trousers, so he whips out his throbbing dick and Allen knows exactly what he has to and proceeds to service his master's meat. Being in this position of complete power gets Adam totally horned up and he wont be satisfied until he gets to pound the hot boy's sweet ass, long and hard. If you like you Daddies strong and hairy, and your Sons smooth and submissive you definitely don't miss this red hot scene.
CASTING COUCH #334: ALLEN KING & JUAN LOPEZ
SHINE
BOYLUST
PAPI RULES
DALTON BRIGGS FUCKS ALLEN KING
GABRIEL CLARK FUCKS ALLEN KING
LOVE ALWAYS: ANGEL CRUZ & ALLEN KING
#PORNSTAR – PART 3
PRISONER OF WAR – PART 1
PRISONER OF WAR – PART 4
THE BUSINESS OF SEX – PART 2
ROLE PLAY
FORBIDDEN – PART 4
CITY BOYS 2
THE LITTLE PRINCE
CITY BOYS 1
KAYDEN GRAY & ALLEN KING
ALLEN KING & TOMMY SMITH
ALLEN KING & ANTONIO AGUILERA
ALLEN KING & LUCIO SAINTS
LOCKER JOCK: ALLEN KING
HARDGEAR | TIED & BOUND
COCKYBOYS
MEN.COM
KRISTEN BJORN PRODUCTIONS
LUCIO SAINTS
MEN AT PLAY
TIM TALES
CLICK HERE TO GO TO HIS COCKYBOYS DETAILS
CLICK HERE TO GO TO HIS MEN.COM BIO PAGE