Corbin Fisher Amateur College Men American Gay Porn Star, Allen
Known Aliases: Elder Roberts, Perry (Dream Boy Bondage)
Years Active: 2014 – 2016
Allen is such a cute and likeable guy that it was surprising to find out he's been fighting professionally for over 8 years now! It was also just as surprising to find out that he "discovered the joys of masturbation" at the early age of 8. Although hearing that he lost his virginity at a young age to an older girl isn't so hard to believe at all, because along with being personable, the blue-eyed, blonde haired hunk is also quite sexy.
   His confident and easy-going demeanor becomes even more explicable when we get a look at that big, thick dick of his. Obviously he's a guy used to impressing anyone who's lucky enough to get a chance with him, along with probably throwing in a few lusty surprises for them to enjoy!
   A fan of jacking off in uncommon places and being jerked off in public, we had the stud scratch that naughty itch and work out a load in front of our cameras for your and our viewing pleasure!
AGE: 24
WAIST: 29
EYES: Blue
HEIGHT: 5′ 9″
WEIGHT: 165 lbs
HAIR: Blond
BUILD: Athletic
COCK: 8.0″ cut
SHOE: 10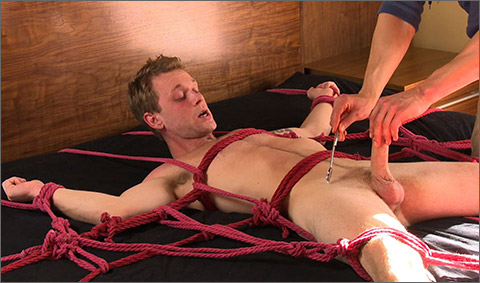 ROPED STUD PERRY
Beautiful blonde Perry remains trapped in a web of rope on his master's bed, displayed like the prized piece of meat he is, the warm afternoon sun pouring in through the windows, highlighting the dusting of fine, boyish hair on his shapely legs. His master, rope man J.J., especially likes the way the ropes around his waist emphasize his leanness. Master J.J. rewards his prize with a nice, long hand job, keeping Perry hard against his will. He pricks his boy's cock with the pin-wheel, making him moan and scream. Then J.J. attack's Perry's nipples with the same device and clamps his wounded nipples and cock with hard-plastic clips, letting Perry squirm and squeal in his ropes for hours, long after the sun has set.
CORBIN FISHER'S AMATEUR COLLEGE MEN
MORMON BOYZ
KENNETH BENJAMIN'S DREAM BOY BONDAGE
KENNETH BENJAMIN'S ROPED STUDS