Hung Handsome German Gay Porn Star, Stripper Go Go Boy, Alexander Gustavo
Years Active: 2013 – 2016
TWITTER @Alexanderprnstr
STATS / INFO:
Hair Color: Brown
Height: 5'10"
Position: Versatile
Body Type: Muscular
Endowment: 8″ uncut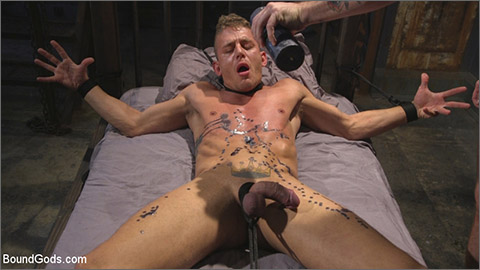 ANAL WHORE TAKEN FOR A CANDLELIT NIGHT OF HOT WAX AND HARD FLOGGING
Trenton Ducati just found himself a new fuck slave: Alexander Gustavo. Trenton quickly picks Alexander up and takes him back to his lair for a hot evening of rough beatings and hard fucking. Trenton keeps his cock whore nice and quiet by wrapping him up in duct tape. Trenton sucks his taped slut's clean cock, and bombards Alexander's chest with hard hits to keep his sexy moans going. Alexander is freed from his duct tape, and tied to the stairwell, so Trenton can take his sweet time attaching a zipper line of clothespins across Alexander's tight body. The clothespins are quickly torn off and Trenton uses the opportunity to get easy access to Alexander's ass. Trenton Ducati turns his whore into an anal whore as he fills Alexander's hole with his meaty cock. Trenton then takes Alexander down to the bathroom to get him cleaned up. Trenton chains and leaves Alexander waiting in the bathroom, before returning with a flogger in tow. Trenton brutally flogs Alexander until echoes of his screams fill the room. Trenton needs to keep his new toy quiet so he ties him down to a bed and fills his throat with thick cock. Trenton then grabs the romantic candles from his bedside and covers Alexander with hot wax. Alexander's body is gradually drenched in melted wax until the only bare area left is his asshole. Trenton fucks Alexander's ass until Alexander blows his load all over his wax covered body. Trenton then adds his hot cum to the mix leaving Alexander stuck in a mess of cum, and wax.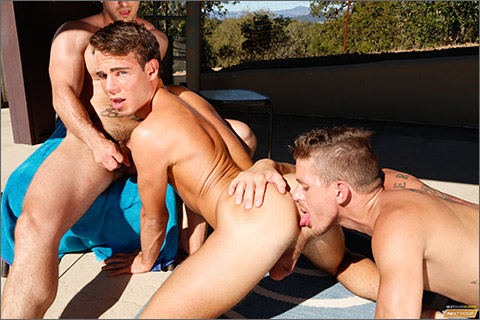 MY SISTER'S FIANCE
For Phenix Saint, life has been getting more and more crazy every day, as his wedding approaches. It's a good thing his future wife's family is so much fun and easy to get along with. His soon-to-be brother-in-law, Max Penn is always up to some kind of mischief, but Phenix loves spending time with him. And Max's boyfriend, Alexander Gustavo, is a perfect complement to Max. He's always encouraging Max to run some kind of clever scheme…often seduction is involved.
   On a sunny day, when Phenix's woman is stuck at work, Phenix decides to join Max and Alexander down by the pool for a little bonding time. They welcome him and cook up a plan as he sunbathes shirtless next to the pool. Max finally convinces Phenix to come in the pool, wearing a pair of Max's swim shorts, since Phenix didn't bring over a pair. Saying they were small on him would be a huge understatement.
   As the three casually toss around a volleyball and make wisecracks at each other, Max announces he'll be right back. He walks out of the pool slowly so Phenix gets a good look. Then, to Phenix's astonishment, Max pulls his shorts down and gives both guys a good show of his tight asshole! Alexander laughs at Phenix's nervous reaction. When Max gets back in the pool, he tries to get Phenix to take off his shorts too, but Phenix does NOT see this as appropriate. Max takes matters into his own hands and submerges, swims over to Phenix, pulls his shorts off and quickly gives Phenix's cock a little suckle.
   It all happened too fast for Phenix to realize what had happened. Max then jumps out of the pool and motions for Phenix to follow him behind the pool house. Phenix jumps out, naked and confused and goes after Max. Max grabs his arm and pulls him behind the house where they seem to be alone. There, Max convinces Phenix to let him suck his dick! It took a little convincing, but Max takes advantage of the opportunity to the full extent. And Alexander takes a prime position for watching, hidden behind a support beam, jerking his hard meat.
   After a few minutes, Max brings Phenix back poolside and Alexander joins them. Phenix figures that this has already become so out of control, he should at least finish off the whole encounter with a nice cum blast. Max continues to slurp Phenix's cock while Alexander licks Max's butthole. Then, Max lets Phenix experience his first ass. Phenix slides his fat boner into Max's sweet hole and fucks him good. Alexander stuffs Max's dick-hungry mouth on the other side.
   Join this wild pool party and see these guys really bond in the best way, just before they all become one big happy family-in-law!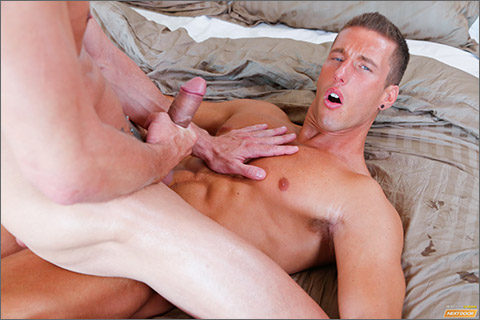 BREAKFAST SAUSAGE
Rod Peterson is such a sweet, loving boyfriend. He woke up early this morning to make breakfast for his beau, Alexander Gustavo. When Alexander sees the lovely spread, his heart is filled with love. When he tastes Rod's delicious cooking, his mouth is filled with flavor. And when he shows his appreciation, his ass gets filled with cock!
   Once finished eating, Alexander thanks his man, and tells him to join him in the bedroom in about 5 minutes for a surprise. When Rod comes to him, Alexander is laying nude on their bed, stroking his big, hard dick. 'Look at THAT big breakfast sausage!' Rod says with delight. They kiss, and Rod makes his way down Alexander's body, finally wrapping his mouth around Alexander's throbbing meat.
   They look deep into each other's eyes as Rod takes that cock down his throat. Then Rod goes to his knees so Alexander can have a helping of HIS special breakfast sausage. And boy is there plenty to go around! Alexander slurps Rod's erection for a while before they move into a 69ish position where Alexander gives Rod's tight hole a nice, thorough tonguing.
   Next, Alexander stands up and inserts his throbbing dong into Rod's sweet ass. He bangs his lover good and hard. Rod loves feeling his man fuck him without mercy. The amazing feeling makes Alexander's own ass hungry to be slammed, so Rod lays down and Alexander climbs on top of him for an intense ride. Finally, they switch and Alexander takes to his back so Rod can really deliver a fast, hard fucking. This leads them both to the peak of ecstasy together. Join them and experience how these true lovers celebrate their passion for one another by indulging in some serious breakfast sausage!
NEXT DOOR STUDIOS
HOT HOUSE
PRIDE STUDIOS
KINK.COM / BOUND GODS
KINK.COM / BOUND IN PUBLIC
KINK.COM / MEN ON EDGE
KINK MEN
CLICK HERE TO GO TO HIS NEXT DOOR STUDIOS DETAILS
#WORKOUT
BREAKFAST SAUSAGE
SPARK PLUGGED
RISE & SUCK
MUSCLE MOVEMENT
NURU MASSAGE
THE COMPANION: DOMINIC PACIFICO FUCKS ALEXANDER GUSTAVO
GROUP FUN
FIRST TIMERS
WHAT SHE DOESN'T KNOW
BUTT BUDDIES
GRAPPLING THE STRAIGHT GUY
MASTER & APPRENTICE
SWINGIN' SWINGERS
OFFICER MAGUIRE BEATS AND FUCKS A STUD FOR LITTERING
ALEXANDER GUSTAVO EDGED IN PRISON BY TWO PERVERTS
GERMAN HUNK SUSPENDED AND EDGED
BIP CREW INFILTRATES BOND-CON & MAKES STRAIGHT STUD TAKE TONS OF COCK!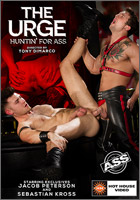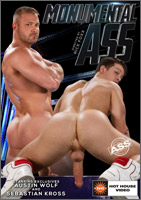 CRUISING FOR ASS
THE URGE – HUNTIN' FOR ASS
MONUMENTAL ASS
GET YOUR ASS IN GEAR! 2
HARD TIME
MY DOCTOR ROCKS
CONTROL ROOM
EASY SUMMER
GET YOUR ASS IN GEAR!
JOCKHOLE
EXTREME FUCK CLUB
PLAY HARD
AMERICA'S NEXT HOT BOTTOM
MUSCLE BANGERS