Hung Uncut Handsome Gay Porn Star, Alexander Greene
Known Aliases: Alex Greene (Guys In Sweatpants), Tony
Years Active: 2010 – 2016
STATS / INFO:
Height: 5′ 9″
Weight: 160
Cock: 8″ uncut
Sexuality: Gay
Position: Versatile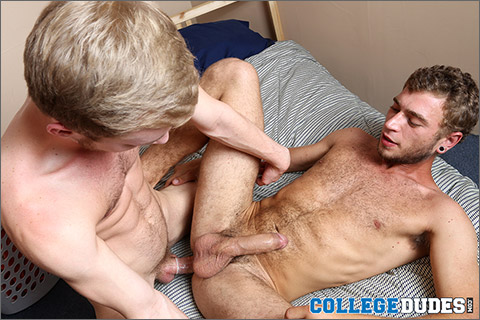 ALEX GREENE & SETH STARK FLIP-FUCK
Alexander Greene and Seth Stark make out before they move from kissing to cock-sucking, and Alexander goes down on Seth first, unleashing that huge cock and taking it in his mouth. He works that dick with his hand while he massages it with his tongue and then they swap and Alexander is on the receiving end of Seth's amazing oral. The boys 69 and then Alexander eats Seth's ass, giving him a rimjob while he yanks on Seth's cock from behind and makes him moan in pleasure.
   When Seth's ass is loosened up a bit he climbs on top of Alexander's lap and lowers himself onto that massive dick, barely even able to fit it all in his ass as he rides it hard, stretching his tight ass as he gets fucked. Seth gets on all fours on the bed, sticking his ass in the air to receive Alexander's thick member and Alexander doesn't go easy on him, he fucks him deep, burying the full length of his cock in Seth's ass as his balls slap against Seth while he pounds him.
   They flip and Alexander gets a turn taking cock as he rides Seth and then moves over to the bed, on his back and legs spread as he invites Seth's throbbing cock inside of him. Seth fucks Alex until Alex drains a huge load all over himself and then Seth pulls out and busts a nut too!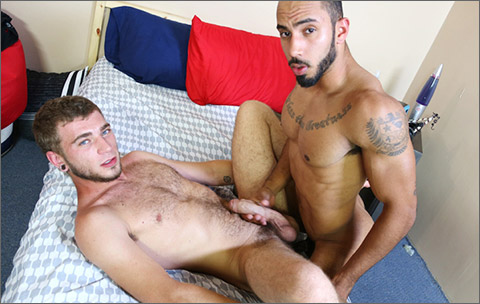 TY ROYAL & ALEX GREENE FLIP-FUCK
Alexander Greene and Ty Royal kiss while they explore each other, running their hands all over as Alexander's hand finds its way to Ty's cock, standing upright as Alexander grabs it and pushes it into his mouth. Ty watches as he get head from Alexander and then gives some well-deserved oral in return, trying to take as much of Alexander's huge cock into his mouth as he can.
   Ty deepthroats that big cock and Alexander deepthroats Ty and then bends him over and gets his mouth on that delicious ass, rimming Ty's tight hole to get him ready for what's coming. When Ty's entrance is nice and wet, Alexander slowly slides his huge shaft inside of Ty, barely giving him time to warm up to that fat cock before Alexander starts fucking him hard. They break for a little more oral and then flip, with Alexander getting fucked by Ty now, riding that hard prick as Ty moans. Alexander gets on his back and takes Ty's cock from that angle while he strokes his own member, jerking it hard until he comes and then letting Ty come all over him next!

ALEX GREENE FUCKS SCOTT RILEY
A few kisses in and Alexander Greene is already going for Scott Riley's cock, teasing it through his pants as they make out and strip down, Alexander getting on his knees in front of Scott and sucking that sweet cock! They swap places and Scott struggles to fit Alexander's huge dick in his mouth, but he tries to deepthroat that dick and as a reward for his efforts Alexander gives him a hot rimjob, warming up that tight hole before he slides his cock in and fucks it!
   Scott takes that dick, reaching between his legs to stroke his own prick as Alexander gives it to him hard from behind. They try a few different positions, letting Scott ride Alexander's shaft and then laying Scott on his back and spreading his legs wide open so that Alexander can get deep inside that ass. Scott massages his own cock while he gets fucked, stroking out a big load and then letting Alexander cover him in cum after that!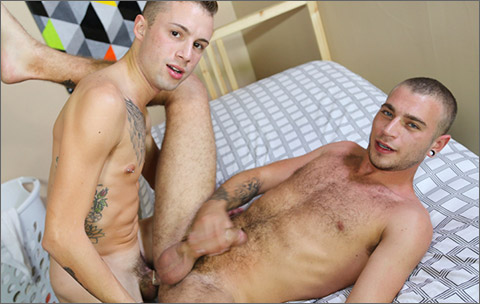 SEAN CHRISTOPHER & ALEX GREENE FLIP-FUCK
Sean Christopher and Alex Greene keep their lips on one another as they slowly drop their clothes, but Alex can't even wait until Sean's pants are off before he's grabbing for that fat cock and putting it into his mouth! Alex licks Sean's balls and sucks his long shaft before the two swap places and Sean is on his knees with Alex's thick member down his throat!
   They climb onto the bed and 69, each getting a mouthful of cock as they suck and lick each other's delicious meat until they're both throbbing and hard and in need of a good fuck. Alex stands over Sean and pulls him to the edge of the bed, teasing Sean's tight hole with his massive cock before slowly sliding it in pulling his hard dick in and out of that tight hole.
   Sean takes that dick, letting Alex get his fill before they flip and Alex is sitting on Sean's long cock, riding it reverse cowboy as he strokes his own prick while they fuck! They try a different position and Alex is on his back getting pounded by Sean, legs spread wide as he gets his ass stretched until he explodes, letting his cum fly and then watching Sean jizz all over him next!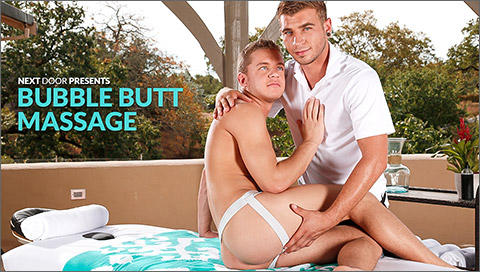 BUBBLE BUTT MASSAGE
In a world where every massage experience is an uncharted course for adventure, Ian Levine makes himself comfortable on a table belonging to one Alex Greene, of the Vineyard Spa.
   Ian's heard stories, in fact he's heard particular yarns involving Alex. That's why he's taken special precautions to ensure that Alex will be massaging him today. Once they meet, Alex turns his back so Ian can get comfortable and settle in for a soothing rubdown. Ian chose to wear something scant, sexy, and fun: a playful jockstrap that displays his plump, rounded buttocks nicely.
   Alex is indeed enticed at the first site of Ian's gorgeous rear end. He gets right into the rubbing. As the pressure increases, Alex, only after receiving the green light from Ian, pushes the towel off of Ian's backside, completely exposing his sweet cheeks.
   Alex massages in an increasingly presumptuous manner, titillating will and eager Ian. It's not long before Alex is face deep in Ian's ass. He licks the tight, pink hole, taking breaks to use his thumb to play with it.
   Ian is delighted to have such a hot guy enjoying his tender hole. When Alex moves around to the front of the massage table, where Ian's face is, he pulls out his swollen cock and Ian gladly accepts It into his mouth. All the ass play was making Ian hungry for fat dick, and it came just in time.
   After slurping and licking Alex's fine erection, it's Ian's turn to put his throbbing meat into Alex's mouth. Alex gives Ian the royal treatment, taking the firm cock deep into his throat. Then it becomes time for Ian to get the 'deep' treatment.
   Alex lifts Ian's legs, slides his dick inside that tight pocket, and fucks it hard. Ian can scarcely believe the power Alex can generate. Every thrust felt like it was coming harder and faster than the last. Soon it was time for Ian to flip over so Alex could pound him doggystyle on the table.
   Join this extremely intimate massage session at the Vineyard Spa and find out why the special rubdown packages are being booked so regularly!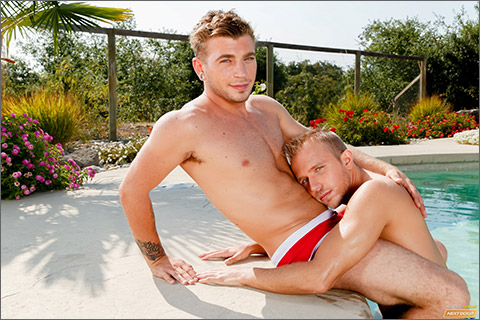 CUM SPLASH
They're 2 peas in a pod and they're making a big splash! When these two Buddies get together, you can bet there's gonna be some laughter and fun.
   As sexy Rob Ryder soaks up rays, poolside, his mischievous friend, Alex Greene, dives in and swims toward unsuspecting Rob. Alex surfaces and splashes cold pool water on Rob, quickly rousing him from a pleasant daydream.
   Rob never lets Alex get one over on him without payback, so a wild dunk battle ensues. As they horse around, both Alex and Rob become amorous from their nearly nude bodies rubbing against one another. They slow things down, drift toward the edge of the pool, and start the hot make out session.
   Things heat up even more when Alex pulls down Rob's shorts and takes his throbbing cock into his mouth. Rob loves the feeling of hot sun while enjoying a deep-throat blowjob from his most attractive friend. And boy does Alex know how to handle a hard dick!
   They move outside of the pool, where Rob pulls out Alex's incredible large dick and returns the favor. Rob savors the fat, swollen meat on his lips as he slurps it with pleasure.
   Alex wants to get fucked really badly after the hot oral, so he lays back and allows eager Rob to slide his fat cock into that sweet, tight hole. Rob really goes to town on that sexy ass. But Alex isn't the only one at the pool who likes to get his hole banged…the guys soon switch so Rob can take a pounding too.
   It's a playful, hot day in the sun as these amazing boys let the heat lead them into intensely sexual territory. Please join them…but don't forget to wear sunscreen!
COLLEGE DUDES
NEXT DOOR STUDIOS
ICONMALE
HELIX STUDIOS
RAGING STALLION
LUCAS ENTERTAINMENT
CHANNEL 1 / RASCAL
CLICK HERE TO GO TO HIS NEXT DOOR STUDIOS DETAILS
MATT STEVENS & ALEXANDER GREENE FLIP-FUCK
COLE GARTNER FUCKS ALEXANDER GREENE
ALEXANDER GREENE FUCKS RYAN DIEHL
BUDDY DAVIS FUCKS ALEXANDER GREENE
DEVIN ADAMS FUCKS ALEXANDER GREENE
ALEXANDER GREENE BUSTS A NUT
CUM SPLASH
GROUND AND POUND
SCHOOL BLOWS
THEY ALL WANT THE BIG DICK
THE ASS IS GREENER ON THE OTHER SIDE
ALEXANDER GREENE & HUNTER VAN HEISE
ALEXANDER GREENE & RICKY LARKIN
ALEXANDER GREENE & CHASEN HART
CONSTRUCTION D-LAY
I LOVE LOOSELY
LONG DAYS JOURNEY INTO WHITE
KING COBRAS
DICK STRAIGHTY
HIGH SCHOOL SWEETHEARTS
PHONE SEX INTERVIEW
SHOWER COMPETITION
THE SECRET PLEDGE
ALEXANDER GREENE & ISAAC HARDY in THE SURVEY
THE PRICE IS TIGHT
LITTLE RICKY
MY.RA.GAY.4.PAY
MIKE RIVERS & ALEXANDER GREENE
ALEXANDER GREENE FUCKS MICAH ANDREWS
TEACHER'S BIRTHDAY
TIPPING OFF THE HACKER
THE NEW ROOMMATE
HOME INVASION
STEAMY SEX ORGY
ALEXANDER LOVES HUGE COCK
ALEXANDER HARD ANAL FUCKING
EPIC MUSCLE BOUND FUCKING
AROUSED DURING MASSAGE
REAR END TABLE
A TWIST ON THE BAITBUS!
HAPPY BIRTHDAY ENJOY SOME MAN ASS
CUM SHOWERS
YOU BROKE? HOP ON THE BAITBUS
ALEX WANTS A BIG DICK!
BAIT BUS WINS AGAIN!
HOLE IN ONE!
ALEXANDER GREENE AND KEMER DIAZ FUCK IN BED
ALEX GREENE GIVES IT TO GABRIEL BOSSA
THE ART OF BREAKING UP – PART 4: SWEAT
THE ART OF BREAKING UP – PART 3: LIKE A GOOD NEIGHBOR
TRIPLE DIPPIN'
REAL CAM: ANDY TAYLOR & ALEX GREENE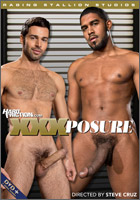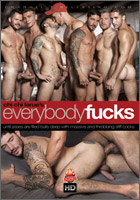 XXXPOSURE
TWINKS ON SET
EVERYBODY FUCKS
DADDY IT HURTS
FRAT BOY FUCK DOWN
GENTLEMEN 12: BAREBACKING IN THE BOARDROOM
NEVER HAVE WE EVER
NEED THAT SEED
FEED HIM CUM
BROTHERS
FOOTBALL HERO
GAY MASSAGE HOUSE 3