American Cockyboys Gay Porn Star, Alex Killborn
Known Aliases: Alex Kilborn
Years Active: 2015
TWITTER @AlexKillborn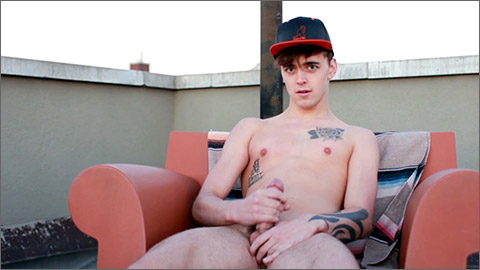 ROOFTOP WANK WITH ALEX KILLBORN
With his big welcoming eyes, the incredibly sexy and adorable Alex Killborn has been getting seen in the NYC scene for a while and it only seemed right and natural for him make an appearance on DirtyBoyVideo!
   We follow him up to a rooftop in Williamsburg. Alex Killborn starts by rubbing his crotch through his tight black pants, slowly teasing himself, feeling the outline of his cock beneath the denim. He unbuttons his fly and grabs his junk in his black briefs. His jacket and t-shirt come off, giving us a moment to enjoy his smooth chest and soak in the tattoos he is so proud of.
   Alex Killborn pulls off his pants and gets comfortable, playing with himself while sitting there in just his black underwear. He takes his stiffening cock out of his briefs. Admiring himself as his strokes his meat, he watches it grow with wide eyed wonder as if he's never experienced the sensation before!
   Alex clearly enjoys his body, caressing his nipples and moistening his lips with his tongue as the pre-cum gets his fingers sticky. His breathing quickens and his body shakes a little just before he ejaculates.
   He quickly dresses and trots off to another gogo dancer gig!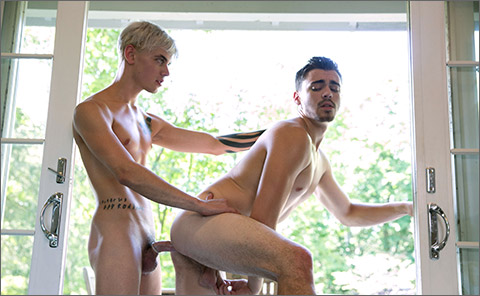 ALEX KILBORN FUCKS ASHER HAWK
You may notice a different style of filmmaking for this hot scene, and that's because it was shot and directed by our very own Levi Karter! A natural auteur, Levi will be shooting and directing a lot more scenes for CockyBoys in the coming months proving once again what a hard-working individual he really is.
   Part of what makes Levi's directing unique comes from the fact that he's a porn star himself, adding an extra layer of trust and comfort for the models he's shooting. Alex Killborn and Asher Hawk were completely uninhibited from the first frame to the last — ravenously making out, tearing each other's clothes off, and finally blowing, rimming, and fucking their way to one very climactic finish. Levi was able to really get into the middle of the action, and you'll notice some very intimate shots. Asher, who Levi's shared a scene with himself, was especially aggressive — even as a bottom. He took off his shorts and popped his cock right into Alex's eager lips before pushing Alex back on the couch and giving him the same treatment.
   Things escalated very quickly from there! Asher told Alex to rim him, proving again how very much in control he was, and Alex happily obliged. But Asher couldn't wait to get pounded, and he happily accepted Alex's invitation for a proper fuck. Alex then pushed Asher up against the couch and drilled him from behind, increasing his speed with every thrust. A true power bottom, Asher was so eager for Alex's cock that at one point it was like his hole was fucking Alex's dick instead of the other way around!
   Alex was liking this sexual dynamic — he as more of a submissive top and Asher as an in-control bottom — and he suggested Asher ride his cock for a bit. Both dripping sweat and breathing hard, Asher hopped up and down on Alex's cock like the Energizer Bunny until Asher suggested they finish standing up against a sliding glass door — half inside and half outside. What made this grand finale so sexy was that a storm was brewing outside as they both quickly reached climax. As soon as the rain started, Asher shot his load in no time at all. And then Alex finished himself off on Asher's pecs as the rain then poured hard… a nice artist touch (and tip of the hat) to Levi!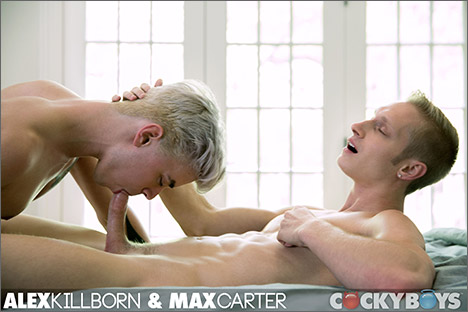 MAX CARTER & ALEX KILLBORN FLIP-FUCK
We haven't seen Max Carter in a while, but we've certainly missed him! He's definitely become a fan favorite after his breakthrough performance in Answered Prayers, and now he's back for some more hardcore action. We set up a meeting with him and new CockyBoy Alex Killborn and had no idea what to expect — they're both such quiet, thoughtful guys but ended up looking adorable together!
   After Alex won an arm-wrestling match, he was handsomely rewarded with a blowjob. But Max then took it one step further and started fucking Alex a short while later — first in missionary on the bed and then with Alex on top.
   Alex was in heaven after getting drilled, but he wanted to return the favor to Max. He started off sucking and rimming Max, but Max quickly climbed on top of Alex and rode his cock until he was close. Just before Max reached the point of no return, Alex flipped him over and nailed him until they both shot their loads all over Max's torso… all making for one mind-blowing flip-fuck!
MAX CARTER & ALEX KILLBORN FLIP-FUCK
DALTON BRIGGS FUCKS ALEX KILBORN
INTRODUCING ALEX KILLBORN WITH JACK RAYDER!
CLICK HERE TO GO TO HIS COCKYBOYS DETAILS