Handsome Rugged American Gay Porn Star, Alex Brawley
Known Aliases / aka: Alec Brawley
Years Active: 2005 – 2007
TITAN MEN INFO:
Age: 47
Height: 5'11"
Penis Length: 7″ Cut
Bio: I'm a cornhusker, Iowa born and bred!
Turn-ons: Watersports, masculine hairy dudes.

ARCADE ON ROUTE 9 – DOCTOR'S OFFICE
Adam Young inspected by Alex Brawley and Peter Axel
As Junior (Matthew Matters) eats breakfast, Dad (Brett Anderson) suggests they do something special for Junior's 18th birthday. How about a trip to that arcade, the one with all the sex booths, out on Route 9?
   Coach (Peter Axel) has brought young track star Adam Young into Dr. Blodgett's office. Something's tightening up, pulling real hard, way up along Adam's inner thigh. Doc (Alex Brawley) goes right for the balls. "You probably got a lot of cream in those nuts, don't ya?" Adam's not saying much, but his dick hardens up, and Coach pulls out his mighty monster. "Damn, that's almost as big as mine," Doc says. "Look."
   Adam gets the closest look, as Doc's wang whams past his tonsils. Doc and Coach's lips meet as they glide up to the end of Adam's young stiffie. Gobbling the athlete's taut tool forces all three to bust their cream. And then Doc and Coach baptize Adam with high arching fountains of holy golden showers, leaving him warm and happy in a pool of piss.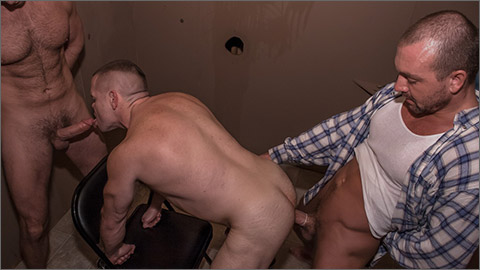 ARCADE ON ROUTE 9 – BOOTH 12
Josh West tops Peter Axel topping Alex Brawley
In another booth down the hall, burly Coach Axel gags on Josh West's thick meat, and groans when the husky mechanic mauls his ass. Doc Blodgett's eager to get in on the bruiser action when he arrives, and winds up hanging his ass on Peter's prick while Josh keeps grinding Peter's tight pucker in a three man fuck chain that's so punchy the guys can't help pumping out the pearls. Balls drained, Doc and Coach empty their bladders, unleashing torrents of piss over spunk-splattered West.
TITAN MEN
RAGING STALLION
FACTORY VIDEO / CUM PIG MEN
CLICK HERE TO GO TO HIS TITAN MEN DETAILS
VIDEO ON-DEMAND: Alex Brawley @ AEBN SMUTJUNKIES THEATER
DVD's & ON-DEMAND: Alex Brawley @ TLA VIDEO