Bad Daddy Gay Porn Star, Alessio Romero
Years Active: 2009 – 2016
TWITTER @AlessioRomero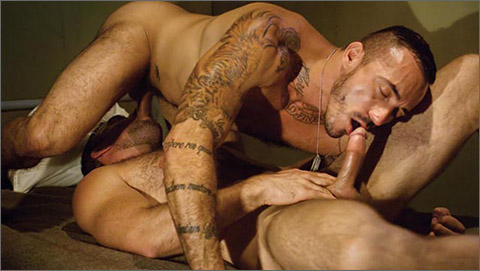 MAN UP: Alessio Romero and Heath Jordan flip-fuck
Nighttime finds both Alessio Romero and Heath Jordan laying in their bunks, restless, unable to sleep and feeling so horny. Alessio decides to help his buddy out and begins to suck him off. Heath quickly makes it clear that he can't wait to work his oral skills on his fellow private's privates and he zeroes in on Alessio's crotch. Soon the two soldiers are 69ing, giving head as well as rimming ass with some fingerfucking thrown in for good measure. Ready for some anal sex, Alessio slides his cock up inside Heath's ass, fucking his hole hard and deep. The men exchange pole positions with Heath now filling Alessio's asshole with his thrusting cock. Both of them are ready to climax and they finish off laying side by side, stroking their cocks until they both shoot their loads.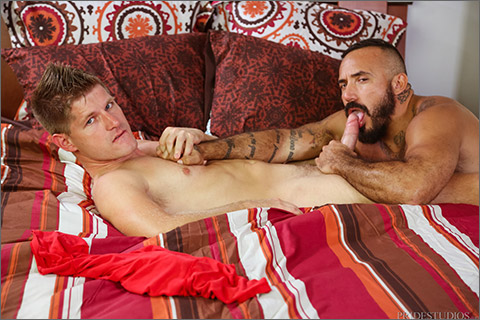 YESTERDAY
Breakups are hard to do and hard to take. Peter isn't taking the breakup so well and Alessio is standing by watching him pack his bags as his moves on to greener pastures. Alessio can't help but ask for one more fuck since that was all they did and never argued during. The sex was always amazing and with a good balance what could go wrong. Peter isn't too happy about it but Alessio grabs him and shoves his tongue down his throat than onto the bed where they rip each other's clothes off and fuck for the last time. Alessio dominate nature over takes Peter as he is held down and slapped around like Alessios bitch which Peter loves and it keeps his cock rock hard with lots of oozing precum. Alessio fucks him hard and deep until Peter's little ass puckers up and he cums all over himself as Alessio keeps thrusting in and out and pulls out to blast his creamy load all over Peter's chest.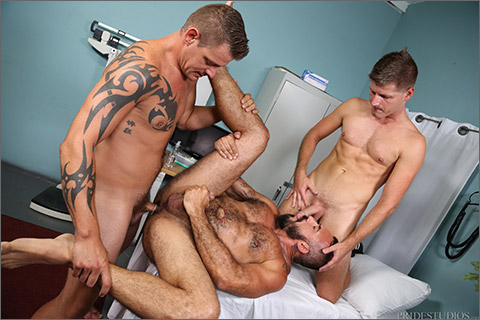 BEDSIDE MANNER – PART 4
Dr. Romero is having a study to find out if big dicks cum more than the average cock and his two specimens have some very nice big cocks for this experiment. Jace and Peter are waiting patiently in the waiting room to find out exactly what this program entails. Dr. Romero arrives and tells them what to expect and to make sure they get their full load in the tiny jar he gives them. They have magazines and lube to assist them while they both masturbate in separate rooms. The nurse comes in and leads them to their rooms. Peter is excited and pulls his pants down as soon as he sees the magazines. He searches for the lube as he pulls on his limp dick making it grow bit by bit. His cock his hard as a rock now and fully lubed so his hand glides along his shaft as he strokes it. All of a sudden Jace comes barging in and scares Peter but he tells him not to worry because it's probably more fun if they are in the same room together. They both grab each other's cocks and give a helping hand. Rubbing their big fat cocks together stroking them with ease and then Dr. Romero comes walking in rather surprised since they are in the same room. Jace tells the doc to join in and with no hesitation the doc is on his knees service the two big juicy cocks. Down on his knees with a cock on each side of him Dr. Romero goes back and forth sucking, stroking and spitting on their sexy dicks. His jaw is getting tired trying to stuff these big dicks in his mouth so he stands up and bends his ass over and waits for Peter to push deep into his ass. Both of the subjects take turns fucking Dr. Romero in a few positions until they blow their loads all over him and then they all realize that they will have to come back again to actually fill the bottles up.
FALCON STUDIOS
RAGING STALLION
HOT HOUSE ENTERTAINMENT
HOT HOUSE CLUB INFERNO
LUCAS ENTERTAINMENT
TITAN MEDIA
CHANNEL 1 / RASCAL
ALL WORLDS VIDEO
PRIDE STUDIOS
JAKE CRUISE'S COCK SURE MEN
KINK MEN
KRISTOFER WESTON'S BOUND JOCKS
CLICK HERE TO GO TO HIS FALCON STUDIOS DETAILS
more Alessio Romero @ AEBN SMUTJUNKIES THEATER
more Alessio Romero @ MALEFLIXXX
more Alessio Romero @ GAY DVD EMPIRE