Handsome Ripped American Gay Porn Star, Alec Hudson / Brannon / Rod Peterson
Known Aliases: Rod Pederson (Kink.com), Elder Miller (Mormon Boyz), Alec (Corbin Fisher), Neill (Dreamboy Bondage), Alec Hudson (Randy Blue)
Years Active: 2013 – 2017
ChaosMen Start Age: 28
Debut: November 17, 2014
Height: 5′ 9″
Weight: 170 lbs
Cock: 8″ cut
Brannon has done video work before, and when he was submitted as 'available' I started having visions of all the great guys I could pair him with.
   He has a rockin' body, and based on his previous work, seems fully versatile. I thought Cooper Reed and Gavin Sevin would look great with him, so it is likely he will be back in the near future to do full scenes with at the very least Cooper Reed..
   I did want to get him in first for a solo and oral to check out his energy and camera skills. As you know, I shoot with multiple cameras, and I never know just how adept experienced guys are at dealing with cameras at every turn. Plus I get to gauge his energy and make sure he is right for Team Chaos. He was awesome, and can't wait to see him in full action!
   As you can tell from this solo, he is quite comfortable in front of the camera, and is a very polished performer.
   Next week he will get a nice massage from Brenner, so stay tuned for that next week!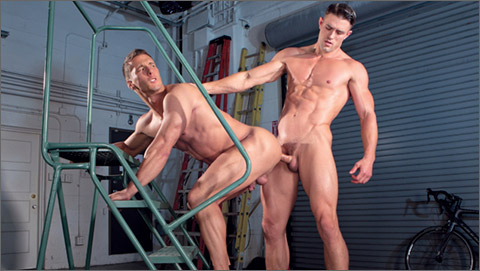 URBAN SPOKES: Ryan Rose fucks Rod Peterson
Rod Peterson is cycling through the Presidio, enjoying the beautiful Pacific coastline of San Francisco. Suddenly, his chain breaks. Luckily for him, a good Samaritan named Ryan Rose offers to help. Ryan brings Rod back to the shop where Ryan runs a bike messenger service called 'Urban Spokes'. Their eyes meet, and suddenly they burst into frenetic kissing. Stripping off their spandex biking gear, Rod gets down on the ground and works his lips around Ryan's huge cock. Spit drips everywhere as Ryan thrusts his hips, pushing his meat deep down Rod's throat. Ryan gives Rod head too, then spins him around to eat Rod's perfect, pink hole. Ryan's saliva smears across Rod's furry butt, enabling Ryan to slide his cock right through. Looking over his shoulder, Rod's mouth drops open with amazement as he feels the intense pleasure of Ryan's cock filling him up. Moving to a seated position let's Rod show off his strong legs as he bounces on Ryan's stiff pole. Rolling onto his back, Rod puts one leg in the air and Ryan unleashes the full power of his energetic fucking. The intense sensations makes Rod blow his load across his washboard abs, and Ryan adds his own gushing stream to the mix. Sighing with satisfaction, Ryan explains that 'Urban Spokes' isn't just a messenger company – it's also a secret sex club where hot riders like themselves can hang out and get off!

URBAN SPOKES: Trenton Ducati, Connor Patricks, Ryan Rose, Rod Peterson fuck Griffin Barrows
t's been a busy week of recruitment for the members of 'Urban Spokes', an elite club of San Francisco's hottest gay cyclists. Three new recruits arrive for initiation into the club at the hands of intimidating club leaders Trenton Ducati and Ryan Rose. Whoever performs best gets the chip that signifies membership into the club. Stripping off their clothes, Connor Patricks, Rod Peterson, and Griffin Barrows present themselves to the whims of Ryan and Trenton. Rod makes out with Ryan, then lowers himself to the ground to suck Ryan's cock. Griffin and Connor tag team Trenton's hefty cock, taking turns with oral service. Trenton's abs flex as his hips thrust his cock forward. Rod switches with Griffin, and Ryan grabs the back of Griffin's head guiding it deeper and deeper onto Ryan's hard cock. Taking things up a notch, Griffin jumps up on a table, opens his mouth, and swallows Ryan's cock upside down. Trenton spreads Griffin's legs and buries his face in the tight, pink center. As Ryan and Connor suck Griffin's cock, Trenton and Rod take turns rimming Griffin's hole. Ryan sucks both of Griffin's low-hanging balls into his mouth as Rod and Connor press their tongues deep into Griffin's ass. With Griffin's hole totally wet and slick, Trenton thrusts inside with his big, girthy cock. Griffin moans as Trenton's intense pumping stretches his hole wide and deep. Ryan holds Griffin's feet high in the air, pressing his cock and balls against Griffin's face at the same time. When Ryan's ready to take a turn, Griffin gets on his hands and knees, and Ryan unleashes a brutal doggy-style pounding that has Griffin screaming for more! Ryan's big balls slap against Griffin's ass with each powerful thrust. Rolling onto his back, Griffin lifts his legs in the air again for Trenton's pummeling cock. Ryan strokes his cock as he kneels over Griffin's face. Connor is the first to cum, shooting his cum stream across Griffin's torso. Rod busts his nut on Griffin's pecs, and Ryan lets loose with a massive burst that falls across Griffin's lips. With Trenton still inside him, Griffin dumps his hot load onto his stomach. Pulling out, Trenton strokes out a thick load that drenches Griffin's cock and balls. As Griffin lays back, covered with four loads, Trenton throws the chip on his chest: "Welcome to the fucking club!"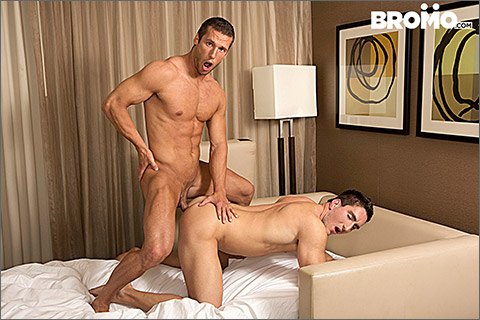 BRO IN THE STREET, HO IN THE SHEETS: Rod Pederson fucks Vic Powers
Vic Powers just got out of the slammer and is in dire need of a hard pounding. He hooks up with Rod Pederson who almost immediately shoves his huge cock down Vic's throat and face-fucks him. Rod then rims Vic's hot ass before sliding deep inside raw and fucks him until he cums all over Vic's ass.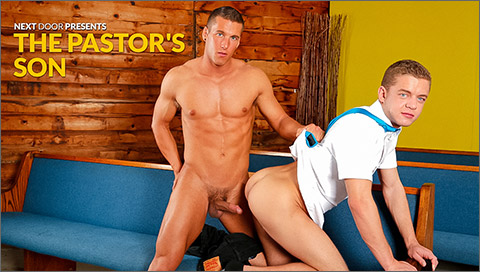 THE PASTOR'S SON
As Ian sits with his hands folded and eyes closed, Pastor Peterson finishes up Sunday morning service with a prayer. The Pastor's son, Rod Peterson, sits behind Ian, over his left shoulder. Ian has the strange feeling that eyes are on him during the final moments of the prayer. He turns around slightly and notices Rod is staring at him intently.
   When the prayer wraps up and the congregation filters out into the foyer, Ian goes into the bathroom to relieve himself. Rod sees this as an opportunity. He hurries everyone out into the garden and locks the door to the sanctuary. When Ian emerges, he and Rod are alone. Ian asks Rod about the stares during the service.
   The night before, Ian thought he was sending someone from an anonymous chat room nudes of himself, along with a message about how much he'd like to have sex with a man. It turns out, however, the anonymous guy was actually Rod, the Pastor's son! Rod works his way up to telling Ian that it was him, and Ian is completely shocked. But Rod has been planning to make Ian feel at ease.
   He starts by telling Ian that the two of them have the same inclinations. Rod moves in close and the two kiss passionately. Soon they're sitting on a pew, making out and undressing each other. Ian doesn't waste much time before going down and taking Rod's dick into his mouth. Wow, Rod's hard cock tastes better than he could have imagined. Rod can't believe the church goody-two-shoes is slobbing his knob!
   Next, Rod gets a taste of Ian's fine dick. Then he turns him around and licks his sweet hole. He gets it nice and wet for what's next — Rod's big, throbbing erection. Rod slides it in carefully at first, then works up to a good, hard pounding. After slamming Ian from behind for a while, Rod lays down on the pew and lets Ian take a ride. Watch Ian and Rod connect on a brand new level for the first time as they discover how much fun church activities can really be!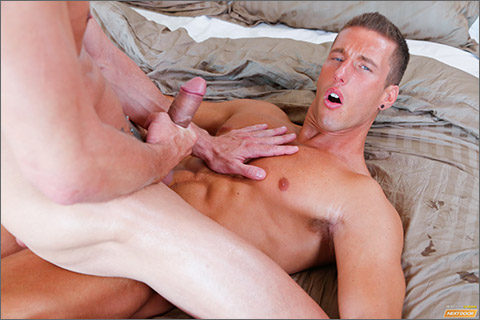 BREAKFAST SAUSAGE
Rod Peterson is such a sweet, loving boyfriend. He woke up early this morning to make breakfast for his beau, Alexander Gustavo. When Alexander sees the lovely spread, his heart is filled with love. When he tastes Rod's delicious cooking, his mouth is filled with flavor. And when he shows his appreciation, his ass gets filled with cock!
   Once finished eating, Alexander thanks his man, and tells him to join him in the bedroom in about 5 minutes for a surprise. When Rod comes to him, Alexander is laying nude on their bed, stroking his big, hard dick. 'Look at THAT big breakfast sausage!' Rod says with delight. They kiss, and Rod makes his way down Alexander's body, finally wrapping his mouth around Alexander's throbbing meat.
   They look deep into each other's eyes as Rod takes that cock down his throat. Then Rod goes to his knees so Alexander can have a helping of HIS special breakfast sausage. And boy is there plenty to go around! Alexander slurps Rod's erection for a while before they move into a 69ish position where Alexander gives Rod's tight hole a nice, thorough tonguing.
   Next, Alexander stands up and inserts his throbbing dong into Rod's sweet ass. He bangs his lover good and hard. Rod loves feeling his man fuck him without mercy. The amazing feeling makes Alexander's own ass hungry to be slammed, so Rod lays down and Alexander climbs on top of him for an intense ride. Finally, they switch and Alexander takes to his back so Rod can really deliver a fast, hard fucking. This leads them both to the peak of ecstasy together. Join them and experience how these true lovers celebrate their passion for one another by indulging in some serious breakfast sausage!

RAW: BRANNON & COOPER REED
When Brannon first came in to do some videos for ChaosMen, I took one look at him and knew he would look amazing with Cooper Reed. Sure enough the two of them look awesome together! Both are tan, shredded, and ready to fuck some muscle ass!
   I was not sure how Brannon was at bottoming, so I set this up as a flip-flop video, just in case he struggled to get fucked. Well, of course he did just fine, and Cooper ends up fucking him most of the video.
   Brannon still seems to need to be guided, which is no problem for Cooper who likes to be in charge. Cooper is used to new guys, so he just takes the lead if the other guy won't. Brannon starts by sucking on Cooper's cock.
   Cooper returns the favor then bends Brannon over the bed, to rim his hole and gets it all slicked up to stuff his cock in. I thought Brannon would have to stop as Cooper slid it in, but he toughed it out and road through the initial pain. Before long he was loving getting ass-rammed!
   After Cooper had his way with Brannon's ass, he tosses him down and climbs on top of him. He then proceeds to milk Brannon's cock with his ass. Cooper rides him like a pro, jerking his cock with Brannon deep inside of him.
   Brannon said he had not cum while getting fucked, or at least he didn't remember doing it. So we made that our mission. Cooper fucks him until he is spilling his load, and you can tell the orgasm is really intense.
   Cooper nuts all over Brannon's hairy hole. He uses his finger to slide globs of jizz deep into his ass!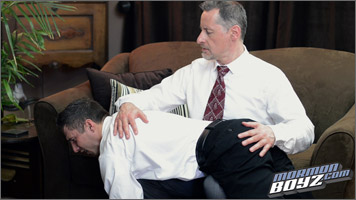 EPISODE 109: ELDER MILLER DISCIPLINARY ACTION
Gorgeous Elder Miller's companion caught him breaking the rules. Now he's facing a painful and humiliating punishment at the hands of the Patriarch.
   Every missionary follows a long list of rules contained in the Missionary Handbook. These rules govern every aspect of a missionary's life — when they wake and go to sleep, how they dress, with whom they can be alone, what kind of music they can listen to and what books they can read. When a missionary keeps the rules, he demonstrates his obedience.
   Missionaries are strictly forbidden from reading anything other than the scriptures and a few books about the Church written by General Authorities. But an investigator had asked a question about Joseph Smith's First Vision that troubled Elder Miller. He decided to do a little secret research on the internet. What he found disturbed him: Joseph Smith had told the story at several points in his life, and the accounts differed in irreconcilable ways. Was Joseph Smith hiding something about his first vision of God, the foundation of the Restored Church? ….
FALCON STUDIOS
CHAOS MEN
NEXT DOOR STUDIOS
MORMON BOYZ
DREAM BOY BONDAGE
ROPED STUDS
RANDY BLUE
CLICK HERE TO GO TO CHAOSMEN BIO PAGE ON THIS PERFORMER
BREAKFAST SAUSAGE
RAW: ARMANI & BRANNON
RAW: BRANNON & PALMER
RAW: BRANNON & COOPER REED
RAW: BRANNON & DORIAN FERRO
SERVICED: BRANNON & BRENNER
SOLO: BRANNON
ELDER MILLER & ELDER PETERSON
ELDER MILLER & PRESIDENT WILCOX – PART 2
ELDER MILLER & PRESIDENT WILCOX – PART 1
ELDERS FOSTER, MILLER & BISHOP ANGUS 2
ELDERS FOSTER, MILLER & BISHOP ANGUS
ELDER FOSTER & ELDER MILLER
ELDER FOSTER & ELDER MILLER
ELDER MILLER & PRESIDENT WILCOX
ELDER MILLER & PRESIDENT WILCOX
EPISODE 114: ELDER MILLER INSPECTION
EPISODE 112: ELDER MILLER EVALUATION
EPISODE 109: ELDER MILLER DISCIPLINARY ACTION
EPISODE 107: ELDER HARDT & ELDER MILLER BEHIND CLOSED DOORS
ELDER KENSINGTON & ELDER MILLER – COMPANIONSHIP INVENTORY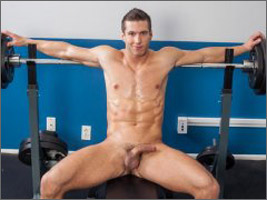 ALEC HUDSON GOES STRAIGHT TO PUMPING HIS COCK
Alec Hudson has one of those bodies that make you do a double take. I had him work out in our gym and build up a sweat. After pumping the weights for a bit, he got all nice and sweaty and began to strip down. Each article of clothing he removed, revealed another hot body part muscled to perfection. His abs are killer and biceps are bulging like crazy. There was another noticeable bulge, the one in his pants. He pulled out his hard dick and started to stroke it. He turned around and showed off his perfect tight ass and his sweet pink hole. He then sat down on the work out bench and began to pound on his pecker faster. He then shot a white stream of cum all over his leg. That is how you work it out. Want to see this adonis in all of his glory. Then come to RandyBlue.com where we have gay porn streaming at your fingertips.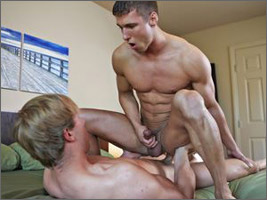 ALEC TAKES IT
ALEC TOPS QUINN
ALEC