Cute ChaosMen Amateur Gay Porn Str8 Guy, Akira
Years Active: 2015
BRIAN OCKERT / CHAOS MEN INFO:
Start Age: 21
Debuted: December 29, 2015
Height: 6
Weight: 170 lbs
Cock: 6″ Cut

SERVICED: AKIRA & WEST
Only for the first couple minutes did Akira seem to blanch at swapping oral with another guy. He couldn't decide if he wanted to return oral, so I set this up so if the chance came up he could give it a try.
   It surprised me that he got so nervous. He has had a couple experiences with another guy, but once faced with the task on video, he struggled to get hard. He looks pretty anxious to start with.
   West decides to give him a hand, or rather a mouth, to help get him hard. That did the trick!
   As soon as he was solid, Akira was great and gives amazing verbal to West, telling him what he likes, and thoroughly enjoying having his cock serviced.
   We even get a little bit of cock sucking out of him. Even though he was not really wanting to suck back, I am glad that he pushed his limits for film.
   If you watched his solo, you know he jerks-off really fast in order to cum. I didn't think West could duplicate or sustain this motion long enough to make him nut, so we set it up for a traditional facial.
   West lays down below Akira while stroking and edging his own cock. West ramps up to bust a load right into his mouth! I think West must bust at the exact same time.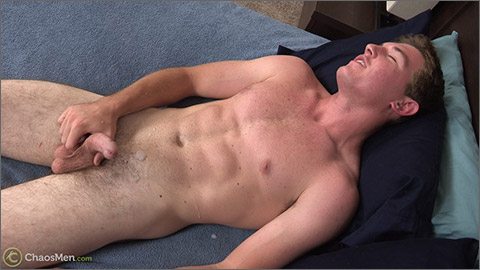 SOLO: AKIRA
Akira is a social and easy to talk to guy. He was very professional about meeting and setting everything up. Very mature for only being 21 years old.
   On the car ride to the studio he said he had had sex with a guy and even sucked his cock. Currently he has a girlfriend who was blowing-up his phone the entire trip. It is a new relationship, but I think she knew he was up to something naughty.
   He has hooked up twice with the same guy. First time it sounds like he just got head, but the second time he returned head and even fucked the guy. So he figured he could do it in front of the cameras, plus he also said that he likes to show-off. He knew enough about gay sex to know he liked twinks, and despite only having been with one guy, he was sure that he was at least Bi.
   For the solo, he stuck to watching straight porn. He jerks-off very fast, and gets his cock hard quickly.
   He also does a great job showing us his ass. His girlfriend loves to rim his hole, and Akira loves having his ass licked. Hmmmmm.
   He cums easily, focusing on the porn in order to spill his seed for us!
   Akira will be back soon to swap some head with another guy!
CLICK HERE TO GO TO HIS CHAOSMEN BIO PAGE