Hairy Titan Men American Gay Porn Star, Adam Thicke
Known Aliases / aka:
Years Active: 2017
TWITTER @AdamThickexxx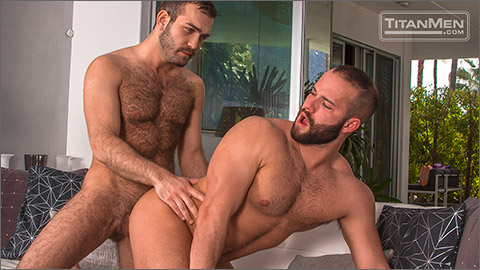 SWAP: Adam Thicke fucks Luke Adams
Stroking his cock, Adam Thicke gets distracted by smooth Luke Adams and joins him in the pool. Luke wraps his legs around the hairy stud, the two kissing before hopping out—Adam's thick, uncut piece dripping wet. "You're such a tease," smiles Adam as Luke shows off his backside, tempting his host. Luke feasts on Adam's pole, sliding his tongue under the foreskin. Luke beats it on his beard, deep throating Adam before straddling his chest—his smooth ass sliding against Adam's shaft. Luke fucks Adam's face, the sucker pinned against the pillow. He slaps his dick on Adam's tongue, then feeds him his smooth sac. Adam munches on Luke's hole, then takes him inside to feed him again—slapping his ass red as he fucks him doggie style. Luke sits on Adam, his own boner slamming up against his abs. The top gets Luke on his back, fucking the cum out of him before dousing his chest—Luke licking a drop off his thumb before feeding it to the top.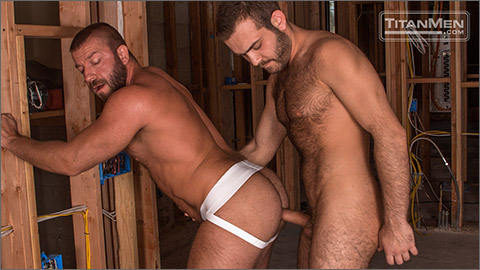 BOOM: Adam Thicke fucks Hunter Marx
At their latest renovation project, Hunter Marx is drawn to foreman Adam Thicke's bulge: "Jesus, does everyone at Big D have a big dick?" Adam smiles, grabbing his groin: "It's a job requirement." Adam whips out his beauty, tugging his foreskin as he shows it off. Hunter feasts on it, nibbling the fleshy hood. Hunter's cock bursts out of his jockstrap. Adam deep throats it, then munches on his hairy hole and fucks him doggie style. Getting Hunter on his back, the hairy top's big dick disappears inside him as he strokes the bottom while fucking him. He grabs hold of Hunter's hairy pecs, the two soon exploding on his furóHunter licking a drop of cum off his finger.
CLICK HERE TO GO TO HIS TITAN MEN DETAILS
DVDs & ON-DEMAND: Adam Thicke @ TLA VIDEO