Blond Next Door Studios Gay Porn Star, Ace Stone
Years Active: 2013 – 2015
Known Aliases: Zane (Corbin Fisher)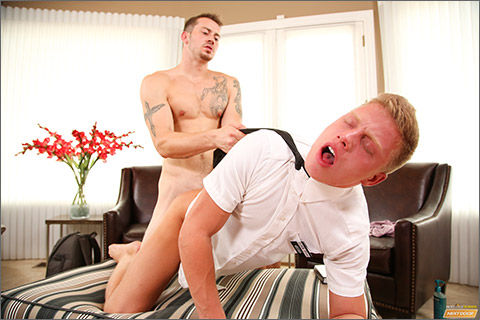 TEMPTING FAITH
He's a dedicated young man with lots of spunk. He's Ace Stone and he's a missionary for the Church of Next Door Bottoming Saints (CNDBS). Although Ace loves spreading the Good News, he knows it's sometimes tough work. On this particular outing, he's biked to the top of a tall hill, where one Mark Long happens to reside. Mark isn't into hearing about Ace's Faith as much as he's interested in getting into Ace's pants!
   When Mark answers his door to find young, chipper Ace, he has a feeling Ace is the type of young man who will swallow just about anything. Mark invites him inside to find out exactly how impressionable this sweet boy really is.
   Ace is excited to be invited in and goes right into his rehearsed lines. But Mark isn't like the rest of folks with whom Ace has sat down; Mark wants to strike a very special deal…Mark will read Ace's spiritual literature if Ace will try something new himself. Ace agrees and discovers that Mark was talking about something that's strictly forbidden by the church. In fact, it's something Ace has never done before, with anyone. That's right…Ace is a VIRGIN!
   Although nervous, Ace decides it's ok, as long as Mark will give the Faith some honest consideration. Ace starts out by accepting Mark's big, thick cock into his mouth. Ace does the best he can, sucking Mark's warm, swollen meat. After a while, Ace kinda starts to enjoy it! And by the time Mark is shoving his enormous dick into Ace's sweet, tight hole, Ace is realizing he should've tried this a LONG time ago!
   Join the ministering session and watch Mark remove Ace's 'sacred garments' and pound his ass hard. Find out who converts who after this righteous fucking.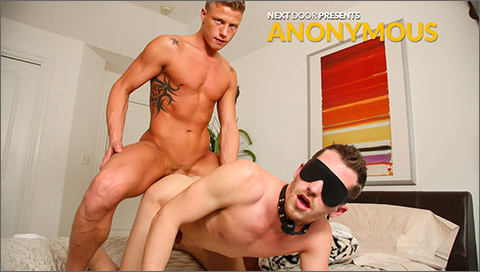 ANONYMOUS
Shawn Andrews reticently posted a personal ad online, seeking a partner in some sexual exploration. His post was relatively simple: seeking a male with a large dick, interested in fucking a blindfolded male, with some light slapping involved. Ace Stone was the first to answer.
   They never spoke, other than messages exchanged online. Ace was made to understand that he would not be seen at all during the entire encounter. Along these lines, he was not to talk to Shawn, but only to to perform explicit sexual acts. Ace had never participated in anything this unusual or kinky, but he liked the idea.
   When he arrived, everything was as had been explained. Shawn was already blindfolded and presenting his ass on the bed. Ace licked the inviting hole, enjoying the beautiful offering. The two moved to sucking each other's cocks. It wasn't long before Ace felt moved to begin fucking Shawn. He slid his rock hard erection into Shawn's ass and slowly worked up to a steady, firm pounding. Shawn ached to remove the leather that covered his eyes and see who was slamming such a substantial cock into him. But it was too late to change the rules now. Join these two and experience the tantalizing chemistry that comes with voluntary anonymity.
THE FOREIGN STUD
TEMPTING FAITH
SPORTS RUB
ANONYMOUS
MORNING AFTER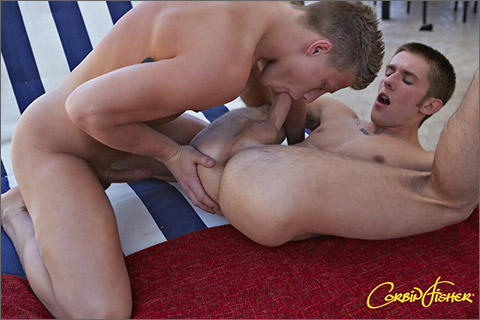 TRENTON & ZANE SWAP LOADS
KELLAN & ZANE'S HOT TUB FUCK
QUINN & ZANE TAKE TURNS
KENT NAILS ZANE
NEXT DOOR STUDIOS
GAY ROOM
GAY ROOM / GAY CASTINGS
CORBIN FISHER
CLICK HERE TO GO TO HIS NEXT DOOR STUDIOS DETAILS