Sexy Frisky Lucas Entertainment Gay Porn Star, Ace Era
Known Aliases / aka:
Years Active: 2016 – 2018
TWITTER @AceEra2
LUCAS ENTERTAINMENT INFO:
Position: Bottom
Dick Size: 7"
Height: 6'2
Ace Era is the full package for a hot gay porn star in the making! Check out his handsome face, rock-hard muscles, and the fat dick between his legs. Ace is a tough guy in the streets, but in the sheets he's a hungry bottom ready and willing to fulfill the needs of his top sex partner. Ace Era's premiere Lucas Entertainment scene is the studio's Christmas 2016 bareback encounter with exclusive model Dylan James!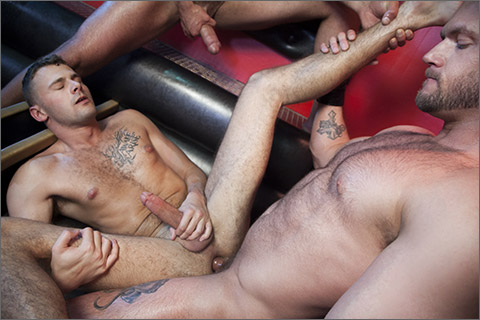 THE SLUTTY PROFESSOR: Tyler Roberts & Ace Era spit-roast Dave Slick
Nerdy Professor Kelp (Ace Era) has until the end of the semester to make himself more relatable and modernize his appearance or he's out on his ass. When he returns to his classroom he catches Professor Studly (Bruce Beckham) and his crush, Justin Brody, finishing up their sweaty sex session and it pushes him over the edge. Kelp rushes to the lab and concocts a secret potion that turns him into a smoking hot, muscular stud named Buddy Fuck. Seething with raw sexual energy, Buddy's first stop is the local gay bar where he meets Ty Roberts and Dave Slick, two horny college dudes who can't wait to get a piece of the Slutty Professor. Up in the VIP Buddy calls the shots as they take turns sucking cock and fucking each other's holes. Ty and Buddy spit roast Dave, filling both his holes, until all three men bust their nuts in each other's mouths.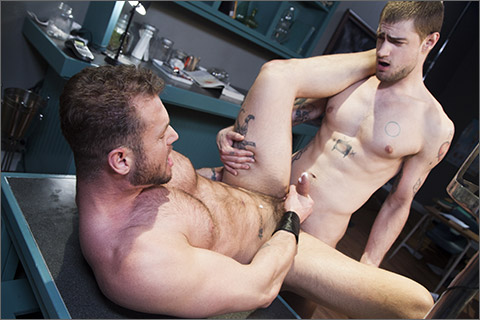 THE SLUTTY PROFESSOR: Justin Brody fucks Ace Era
The new sexy Slutty Professor Buddy Fuck (Ace Era) has won over his students and finally has the confidence to make his move on Justin Brody. Buddy shoves his bulging crotch in the student's face, whips out his cock, and shoves it down his throat. Justin pulls out his huge dick and feeds it to the Slutty Professor before bending him over and eating his ass. Following the instructions of Buddy's "Fuck Me" tattoo, Justin shoves his cock deep in his hole. Ready to blow, Justin jerks off into Buddy's mouth who greedily eats every drop. Suddenly Buddy starts to convulse, the effects of his potion are wearing off! Buddy falls behind the lab counter and the old Nerdy Professor Kelp emerges, replacing Justin's lust with his true love.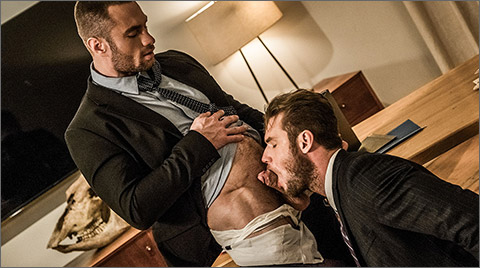 GENTLEMEN 20 – INSIDE TRADE: Stas Landon Barebacks Ace Era
Stas Landon continues to move up in the business world, but he doesn't do so through hard work and determination. He's fucking his way to the top, and the new office jockey Ace Era is the next guy on his bareback bucket list. Seducing Ace doesn't take long, and before he knows it Ace is on Stas' desk taking a dildo up his ass. And after Ace is bouncing on Stas Landon's cock working for his raw load.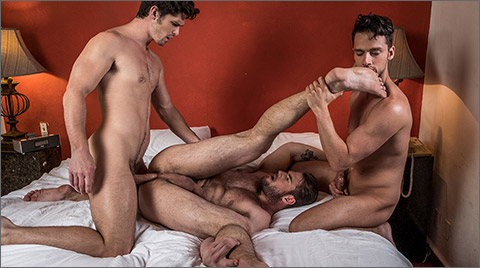 BARE TENDERS: Ace Era, Devin Franco, And Damon Heart's Raw Threesome
Devin Franco never says "no" to a beefcake, so when Ace Era makes a move on him they immediately start making out and exploring each other's bodies. Devin gets into sucking Ace's hard dick fast, and when they sneak into an empty hotel room to be kinky, they're not expecting the resident to return. But he does, and it is Damon Heart. If they're going to be in his room, he's going to get something out of it. Damon breaks out his arsenal of sex toys before he and Damon take turns breeding Ace in his ass.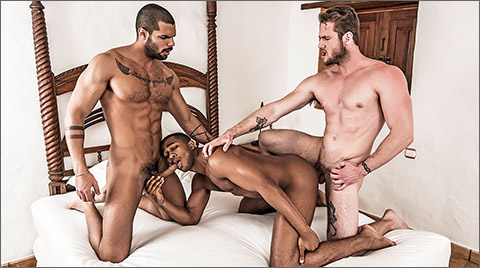 RAW DOUBLE PENETRATIONS 5: Ace Era Tops Sean Xavier and Lucas Fox
Ace Era may be known as a power bottom (just read the "Fuck Me" tattoo on his ass cheeks). But when he sees a nice hole presented to him, of course he's going to want to stick his dick in it. And when he sees two, he's going to flex those muscles of his and take control of the situation. Enter Lucas Fox and Sean Xavier, who both give up their asses to Ace Era.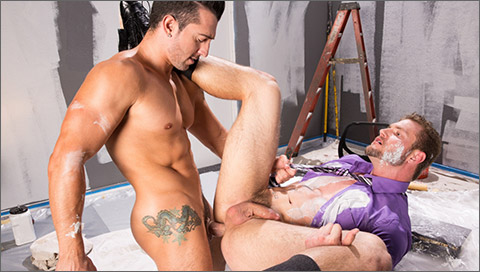 DIRTY WORK: Jimmy Durano fucks Ace Era
Jimmy Durano should have finished painting the office already, but he's barely halfway done. Jimmy's boss, Ace Era, is furious with him, but Jimmy doesn't give a fuck: he shows Ace what he thinks of him by rolling a giant stripe of paint across Ace's expensive dress shirt and tie. Ace is so mad he tries to fight Jimmy, but Jimmy has the upper hand because he knows how to subdue his blustering boss. Grabbing the back of Ace's head, Jimmy pushes Ace's face into his crotch. Whipping out his dick, Jimmy slaps it across Ace's lips, and since Ace is such an eager cock whore, he can't resist opening his mouth and allowing Jimmy's meat down his throat. Jimmy strips off his shirt, revealing his perfectly smooth torso and bulging muscles. Ace bends over a desk and Jimmy eats his ass. Paint splatters across ace's face and arms as their rampant connection gets more and more intense. Jimmy strokes his hard, uncut cock as he presses his face into Ace's ass. After teasing Ace with the tip of his cock, Jimmy thrusts his thick meat inside Ace's hole. He pounds Ace with vigorous, slamming pumps, and the tattoo that says 'FUCK ME' across Ace's ass bounces with the force of the impact. Turning over, Ace throws his right leg over Jimmy's shoulder and gets totally drilled by Jimmy's cock. The intense pressure makes Ace spill his seed, shooting it across his muscular torso. Getting down on his knees, Ace opens his mouth as Jimmy blows his load; cum spills everywhere. When Jimmy stands and heads toward the door, Ace asks, 'Where are you going?' 'You fucking finish the job,' says Jimmy, as he slams the used condom against the sticky paint on the wall.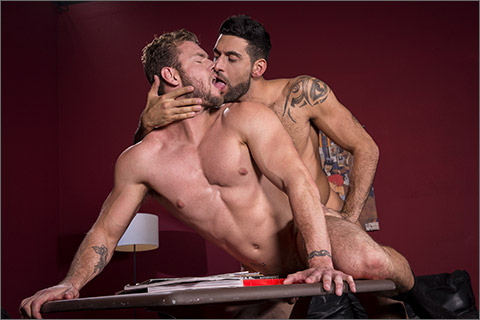 HIGH N' TIGHT: Mick Stallone fucks Ace Era
As the clippers of the 'High n' Tight' barbershop buzz in the background, Mick Stallone and Ace Era cruise each other in the waiting room. Mick unbuttons his shirt, showing off his hairy chest and tight abs. He yanks out his hard cock, and Ace eagerly gets down on his knees to perform oral worship. Ace strips off his shirt, revealing his athletic physique. Mick guides Ace by grasping the dirty blond hair on the back of his head. Ace's waistband slips below his ass, revealing the tattoo on his butt cheeks: FUCK ME. Mick is eager to do just that. Spreading Ace's cheeks, Mick delivers a slippery rim job to lube up Ace's hole. Ace presses Mick's face deeper into his crack, driving his tongue down into the tight center. Mick uses the tip of his cock to tease Ace's hole, then drives his fuck stick deep inside. Ace bends over a table, and Mick fucks him while standing, delivering an intense, expert pounding. Flipping over, Ace puts his left leg over Mick's shoulder and strokes his cock, with Mick still inside of him. Ace returns to his knees and stuffs his face with Mick's meaty tool, bringing him to the point of no return: Mick spills his load across Ace's lips and onto his tongue, savoring the taste of Mick's semen. Jerking his cock, Ace shoots his load on the floor, adding a guttural moan to his orgasm. Standing up, Ace and Mick press their lips together, sharing in the taste of Mick's cum.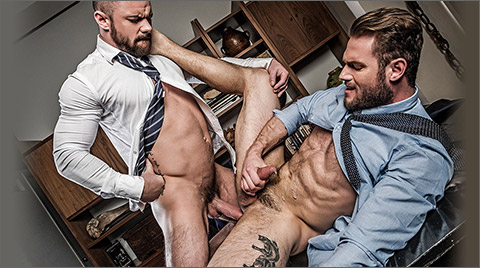 GENTLEMEN 19 – HARD AT WORK: Sergeant Miles Makes Ace Era Earn His Promotion
Sergeant Miles is cut from the same cloth as Dylan James: he's in a position of authority, and he uses that to have gay bareback sex with his underlings. Ace Era has always found his boss, Sergeant, a true stud, but he never imagined Sergeant would put him in a position where he had to prove his worth by giving up his ass raw. But Ace, after all, has "FUCK ME" tattooed on his butt cheeks, so if there's one challenge he's up for, it's servicing Sergeant Miles cock by shallowing it and getting pumped in his eager hole until the boss busts a nut.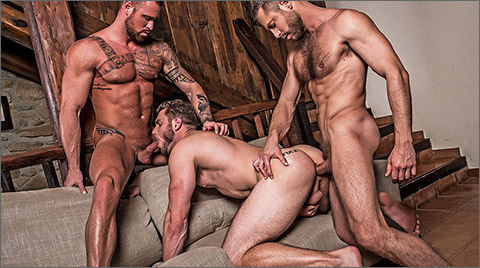 ASS-FUCKING ALPHA MALES: Bulrog Takes Command of Ace Era and Michael Roman
Bulrog is a French alpha-male top that likes bossing around guys who are strong muscular men in the streets, but total bitches in the sheets. Michael Roman and Ace Era are his servants in this bareback sex encounter, and he orders them to play with each other before they both begin sharing and working on his uncut cock. You might think a pair of two hulking guys like this is too much for any top to handle, but not Bulrog. He's man enough for both of them and has no problem staying in total control from beginning to end.
NAKEDSWORD
LUCAS ENTERTAINMENT
HOT HOUSE
DOMINIC FORD
RAGING STALLION STUDIOS
RAW FUCK CLUB
CLICK HERE TO GO TO HIS LUCAS ENTERTAINMENT DETAILS
VIDEO ON-DEMAND: Ace Era @ AEBN SMUTJUNKIES THEATER
DVDs & ON-DEMAND: Ace Era @ TLA VIDEO
[Total:

100

Average:

4.1

]