American Gay Porn Pig, Aarin Asker
Years Active: 2015
TWITTER
JAKE CRUISE'S COCKSURE MEN INFO:
Age: 32
Sign: Taurus
Height: 5′ 7″
Weight: 175
Dick Size: 6 1/2″ cut
Position: Bottom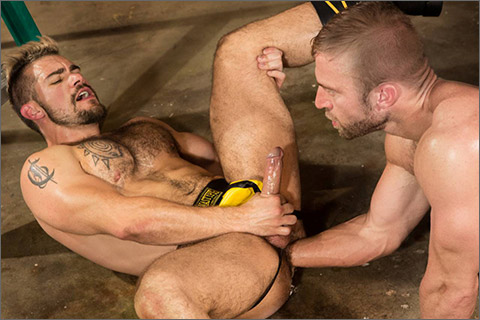 FIST PUMPERS: JR Bronson & Aarin Asker
Chiseled and furry-chested JR Bronson is out in the garage feeding his hung uncut cock to tatted power bottom Aarin Asker. Aarin is eagerly already on all-fours, sucking and gulping on JR's hung uncut cock. Equipped with a super-thick dildo, JR slowly twists and eases the rubber dong into Aarin's hairy hole. Once Aarin's hole begins to stretch, JR shoves the toy all the way in making Aarin let out a yelp of moaning pleasure. JR pulverizes Aarin's scruffy hole with the dildo then lays him on his back to reach deep inside of Aarin. Both are working up a heavy sweat as they moan and grunt as JR fist fucks Aarin's ass. JR keeps pounding Aarin's piggy ass until he shoots his load all over his own balls then JR make him taste his own cum. To finish, JR kneels next to Aarin and oozes his cum onto his beard.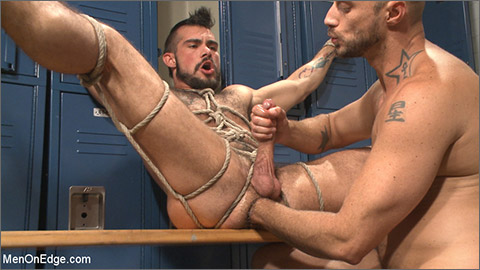 CRUISING FOR COCK – MUSCLED JOCK GETS TIED UP & FISTED IN THE SHOWERS
Aarin Asker's cruising in the gym when he comes across Jessie Colter taking a steamy shower. Jessie notices the curious stud groping his crotch and makes his way over to the lockers slowly, sizing Aarin up. The two start making out and exploring each others cocks when Jessie decides to make the showers steamier. Pulling rope from his locker, Jessie secures Aarin across the bench, legs spread wide. Aarin moans in the rope harness as Jessie strips the clothes from his ripped body, licking his feet and slowly moving toward his crotch. Jessie repeatedly teases Aarin's throbbing cock, bringing it so close to the edge again and again with his hands, mouth and vibrating cock sheath. Jessie moves his attention to Aarin's hole, finding it eager and hungry. Aarin takes a full fist in his ass as he begs to cum. Not yet finished, Jessie brings Aarin into the sauna and continues the edging, each one more tormenting than the last. Aarin begs to cum through a ball gag as his cock receives a massage from two hitachis. For all he's taken today, Jessie finally decides to grant Aarin an orgasm and milks out a rich load from stud. Just as Aarin moans in relief, he feels the pain of an apple polishing before he's left in a cumdrunk daze.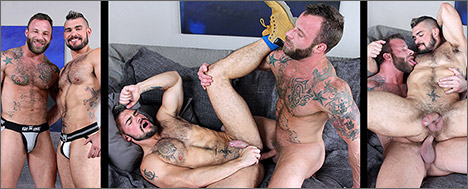 DEREK PARKER BAREBACKS AARIN ASKER
Derek Parker and Aarin Asker are muscular, hairy, tatted, bearded studs standing while wearing nothing but jock straps. As they passionately kiss they grab each other's bodies and bubble butts. Aarin licks Derek's pit in between kissing him. He looks like he'll eat Derek alive! Derek spreads Aarin's butt cheeks feeling his hairy hole, soon to be barebacked. Aarin gets on his knees and sucks Derek's long cock, deep throating his hard pole several times. Aarin gets on all fours and Derek eats his hole through the jock's straps. Aarin demands, I want that raw dick in my hole! Derek obliges, plowing his raw cock deep into Aarin's hole bareback. Derek sits on the couch and Aarin goes for a wild ride. Aaron jumps off and sucks Derek before sitting back on his raw cock, this time facing him. Aarin lays on the couch and Derek pummels him bareback hard and fast. Derek pulls out as Aarin strokes to a big orgasm. Derek immediately takes his cock in his mouth and cleans him all up. Derek Parker yanks his pole to a finish while Aarin lifts his legs up. Derek shoots his load on Aarin's balls then pushes his wet, raw cock back inside to bareback Aarin Asker again. Derek bends over and kisses his hot fuck buddy.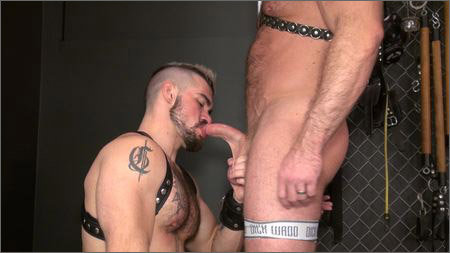 AARIN'S INITIATION PART 1 & 2
Time to initiate a new boy into the Raw and Rough stable of pigs! This hot fucker is Aarin Asker and this is his first porn shoot. So we hired muscle daddy Shay Michaels to break him in correctly. Aarin is down on his knees begging to drink Shay's piss. Shay lets loose with a hard stream that finds Aarin's open mouth. This boy loves to drink piss and he swallowed every drop Shay had to give him. Fuck, we didn't even have to mop up afterward. This pig boy sucked it all down. After Aarin had a belly full of piss, he had to squirt some of his own. He jumped into the tub and started pissing. Once again, not wanting to waste a drop, he guzzled down his own piss. Shay drags Aarin out of the tub, slams him against the wall, orders him on his knees and shoves his hard dick down Aarin's throat. Shay flips his new fuck boy over and plows his ass. Aarin begs to be punished. So Shay attaches a spreader bar to Aarin's ankles and proceeds to flog him. Aarin takes a good flogging and after begs for a little more. Shay pulls out the metal studded paddle and gives that cute furry boy's ass a nice, hard spanking. As Aarin recovers from his punishment, Shay kisses his back and neck, soothing his new boy…just to get him ready for part 2, where Aarin takes Shay's big fist up his ass.
CLICK HERE TO GO TO HIS HOT HOUSE CLUB INFERNO DETAILS
JAKE CRUISE'S COCKSURE MEN
DICK WADD / RAW AND ROUGH
KINK MEN
KINK.COM / MEN ON EDGE
CLICK HERE TO GO TO HIS COCKSURE MEN BIO PAGE